UK Dentistry Students Provide Relief in Nicaraguan Mission Clinic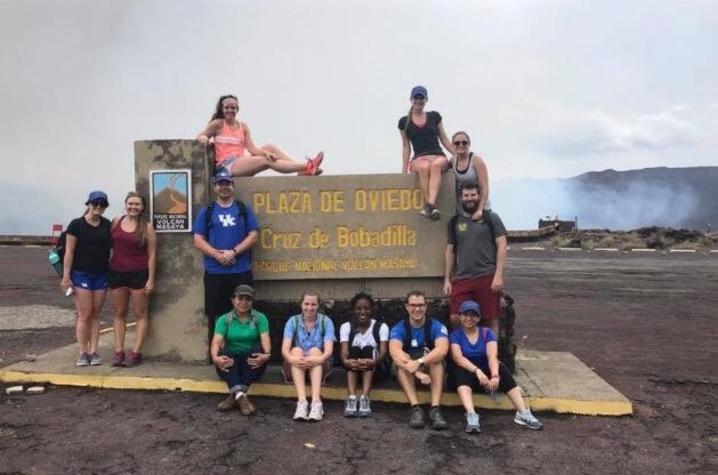 LEXINGTON, Ky. (Nov. 20, 2017) — Some of the best opportunities for personal and professional development can be found at the intersection of education and patient care. This was especially true for a group of students from the University of Kentucky College of Dentistry who recently returned from a service abroad excursion to Managua, Nicaragua, where they provided treatment for the local underserved population. The trip was made possible thanks to a partnership with UKCD alumnus Dr. Craig Adams and the Restoration Community Church of Raleigh, North Carolina.
"Dr. Adams and his team invested months into planning so that we could provide quality dentistry in a portable setting," said dentistry student Morgan Murrell. "We had hand pieces, burs and sterile surgical equipment at our disposal."
UK dentistry students worked alongside volunteer physicians from the host country to create a temporary clinic inside of a local church. Each day began with the interprofessional team arriving at 7:30 a.m. to set up and sterilize equipment. Upon arrival, patients were asked to check in and register for treatment. Each patient was screened by a local physician who recorded their vital signs and medical history. After praying with the clinic's spiritual team, patients met with dentistry students for a second screening to identify the most urgent dental need. Using a triage system, patients were separated into three groups: cleanings, fillings and extractions.
Throughout the course of one week, the clinic treated over 300 patients — many of them being young children. To prevent burnout and fatigue, students worked in pairs and alternated operator and assistant roles after each procedure.
For UK student Zahara Munis, gaining more pediatric dentistry experience was a key motivator for going on the trip. "I wanted to build that foundation of being comfortable seeing younger patients," she said, "The most eye-opening experience was the gratitude we received from the people we served. It was a very humbling experience."
Dr. Robert Taylor, faculty lead for the trip, discussed the lasting effect this experience will have on students:
"Dentistry is a mobile profession where full clinics can be set up within a few hours. It's unique in that a long-lasting impact can be made in a short amount of time. Seeing this in action while in a mission field can be eye-opening for students. It's also good practice for them to reinforce treatment decision making under increasing confidence."