UK Global Ophthalmology Hosts Inaugural Outreach Clinic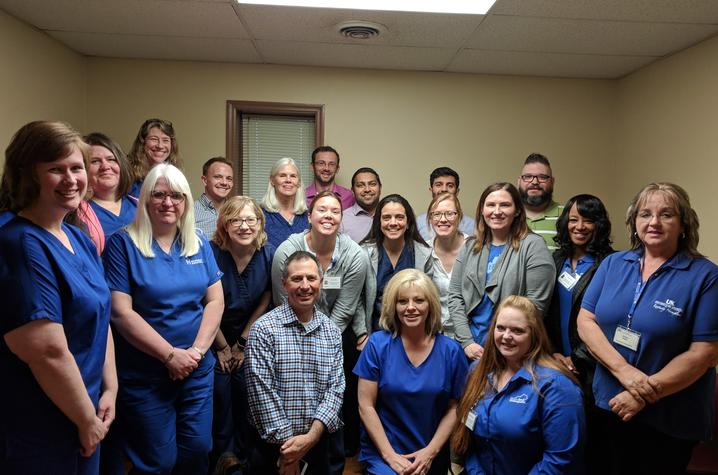 LEXINGTON, Ky. (June 1, 2018) — On May 5, the Department of Ophthalmology and Visual Sciences at the University of Kentucky College of Medicine, in partnership with the Center of Excellence in Rural Health (CERH) and the Huffman & Huffman Clinic, held its first UK Global Ophthalmology (UK GO) outreach service in Hazard. 
In all, 23 volunteers — clinical subspecialists, optometrists, community health workers, medical students, ophthalmic technicians, staff and administrators — cared for over 100 patients, many of whom were children, during an all-day free clinic available to anyone in the community. 
Throughout the day, more than 70 patients received complete ophthalmic exams and were fitted for eyeglasses free of charge. A significant number of patients were found to have more serious eye disease, such as diabetic retinopathy, cataracts and glaucoma. For these patients, follow-up appointments with UK Advanced Eye Care or local providers were arranged within days of the outreach clinic. 
Children that were found to have refractive errors or strabismus, which can lead to irreversible visual impairment if untreated, were fitted for glasses and scheduled for follow-up care as well.    
This event was the first in a series of outreach clinics that will be held throughout rural Kentucky. Future events will be held in continued partnership with the CERH and Huffman & Huffman clinics throughout Eastern Kentucky. 
UK GO's goal is to ensure all Kentuckians have access to high-quality eye care. In addition to outreach clinics, UK GO is developing a telemedicine-based statewide screening program for diabetic retinopathy, a mobile eye clinic and other projects intended to meet the needs of communities in which high-quality eye care is currently scarce or unavailable.