UK HealthCare Announces Plans for Hybrid Operating Room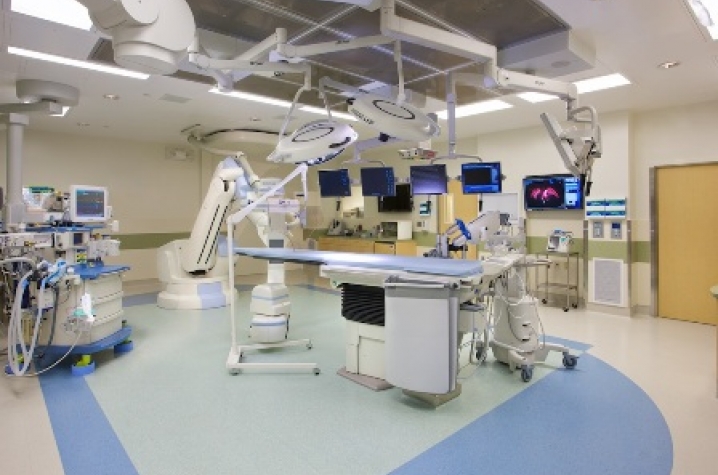 LEXINGTON, Ky. (Jan. 19, 2011) − Eight state-of-the-art operating rooms and one of the country's largest hybrid operating rooms are planned as part of the first installment of the next phase of construction of the new University of Kentucky Albert B. Chandler Hospital. The $35 million project is expected to be completed in November 2011.
The first phase of the project − a new parking garage, emergency department, and public areas on the ground and first levels and two patient care floors of the hospital − has been completed on budget and on schedule, said Dr. Michael Karpf, UK executive vice president for health affairs. The hospital will open these areas to patients and the public in May 2011. The emergency department and parking garage were completed in 2010.
The second phase, currently in the design stage, includes 600,000 square feet and is estimated to cost from $250 to $300 million bringing the project to approximately $800 million, funded entirely by UK HealthCare. It will feature the unique hybrid operating room which combines the most advanced and high-quality imaging technology with surgical operative capabilities to create a unique operating room environment.
"The hybrid operating room helps us fulfill our mission and dedication to the health of Kentuckians and beyond by providing the most advanced patient care that is comparable with the leading academic medical centers across the country," said Karpf. "It will be large and outfitted with the latest equipment and able to accommodate any surgical discipline that should have a need for it, supported by space organized and equipped to facilitate the management of highly complex surgical procedures."
Advantages to a hybrid operating room include greater accuracy of surgical procedures, reduced recovery time, reduced risk of postoperative complications and need for treatments in the hospital's intensive care unit, Karpf said.
"We have visited major hybrid operating rooms in the country and learned from all of them − taking the best of the best," said Dr. Jay Zwischenberger, UK HealthCare's surgeon-in-chief. "Our hybrid OR, which will initially focus on cardiothoracic and vascular surgeries, allows us to more efficiently utilize the talents of our medical staff and hospital resources to provide a higher quality of care."
In addition, eight traditional but modern operating rooms are part of the plan for the next phase of construction, and are tentatively scheduled to open in fall 2011. The additional operating rooms will be larger and designed to be flexible and adaptive to future needs. They also will be designed to support any type of operating procedure, including the most complex trauma and neurological surgical cases.
Once the new operating rooms are available, trauma patients will be able to be moved efficiently from the new heliport to the emergency department and operating rooms through a central transportation system within the hospital.
Overall, the new 1.2 million-square-foot facility is expected to be completed in six to 10 years and is designed to support patient care for the next 100 years. Once completed, it will include 512 large, private patient rooms and when combined with the Kentucky's Children Hospital, the facility will have a total of 650 private rooms replacing the existing UK Chandler Hospital.
UK HealthCare continues to be a significant economic driver in the Commonwealth. Since the initial phase of construction began in 2004, UK HealthCare has added approximately $340 million in payroll and benefits and more than 2,000 additional full time hospital employees. Since 2004, patient discharges have increased from 19,000 to more than 30,000 and research has dramatically increased.