UK HealthCare honored for excellence in cardio-oncology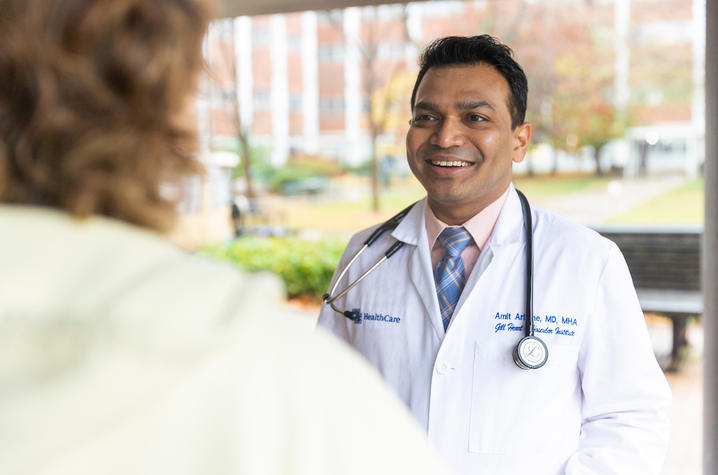 LEXINGTON, Ky. (Feb. 3, 2023) — UK HealthCare has been named a Gold Class Center of Excellence by the International Cardio-Oncology Society, one of 27 hospitals in the U.S. and 11 hospitals worldwide.
The University of Kentucky Markey Cancer Center is ranked among the top cancer centers in the country by U.S. News & World Report, and having that care supplemented by the cardiology experts at UK Gill Heart & Vascular Institute provides oncology patients with a level of care not available at many other facilities in Kentucky. UK HealthCare is the only institution in Kentucky to be awarded Gold Center of Excellence designation for its support of cancer patients.
"We are honored to be recognized for our commitment to our patients," said Amit Arbune, M.D., director of cardio-oncology at UK HealthCare. "Developing timely interventions for cancer patients who are experiencing, or have experienced heart problems because of their cancer treatment is critical. Not only do we help keep their hearts strong, but we also put them at ease because they know they are getting the best possible care."
Cancer-induced heart problems affect nearly 10% of cancer patients. These problems, including conditions known as cardiotoxicity, can be caused by cancer treatments such as chemotherapy or radiation therapy. Symptoms of these health issues can develop immediately during treatment, or they can develop decades after cancer survivor's complete treatment.
To be considered for Gold Class certification, programs must meet a number of requirements, including quality of care, standards of care, quality metrics and program improvements. Gold status is valid for three years.
"This certification from the International Cardio-Oncology Society confirms what we already knew — UK HealthCare is a leader in comprehensive, specialized care," said Mark Evers, M.D., director of the Markey Cancer Center. "Our multidisciplinary approach to patient care is what makes UK the top hospital in the state, and we're proud our team was recognized with the highest designation in cardio-oncology care."
About the International Cardio-Oncology Society
Cancer and cardiovascular disease (CVD) are the two most common causes of death and disease worldwide, and the incidence of both increases with age. With increased life expectancy, cancer is now recognized as a chronic disease, as evidenced by a growing number of cancer survivors that currently exceeds 11 million. With further improvement in cancer therapy, this number will likely increase, and as the numbers of survivors grow, so does the number of patients who are living with cancer-related cardiotoxicity. Among Hodgkin lymphoma patients who have received radiation, CVD is one of the most common causes of death. Our vision is to eliminate cardiovascular disease as a barrier to effective cancer therapy in all our patients being treated, or who were previously treated, for cancer. We exist to advance cardiovascular care of cancer patients and survivors by promoting collaboration among researchers, educators and clinicians around the world.
UK HealthCare is the hospitals and clinics of the University of Kentucky. But it is so much more. It is more than 10,000 dedicated health care professionals committed to providing advanced subspecialty care for the most critically injured and ill patients from the Commonwealth and beyond. It also is the home of the state's only National Cancer Institute (NCI)-designated cancer center, a Level IV Neonatal Intensive Care Unit that cares for the tiniest and sickest newborns, the region's only Level 1 trauma center and Kentucky's top hospital ranked by U.S. News & World Report.  
As an academic research institution, we are continuously pursuing the next generation of cures, treatments, protocols and policies. Our discoveries have the potential to change what's medically possible within our lifetimes. Our educators and thought leaders are transforming the health care landscape as our six health professions colleges teach the next generation of doctors, nurses, pharmacists and other health care professionals, spreading the highest standards of care. UK HealthCare is the power of advanced medicine committed to creating a healthier Kentucky, now and for generations to come.