UK HealthCare Hospitals Earn AHA Stroke Gold Plus Designation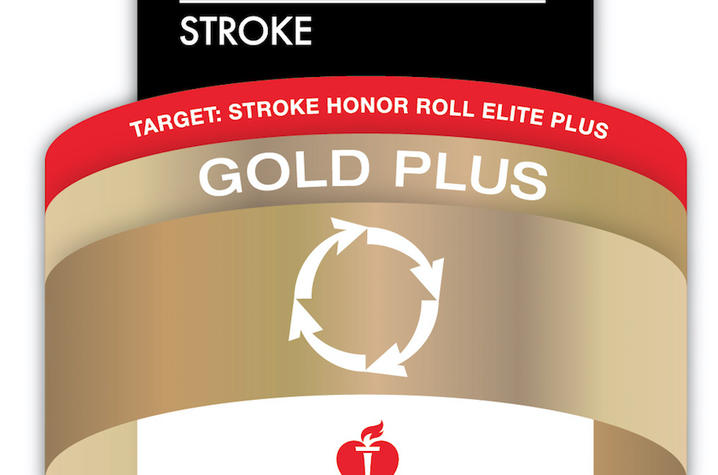 LEXINGTON, Ky. (June 12, 2017) — The American Heart Association and American Stroke Association recently honored UK HealthCare's Kentucky Neuroscience Institute (KNI) with the Get With The Guidelines-Stroke Gold Plus Quality Achievement Award and the Target Stroke Honor Roll Elite Plus Award.
This achievement recognizes UK HealthCare's commitment and success in adhering to the most current evidence-based stroke treatment guidelines for stroke patient care and outcomes.
To receive the Gold Plus Quality Achievement Award, hospitals must achieve 85 percent or higher adherence to all Get With The Guidelines-Stroke achievement indicators for two or more consecutive 12-month periods. They must also achieve 75 percent or higher compliance with five of eight Get With The Guidelines-Stroke Quality measures.
The Target Stroke Honor Roll Elite Plus recognition is given to hospitals that treat more than 75 percent of appropriate patient with clot busting drugs within 60-minutes of arrival and more than 50 percent within 45 minutes.
The quality measures are designed to help hospital teams provide the most up-to-date, evidence-based guidelines with the goal of speeding recovery and reducing death and disability for stroke patients. They focus on appropriate use of guideline-based care for stroke patients, including aggressive use of medications such as clot-busting and anticlotting drugs, blood thinners and cholesterol-reducing drugs, preventive action for deep vein thrombosis, and smoking-cessation counseling.
Dr. Larry Goldstein, chairman of the UK Department of Neurology and co-director of the KNI, said that "Comprehensive Stroke Center status reflects our capability to provide the most advanced care for patients with stroke.  These awards further underscore the hard work of our multidisciplinary team of neurologists, neurosurgeons, emergency physicians, nurses, therapists and others to optimize care delivery for stroke patients right here in Lexington."
2017 marks the seventh year that KNI has received Gold Plus designation and is the only hospital in Lexington to have both the Get With The Guidelines Stroke Gold Plus and Target Stroke Honor Roll Elite Plus designations.
The KNI Stroke Center is also certified as a "Comprehensive Stroke Center" by The Joint Commission – its highest honor.