UK HealthCare Physicians Are Named to 2017-18 Best Doctors in America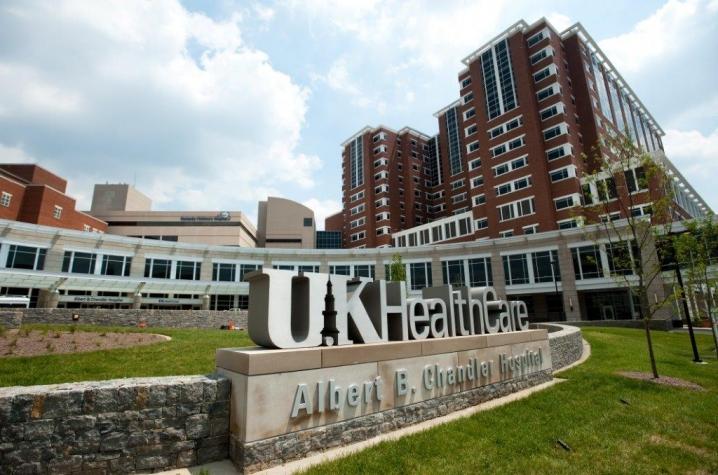 LEXINGTON, Ky. (March 26, 2018) — UK HealthCare has more than 130 physicians practicing medicine with University of Kentucky Albert B. Chandler Hospital, Kentucky Children's Hospital, UK Good Samaritan Hospital who appear on the Best Doctors in America List for 2017-18 — more than any other hospital in Kentucky. Only four percent of doctors in America earn this prestigious honor, decided by impartial peer review. 
The experts who are part of the Best Doctors in America database provide the most advanced medical expertise and knowledge to patients with serious conditions – often saving lives in the process by finding the right diagnosis and right treatment. 
2017-18 UK HealthCare Best Doctors in America Listing:  
Edwin A. Bowe — Anesthesiology - General Anesthesiology; Pediatric Specialist - Pediatric Anesthesiology 
Kimberly S. Winchester — Anesthesiology - General Anesthesiology 
Vincent L. Sorrell — Cardiovascular Disease - Congenital Heart Disease, Diagnostic Radiology, Echocardiography, General Cardiovascular Disease, Nuclear Cardiology 
Gretchen Lois Wells — Cardiovascular Disease - Congenital Heart Disease, General Cardiovascular Disease 
Steve W. Leung — Cardiovascular Disease - Echocardiography, Nuclear Cardiology 
Mikel D. Smith — Cardiovascular Disease - Echocardiography 
David J. Moliterno — Cardiovascular Disease - General Cardiovascular Disease, Interventional Cardiology,  
Susan Smyth — Cardiovascular Disease - General Cardiovascular Disease 
Thomas Whayne Jr. — Cardiovascular Disease - General Cardiovascular Disease 
David C. Booth — Cardiovascular Disease - Interventional Cardiology 
John C. Gurley — Cardiovascular Disease - Interventional Cardiology 
Adrian W. Messerli — Cardiovascular Disease - Interventional Cardiology 
Khaled M. Ziada — Cardiovascular Disease - Interventional Cardiology 
David W. Rudy — Clinical Pharmacology - General Clinical Pharmacology; Internal Medicine - General 
Annette Rebel — Critical Care Medicine - Anesthesiology 
Sanjay Dhar — Critical Care Medicine - Internal Medicine, Pulmonary Medicine 
Rolando Berger — Critical Care Medicine - Pulmonary Medicine; Pulmonary Medicine - General Pulmonary Medicine 
Scott Morehead — Critical Care Medicine - Pulmonary Medicine 
Peter E. Morris — Critical Care Medicine - Pulmonary Medicine 
Joseph Zwischenberger — Critical Care Medicine - Surgical Critical Care; Thoracic Surgery - Adult Thoracic Surgery, Thoracic Oncological Surgery 
Andrew C. Bernard — Critical Care Medicine - Trauma 
Dennis Karounos — Endocrinology and Metabolism - Diabetes 
Kenneth B. Ain — Endocrinology and Metabolism - General Endocrinology and Metabolism, Thyroid 
Philip A. Kern — Endocrinology and Metabolism - General Endocrinology and Metabolism 
Lisa R. Tannock — Endocrinology and Metabolism - General Endocrinology and Metabolism 
Robert Hosey — Family Medicine - Sports Medicine 
Milton Kyle Smoot — Family Medicine - Sports Medicine 
Deborah Flomenhoft — Gastroenterology - Inflammatory Bowel Disease 
Kevin A. Pearce — Geriatric Medicine - General Geriatric Medicine 
Scott A. Riley — Hand Surgery - Reconstructive Surgery 
Nicole E. Leedy — Infectious Disease - General Infectious Disease 
Thein Myint — Infectious Disease - General Infectious Disease 
Alice C. Thornton — Infectious Disease - General Infectious Disease 
Michael H. Young — Infectious Disease - General Infectious Disease 
Brian Murphy — Infectious Disease - HIV/AIDS 
Takako S. Schaninger — Infectious Disease - HIV/AIDS 
T. Shawn Caudill — Internal Medicine - General 
Jacqueline S. Gibson — Internal Medicine - General 
Andrew Hoellein — Internal Medicine - General 
Connie W. Jennings — Internal Medicine - General 
Dale E. Toney — Internal Medicine - General 
Philip A. DeSimone — Medical Oncology and Hematology - Gastroenterologic Cancer, Head and Neck Cancer, Lung Cancer, General Medical Oncology and Hematology 
John J. Rinehart (retired) — Medical Oncology and Hematology - General Medical Oncology and Hematology, Lung Cancer 
Susanne M. Arnold — Medical Oncology and Hematology - Head and Neck Cancer, Lung Cancer 
Sadiq Ahmed — Nephrology - General Nephrology 
Hartmut H. Malluche — Nephrology - General Nephrology, Toxicology 
Amr El-Husseini Mohamed — Nephrology - General Nephrology 
Craig Van Horne — Neurological Surgery - General Neurological Surgery 
Phillip A. Tibbs — Neurological Surgery - Spinal Surgery 
Gregory A. Jicha — Neurology - Behavioral Neurology, Geriatric Neurology 
Richard R. Murphy — Neurology - Cerebrovascular Disease 
Edward J. Kasarskis — Neurology - Degenerative Diseases, General Adult Neurology, Infectious and Demyelinating Diseases 
Charles D. Smith Jr. — Neurology - Degenerative Diseases. 
Frank G. Gilliam — Neurology - Epilepsy 
Siddharth Kapoor — Neurology - Epilepsy, Headache 
John Slevin — Neurology - Movement Disorders 
Larry B. Goldstein — Neurology - Stroke 
Luther C. Pettigrew Jr. — Neurology - Stroke 
Christopher P. DeSimone — Obstetrics and Gynecology - Gynecologic Oncology 
Rachel W. Miller — Obstetrics and Gynecology - Gynecologic Oncology 
Fred Rand Ueland — Obstetrics and Gynecology - Gynecologic Oncology 
Wendy Hansen — Obstetrics and Gynecology - Maternal and Fetal Medicine 
John M. O'Brien Jr. — Obstetrics and Gynecology - Maternal and Fetal Medicine 
Andrew Pearson — Ophthalmology - Medical Retinal Diseases, Vitreo-Retinal Surgery 
Woodford S. Van Meter  — Ophthalmology - Anterior Segment, Cataract Surgery, Optics and Refraction, Corneal Diseases and Transplantation 
Sheila P. Sanders — Ophthalmology - Glaucoma 
Jeffrey Bryan Selby — Orthopaedic Surgery - Hip Surgery, Joint Replacement Surgery, Trauma 
Scott D. Mair — Orthopaedic Surgery - Shoulder Surgery, Sports Medicine 
Mary Lloyd Ireland — Orthopaedic Surgery - Sports Medicine 
Darren Lee Johnson — Orthopaedic Surgery - Sports Medicine 
Sanford M. Archer — Otolaryngology - General Otolaryngology 
Joseph Valentino — Otolaryngology - General Otolaryngology, Oncological Surgery 
Raleigh O. Jones — Otolaryngology - Neurotology,  Otology 
Rony K. Aouad — Otolaryngology - Oncological Surgery 
Thomas J. Gal — Otolaryngology - Oncological Surgery 
Julie Ribes — Pathology - Pathology-Medical Microbiology, General Pathology 
Hatim A. Omar — Pediatric Specialist - Adolescent and Young Adult Medicine 
Henrietta Salvilla Bada — Pediatric Specialist - Neonatal-Perinatal Medicine
Hubert O. Ballard — Pediatric Specialist - Neonatal-Perinatal Medicine 
Peter J. Giannone Jr. — Pediatric Specialist - Neonatal-Perinatal Medicine 
Ricki F. Goldstein — Pediatric Specialist - Neonatal-Perinatal Medicine 
Lori Shook — Pediatric Specialist - Neonatal-Perinatal Medicine 
Robert J. Baumann — Pediatric Specialist -Neurology, Epilepsy and Neurology, General 
William C. Robertson Jr. — Pediatric Specialist - Neurology, General 
Raeford E. Brown Jr. — Pediatric Specialist - Pediatric Anesthesiology. 
Aru Reddy — Pediatric Specialist - Pediatric Anesthesiology 
James Quintessenza — Pediatric Specialist - Pediatric Cardiac Surgery 
Kristopher Cumbermack Pediatric Specialist - Pediatric Cardiology 
Douglas J. Schneider — Pediatric Specialist - Pediatric Cardiology 
Philip A. Bernard — Pediatric Specialist - Pediatric Critical Care 
Scottie B. Day — Pediatric Specialist - Pediatric Critical Care 
Michael L. Wittkamp — Pediatric Specialist - Pediatric Critical Care 
John L. Fowlkes — Pediatric Specialist - Pediatric Endocrinology 
Kathryn M. Thrailkill — Pediatric Specialist - Pediatric Endocrinology 
George J. Fuchs III — Pediatric Specialist - Pediatric Gastroenterology  
Troy E. Gibbons — Pediatric Specialist - Pediatric Gastroenterology 
Lars M. Wagner — Pediatric Specialist - Pediatric Hematology-Oncology 
Robert A. Broughton — Pediatric Specialist - Pediatric Infectious Disease 
Stefan G. Kiessling — Pediatric Specialist - Pediatric Nephrology 
Thomas Pittman — Pediatric Specialist - Pediatric Neurological Surgery 
Julia C. Stevens — Pediatric Specialist - Pediatric Ophthalmology 
Henry Iwinski — Pediatric Specialist - Pediatric Orthopaedic Surgery 
Vishwas R. Talwalkar — Pediatric Specialist - Pediatric Orthopaedic Surgery 
Henry C. Vasconez — Pediatric Specialist - Pediatric Plastic Surgery; Plastic Surgery - Craniofacial Surgery, Facial Aesthetic Surgery 
Michael I. Anstead — Pediatric Specialist - Pediatric Pulmonology; Pulmonary Medicine - Cystic Fibrosis 
Jamshed F. Kanga — Pediatric Specialist - Pediatric Pulmonology 
John Draus — Pediatric Specialist - Pediatric Surgery 
Joseph A. Iocono — Pediatric Specialist - Pediatric Surgery 
Rebecca Collins — Pediatrics - General 
Donna G. Grigsby — Pediatrics - General 
Philip B. Latham — Pediatrics - General 
Carol Steltenkamp — Pediatrics - General  
Carmel Wallace — Pediatrics - General 
Thomas L. Young — Pediatrics - General 
Erich C. Maul — Pediatrics - Hospital Medicine 
Barbara A. Phillips — Pulmonary Medicine - General Pulmonary Medicine; Sleep Medicine - General Sleep Medicine 
Marcus E. Randall  —Radiation Oncology - Brachytherapy, General Radiation Oncology, Gynecologic Oncology, Radiosurgery 
Mahesh R. Kudrimoti — Radiation Oncology - General Radiation Oncology, Head and Neck Cancer 
Ronald McGarry — Radiation Oncology - Lung Cancer, Lymphomas, Radiosurgery 
M. Elizabeth Oates — Radiology  - Nuclear Radiology 
Scott D. Stevens — Radiology - Vascular Radiology 
Robert W. Lightfoot Jr. — Rheumatology - General Rheumatology, Vasculitis 
B. Mark Evers — Surgery - Gastroenterologic Surgery 
Patrick C. McGrath — Surgical Oncology - Breast Cancer, General Surgical Oncology 
Michael Sekela — Thoracic Surgery - Adult Cardiac Surgery, Adult Thoracic Surgery 
Victor M. Ferraris — Thoracic Surgery - Adult Thoracic Surgery 
Sibu P. Saha — Thoracic Surgery - Adult Thoracic Surgery; Vascular Surgery - Vascular and Endovascular 
Timothy W. Mullett —Thoracic Surgery - Thoracic Oncological Surgery 
Stephen Strup — Urology - Endourology, Urologic Oncology 
Deborah R. Erickson — Urology - Female Urology, General Urology 
Eric D. Endean — Vascular Surgery - Vascular and Endovascular Surgery 
David J. Minion — Vascular Surgery - Vascular and Endovascular Surgery