UK HealthCare: Voices from the Front Lines — UK Chandler Emergency Department
We recently joined hospital staff for a few days to document the reality of treating COVID-19 patients across the hospital system. This is chapter one in our ongoing series, "UK HealthCare: Voices from the Front Lines," highlighting stories and perspectives from our front line workers who have been caring for our sickest COVID-19 patients since March 2020.
LEXINGTON, Ky. (Sept. 29, 2021) — Even in the best of times, the emergency departments at UK HealthCare are busy, hectic places.
"We call it 'organized chaos,'" says Meg Pyper, a longtime charge nurse in the University of Kentucky Chandler Hospital Emergency Department. "Emergency departments are always challenging places to work. You're dealing with patients who are dealing with acute illnesses that they weren't expecting."
That's especially true in the UK Chandler Hospital ED, the only Level I trauma center in the region. Patients throughout Central and Eastern Kentucky are often brought here when their complex emergency needs go beyond what their local community hospital can handle.
"This is where all the things happen," says Samantha Poston, a staff nurse who has worked in the Chandler ED for four years. "If you live in this area and your family needs something extraordinary to survive, this is where they come."
So, it's no surprise that the Chandler ED has been exceptionally busy throughout the COVID-19 pandemic, serving as the hospital's gateway for patients who become critically ill because of the virus — those who are struggling to breathe, suffering persistent chest pain, or experiencing confusion and disorientation.
Throughout the past 18 months, the emergency medicine staff have seen countless COVID-19 patients come through their doors — some walking and talking, some unconscious on stretchers. If you arrive at Chandler with COVID-19, you'll be either evaluated and released home for quarantine and self-monitoring, or admitted as an inpatient for more serious care. A 24-bed section of the ED's observation unit serves as the de facto "COVID unit" inside the department, housing COVID-positive patients in negative-pressure rooms until they are stable and ready to be moved elsewhere.
But while the staff is accustomed to facing immediate, frantic life-and-death situations during every shift, the reality they now face is something unlike anything they've ever seen — patients of increasingly younger ages suffering severe illness and death from COVID-19, a disease that is largely preventable due to widely available vaccines.
"I've had significant ER experience," Pyper says, her voice breaking. "I have dealt with losing patients my whole career, and the aftermath of families losing loved ones through my whole career. But COVID is something entirely different."
'We don't have a desire to turn a single patient away'
Prior to the pandemic, roughly 250 patients would come through the doors of the Chandler ED on any given day. Now, with the delta variant of COVID-19 tearing across the country, more and more infected patients need emergency care. The daily counts are around 270 or more for Chandler Hospital and 90-100 for UK Good Samaritan's emergency department. It's a stark change from the earliest days of the pandemic, when the ED count dipped to around 120 patients per day — partly because many people avoided seeking emergency care due to fear of contracting the virus in a hospital setting.
But while more COVID patients than ever are now filling up beds in the ED, life has gone on — people still have other serious health issues like strokes, heart attacks, car accidents, unexplained severe pain, broken bones, and more. Chandler treats emergency issues major and minor, and staff members found themselves facing a new problem: with so many COVID cases coming through the ED, how do you make space for patients with less serious conditions and keep them safe?
The answer lies in a hallway that runs parallel to the back of the ED. Walk through a set of unassuming gray double doors near the staff elevator and you'll enter the ED overflow area, built inside what used to be empty shell space. Initially created in the early days of the pandemic as a potential holding space for a surge of COVID patients, the staff quickly realized it was better suited for handling the volume of patients with non-COVID, non-life-threatening emergencies.
"The hospital was great — they put this together in a relatively short amount of time," says Erin Morris, ED nurse and patient care manager with the Chandler ED. "We were able to quickly react and get the space going."
"We don't want patients in the hallways," Pyper says. "So, we created a space to be able to place patients where they would be away from the unit where we're caring for COVID patients … and because we don't have any desire to turn a single patient away."
The space is something of an oxymoron — an indoor field hospital. Pre-fabricated walls and curtains are blocked off into 24 patient rooms. Monitors on the wall list patient names along with myriad reasons why they've been admitted for emergency care: chest pain, motorcycle crash, abdominal pain and more.
While the team agrees that the overflow space is the best option for keeping non-COVID patients safe and out of the hallways, they also understand it's not an ideal place to be — it's noisy, there are limited restrooms and the overhead lights do not turn off. However, having the capacity and resources to care for these patients, regardless of what the space looks like, is the most important thing.
"Each of these spaces has everything we need to care for people," says Morris, gesturing to the line of ED overflow rooms. "It's got monitoring, oxygen suction — everything we need is back here."
While the ED overflow is temporary space, no one is quite sure just how long it will need to remain up and running. With COVID-19 variants continuing to spread — and the next cycle of cooler weather and flu season on the horizon — the team says the ED overflow will remain online for the foreseeable future.
'COVID-19 knows no boundaries'
While this staff has always seen the deadly side of COVID-19, this latest surge has been particularly distressing, as the disease has shifted to attack the younger, healthier population. These are people who, early in the pandemic, could have contracted COVID-19 and recovered easily at home.
"At the beginning of the pandemic, we saw a lot of people. They were sick, but this is different," Poston says. "The people coming in are so much younger, and they're so much sicker. And it's not people in their 30s or 40s who have a lot of chronic medical conditions that make them fragile, it's people who maybe have high blood pressure — like, everyone's dad."
Sometimes, people come in without even realizing how sick they actually are. Pyper recalls working with a middle-aged man with COVID who seemed fine — sitting up, talking, no complaints. His only health issue? High blood pressure.
But once they got him into a room, they realized he was struggling. It's a condition Pyper calls "happy hypoxic" — a patient's oxygen levels have become life-threateningly low, but they don't appear to be in any sort of respiratory distress. She and the medical team gave him every possible treatment, and she left her shift feeling good.
"I thought, 'OK, he's one who is going to make it,'" Pyper says. "But I come back the next day, and I hear from a coworker that he had not made it. And he was a healthy guy. People have this idea that only the very sickest in our population are dying from this virus. But we are intubating 20-year-olds, perfectly healthy, normal people. COVID-19 knows no boundaries. It doesn't care what race you are, what religion you are, who you voted for. It doesn't matter."
'Every day with COVID is a bad day'
For 11 years, UK HealthCare chaplain Jay Fulton has provided spiritual and emotional support to patients, families and staff. Since the pandemic began, he has sometimes filled in directly for families who are unable to visit their COVID-positive loved ones.
"One of the harder situations is when we have a person who is dying, and maybe only one or two family members can be here — sometimes, none of them can be here," he says. "And I will be with the patient through that."
But over the past 18 months, Fulton has seen his role shift more into support for the health care staff, who are experiencing wave after wave of traumatic stress and burnout as the pandemic continues. Fulton works anywhere in the hospital but spends a substantial amount of time supporting the staff of the ED and various ICU floors.
"I've been very worried about our staff," he says. "We're seeing folks who aren't coping as well because they're coming in at a higher stress level just at baseline."
It's a sentiment echoed by staff across the ED. COVID-19 has required health care workers to constantly adapt and do more with less throughout the pandemic, but the severity of the latest surge has required more than ever from this already-exhausted workforce. Treating a COVID-positive patient inherently comes with extra work and challenges compared to other patients, due to the strict PPE (personal protective equipment) requirements and guidelines that must be met before the team can deliver care.
"It's always been a challenging job," Poston says. "We've always had high patient volumes and the sickest patients around. But I've never felt quite this stretched thin before."
When asked about moments from her time treating COVID patients that remain firmly etched in her mind, Poston recalls one man she was about to intubate. When Poston asked if he would like to call his family, he said 'no' — he wasn't even sure what he would say.
"We didn't have time to impress upon him the severity of this — the reality that he might not get that opportunity again," she says. "I went home, and I grappled with this a lot … was that the right thing? Should we have pressed more?"
That gentleman was intubated and moved on to an ICU. Because the ED patients are either discharged or taken to a floor, the staff who initially treat them usually don't find out what happens after the patients leave their care. Poston doesn't know what ultimately happened to that patient, but she's haunted by her struggle with that decision.
"My husband said, 'Why are you so fixated on this?'" Poston recalls. "And I was like, 'Because it's going to happen again.'"
Across the ED, health care providers face difficult, heartbreaking situations like this day in and day out. The relentless stress of the ongoing pandemic is wearing down the teams who just want to help the very sick and injured people who come through the ED doors.  
"My people are broken, they're hurting, they're exhausted," Fulton says. "They want to provide the best care that they can for everyone that comes in the door, and they're overwhelmed. They're going to do the best they can for you, but they don't have much in the way of reserves anymore. They're running on empty."
One of the most difficult things for the staff to deal with is the knowledge that this latest, deadliest wave of COVID-19 was preventable. The majority of hospitalizations due to COVID-19 occur in patients who are not vaccinated. Currently, across UK HealthCare, 80% or more of COVID patients on any given day are unvaccinated, and the vast majority of those who end up in an ICU or on a ventilator are unvaccinated.
"We need people's help," says Fulton. "We need people to get vaccinated; we need people to take care of themselves. That's the only way out."
"We are struggling; we are struggling to keep up our morale," Pyper says. "It is exhausting to see so many people die. The ED has always been a difficult place to work, but it's a place that if you love it, you love it … and you have bad days every now and again. But every day with COVID is a bad day."
Next time: A visit to UK Chandler Hospital's multiple Medicine Intensive Care Units (MICUs), the primary home of COVID-positive inpatients at UK HealthCare.
To register for a COVID-19 vaccine (first shot, second shot or booster shot if eligible), go to ukvaccine.org.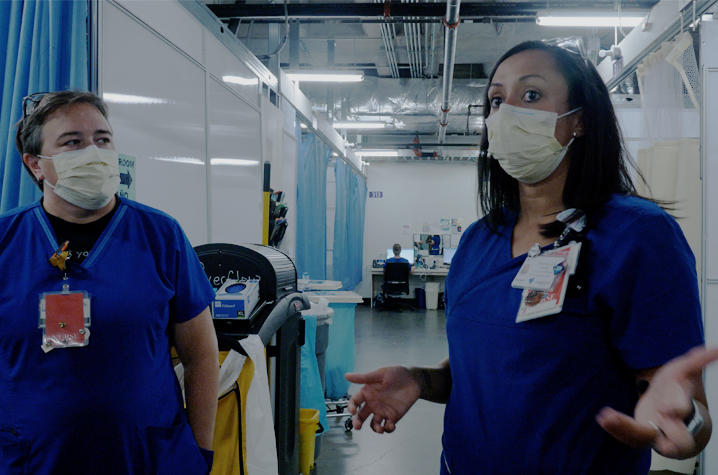 As the state's flagship, land-grant institution, the University of Kentucky exists to advance the Commonwealth. We do that by preparing the next generation of leaders — placing students at the heart of everything we do — and transforming the lives of Kentuckians through education, research and creative work, service and health care. We pride ourselves on being a catalyst for breakthroughs and a force for healing, a place where ingenuity unfolds. It's all made possible by our people — visionaries, disruptors and pioneers — who make up 200 academic programs, a $501 million research and development enterprise and a world-class medical center, all on one campus.   
In 2022, UK was ranked by Forbes as one of the "Best Employers for New Grads" and named a "Diversity Champion" by INSIGHT into Diversity, a testament to our commitment to advance Kentucky and create a community of belonging for everyone. While our mission looks different in many ways than it did in 1865, the vision of service to our Commonwealth and the world remains the same. We are the University for Kentucky.