UK Medical Student Places Runner-Up in Disney Half Marathon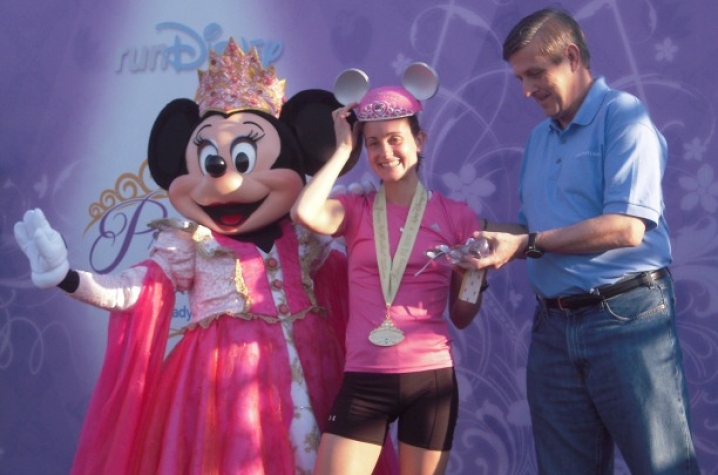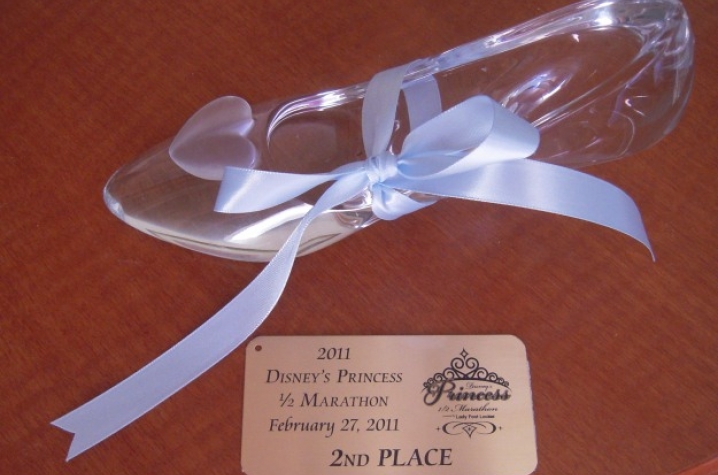 LEXINGTON, Ky. (April 28, 2011) — Originally from DePere, Wis., Caitlin Latimer is the oldest of five -— all of whom are runners, which she says is "inherited" and learned from their father.  While running on the varsity track and cross country teams at Vanderbilt University, she also majored in neuroscience and completed an honors thesis in neuropharmacology, discovering a passion in the field of neurosciences and going the distance on and off the track.
"UK has such a great reputation in the neurosciences; they were a top choice for me and I was lucky enough to get to come here and be a part of the M.D./Ph.D. program," said Latimer, fifth-year student in the College of Medicine's M.D. /Ph.D. program.
The program typically takes 7 to 8 years to complete. Latimer will defend her Ph.D. thesis this summer and complete medical school in the fall for the final two years. Currently, Latimer is studying brain aging in UK's department of Molecular and Biomedical Pharmacology. Her specific interests are in lifestyle modifications, such as exercise and vitamin D intake, because they are relatively easy to implement in a middle-aged population. 
Maintaining a healthy lifestyle is something that Latimer takes seriously, and is obvious after placing runner-up in 1:22:26 at Disney's Princess Half Marathon on Feb. 27 in Orlando, Fla. The winner, Jennifer Hanley-Pinto of Jacksonville, Fla., finished in 1:22:01.
"There were so many in the race, many of them dressed up in all sorts of princess-themed costumes," said Latimer. "The atmosphere was so supportive and encouraging with the beginning of the race counted down by Cinderella's Fairy Godmother and fireworks over the starting line. It was a very exciting way to start a race!"
Latimer's sisters, Eileen and Clare, joined her for the race, competing with more than 17,000 runners. In all, more than 22,000 runners participated in endurance-related events throughout the weekend at Walt Disney World Resort.
"The best thing about this race was that you got to run to the Magic Kingdom, through Cinderella's Castle, and back to the Epcot Theme Park, encouraged the entire way by Disney cast members," Latimer said. "Everyone from the Pirates of the Caribbean to most of the Disney Princesses and Princes were cheering us on. My favorite part of the race was entering the Magic Kingdom because the entrance was lit up and they were playing 'A Dream is a Wish Your Heart Makes' over the loudspeakers!"
The weekend of events were all designed to celebrate and promote women's empowerment, health and an active lifestyle. The event is one of the nation's largest endurance race weekends geared toward women.
Reflecting on a life of running, beginning in the seventh grade, Latimer says that running is something that continues to evolve with her. Her next race is the upcoming Derby Festival Mini-Marathon in Louisville this month.
"As with all of the students in the 
M.D./Ph.D. program, Caitlyn is committed to improving health through scholarly activities and community service," said Dr. Susan Smyth, the UK College of Medicine director of the M.D./Ph.D. program and professor of internal medicine. "Her belief in the value of a healthy lifestyle and physical fitness has driven her research and, through participation in events such as the Disney's Princess Half Marathon, she is heightening awareness at a national level. She sets a wonderful example for all of us."  
MEDIA CONTACT: Julie Meador, (859) 323-6363 ext. 256; Julie.Meador@uky.edu