UK's Goldstein leads new scientific statement by the American Heart Association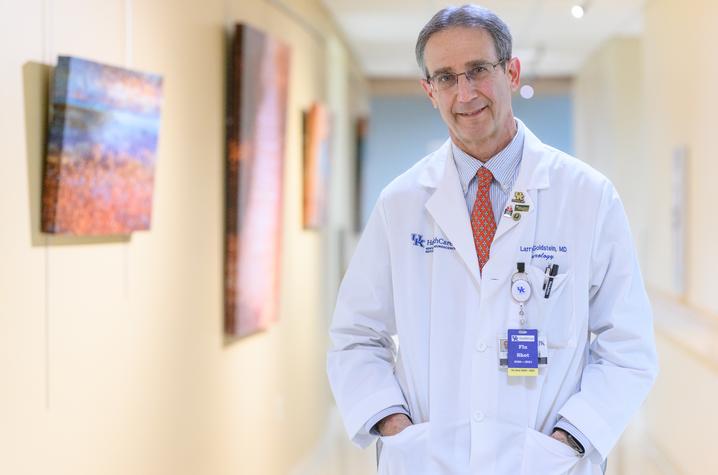 LEXINGTON, Ky. (Sept. 14, 2023) — Larry Goldstein, M.D., chair of the University of Kentucky Department of Neurology, chaired the writing group for a newly published scientific statement. The statement was published in the American Heart Association/American Stroke Association's (AHA/ASA) peer reviewed journal Arteriosclerosis, Thrombosis, and Vascular Biology. 
Goldstein and six other authors contributed to the statement which focuses on data related to potential brain and other complications of treatments aimed at aggressive reductions in LDL-("bad") cholesterol, focusing on concerns about brain bleeding and cognition. These types of treatments can greatly reduce heart disease and stroke, but concerns about the risk of side effects can limit their use. 
The new statement presents the latest evidence on potential downsides of aggressive lowering of LDL-cholesterol levels with statins, PCSK9 inhibitors, and other lipid-lowering therapies, alone or in combination. The writing group reviewed research evaluating the relationship between these lipid-lowering treatments and brain bleeding, impaired cognition/dementia/Alzheimer's Disease, and statin intolerance.
Goldstein and his colleagues review supports the view that the preponderance of the available evidence indicates that statins and other cholesterol lowering medications do not increase the risk of brain bleeding among those without a history of stroke, and that evidence suggesting a relationship with thinking problems is not strong.
"Starting or continuing any treatment program requires a close collaboration between the patient and their health care provider," Goldstein said. "The benefits of aggressive lipid lowering in those at risk for cardiovascular disease and stroke has been clearly established through multiple clinical trials. Our review should help inform patient-health care provider discussions addressing the benefits and risks of treatment."
UK HealthCare is the hospitals and clinics of the University of Kentucky. But it is so much more. It is more than 10,000 dedicated health care professionals committed to providing advanced subspecialty care for the most critically injured and ill patients from the Commonwealth and beyond. It also is the home of the state's only National Cancer Institute (NCI)-designated cancer center, a Level IV Neonatal Intensive Care Unit that cares for the tiniest and sickest newborns, the region's only Level 1 trauma center and Kentucky's top hospital ranked by U.S. News & World Report.  
As an academic research institution, we are continuously pursuing the next generation of cures, treatments, protocols and policies. Our discoveries have the potential to change what's medically possible within our lifetimes. Our educators and thought leaders are transforming the health care landscape as our six health professions colleges teach the next generation of doctors, nurses, pharmacists and other health care professionals, spreading the highest standards of care. UK HealthCare is the power of advanced medicine committed to creating a healthier Kentucky, now and for generations to come.