UK Nursing Faculty Named Assistant Director for Cancer Health Equity at Markey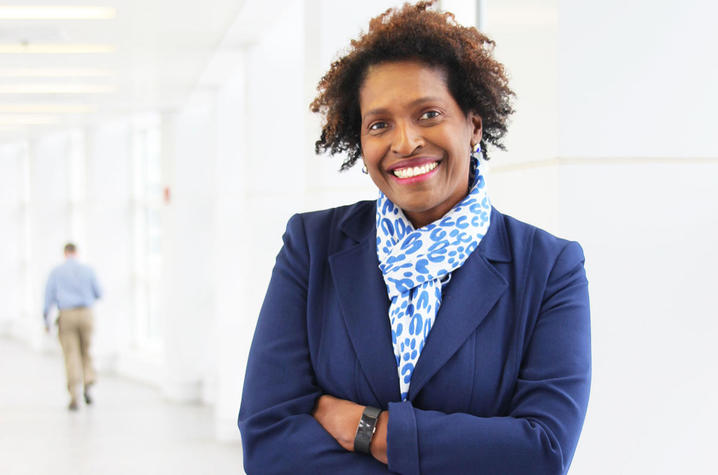 LEXINGTON, Ky. (Nov. 10, 2020) – The University of Kentucky Markey Cancer Center has appointed Lovoria Williams, Ph.D., as assistant director for cancer health equity, a newly created position within the Markey leadership structure.
The position will form part of the Markey Community Impact Office team, led by Pamela Hull, Ph.D., Markey's associate director for population science and community impact. In this new role, Williams will provide leadership for the health equity aspects of Markey's community outreach and engagement functions, which are critical aspects of an Nationally Cancer Institute-designated cancer center.
Williams is an associate professor in the UK College of Nursing and co-director of Integrated Special Populations for the UK Center for Clinical and Translational Science. As part of her assistant director role at Markey, she will hold an endowed Research Professorship in Cancer Health Equity. 
Williams is nationally recognized for developing culturally adapted interventions for implementation by community health workers. Her current research focuses on delivering interventions to reduce health disparities among minority and medically underserved populations, and she holds an R01 grant from the National Institute of Diabetes and Digestive and Kidney Diseases to support that work. 
A major initiative of Williams and the Markey Community Impact Office will be the organization and expansion of Markey's research and outreach portfolio that is focused on reducing cancer and other health disparities based on race/ethnicity, socioeconomic status, disability, gender identity, sexual orientation, immigration, veteran status and other factors. 
In her new role, Williams will also serve as chair of the UK Markey Cancer Center Diversity, Equity and Inclusion Committee, announced by Markey Director Dr. Mark Evers in July. The committee will provide input directly to Evers on creating and sustaining a diverse, equitable, and inclusive environment that empowers all Markey stakeholders toward the common goal of defeating cancer and achieving health equity.