UK Artist Best of Show at 'University Open'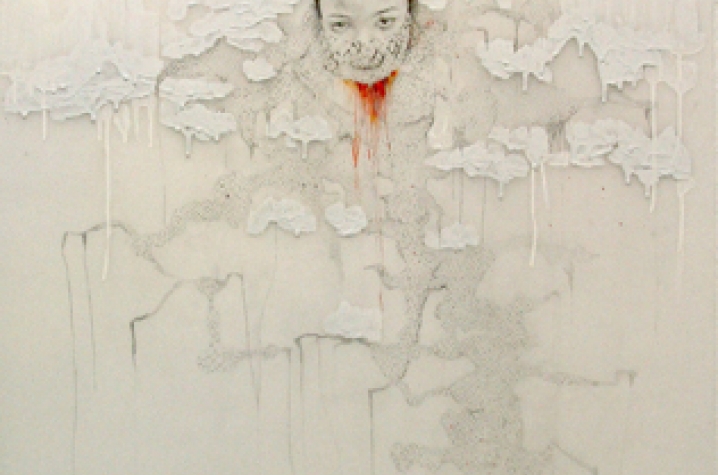 LEXINGTON, Ky. (April 19, 2010) − University of Kentucky art studio junior Ming Hong has taken first place honors at "University Open 2010," a juried competition between undergraduate fine arts students at Kentucky colleges and universities. This year's competition featured 42 pieces of artwork from the state's student artists.
University Open winners were announced at an opening reception held during Gallery Hop on April 16, at Lexington's Downtown Arts Center. Hong, a native of Baltimore, Md., received first place honors for her multimedia work titled "Cut and Sewn." Hong's work was recognized by juror Becky Alley for her "sensitivity to material and subtlety in mark-making." As Best of Show winner, the student artist received a $500 cash prize.
Additionally, UK art history and art studio senior Michelle Combs, a native of London, Ky., took honorable mention honors at the show for her photograph titled "Fight to Afghanistan." 
An annual art exhibition presented by LexArts, University Open is a juried art exhibition that exhibits some of the finest emerging artists across the state of Kentucky.
The 42 pieces of art selected from 168 submissions to the exhibition represent 11 public and private colleges in the state. Twelve of the art pieces selected to exhibit are from students at the UK Department of Art, the largest group of artwork from any school. Guest juror of the 2010 exhibit was Becky Alley, exhibitions and programs director of Lexington Art League.
Other UK artists joining Hong and Combs in the University Open are Ariel Chollet, Anna Cooper, Shannon Martin, Gregory Misner, Colleen Morrissey, Scott Overall and Sarah Recknor.
"I would like to thank LexArts and the Lexington Art League for this showcase of the talented art students and faculty in the Commonwealth's many art programs," said Benjamin C. Withers, chair of the UK Department of Art. "This is an event that our students look forward to each year. The exhibition offers them the opportunity to share their work with the community and compare their achievements with other students in the state."
Adds Withers, "Each year our students do so well both in the numbers that are juried into the show and the recognition through individual awards and this is an excellent measure not only of the quality of our students but also to the dedication and hard work of our faculty."
The University Open was first held in the spring of 2006.
The public can view Hong's winning artwork and art from other featured student artists in the University Open through May 1, at the SKO City Gallery, in the Downtown Arts Center. The exhibit, which is free, can be viewed from 10 a.m. to 5 p.m. Monday through Friday and noon to 5 p.m. on Saturday.