Building Community While Honoring the Legacy of Our Campus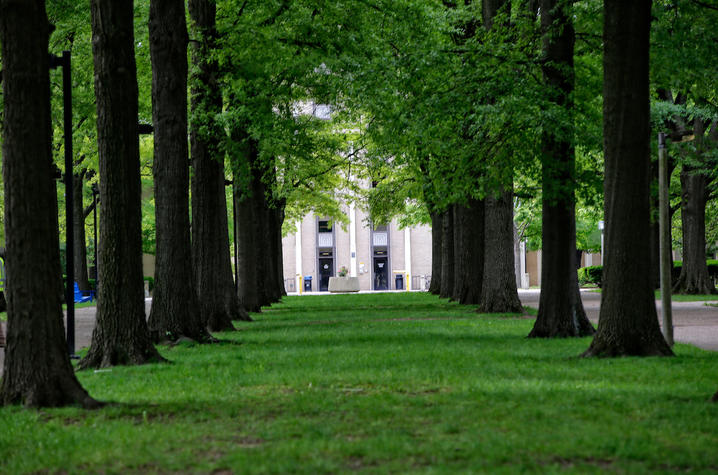 Late last year, the UK Board of Trustees approved a funding proposal to deconstruct the Kirwan-Blanding Residence Hall Complex and Dining Commons as part of a plan to build new student living space, add new green space, and preserve an iconic tree allée that serves as a critical landmark on our campus.
The project underscores UK's commitment to students and to the natural environment.
It's a win for everyone.
It's a win for our students, as we continue to construct living and learning spaces to support their academic, emotional, and physical health, while further building a community of belonging throughout our campus.
As part of building that sense of community, we will be adding green space that will enhance the ability and capacity of students and others to gather. Our commitment all along has been to preserve the two rows of trees – or the canopy – that frames the entryway into the complex.
We are in the process of removing about 200 trees from the area to make room for the new residence hall, accommodate additional growth, and enable us to add more greenspace.
Additionally, when construction does cause for tree removal, we are able to harvest the wood and partner with UK's forestry department to determine the next steps.
Ultimately, we will plant more trees in this area than we remove – part of our commitment, over the last several years, to the natural environment of our campus.
Indeed, I'm proud that – despite ongoing projects across the enterprise totaling some $2.6 billion – in the last five years, the University has planted more than 500 trees on the campus.
With every phase of campus transformation, University administration works diligently to ensure we put the needs of our entire community first.
Nearly 90% of UK's record first-year class of more than 5,300 students are living on campus this academic year, and more than 2,000 returning students have opted to live in UK residence halls.
They know – and their families know – that students who live on campus do better academically and socially.  And that's why we are continuing our efforts to enhance a major part of campus and build a sense of community in which everyone belongs and is accepted.
In doing so, we are honoring the environment and the special legacy this area holds for so many who came before us and for those who will follow.