Campus Safety is A Shared Responsibility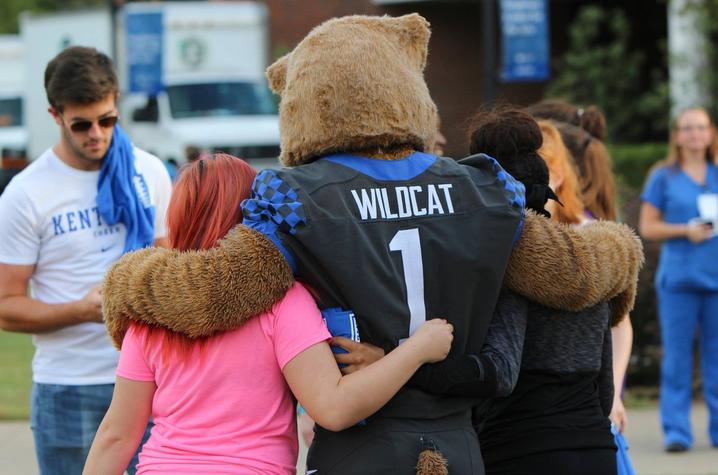 Monday, December 4, 2017
One week ago, our community experienced a potentially dangerous incident.
As President Capilouto described to the campus, a man was seen entering Buell Armory last Monday afternoon. An employee in the armory saw him and suspected he was carrying a gun. The employee immediately called the UK Police Department, alerting officers who arrived on the scene within 90 seconds to quickly apprehend the suspect. Police confirmed that the individual was carrying a gun.
I'm grateful for the UK Police Department's exceptional and expeditious response. It was a testament to their training and talent that they were able to resolve the situation and return our campus to safety in a matter of minutes.
This instance also exemplified our shared obligations. Campus safety is a responsibility that each member of the UK family shares. The employees who—sensing something concerning and suspicious—immediately reported it to UK Police. They did their part in maintaining a safe and secure environment personally and on behalf of the community.
Join me in thanking everyone involved for their swift and smart actions.
Of course, campus safety and security manifests in a variety of ways. That's why the UK Police Department has established new—and continues building on existing—initiatives to build trust among the community, such as:
Last week, UK Police teamed up with the Student Government Association to participate in the annual Campus Safety Walk, an opportunity to evaluate areas on campus that students traverse. It is an opportunity for the group to think creatively about how to further increase security throughout our campus environment. The Campus Safety Walk also represents an opportunity for students to engage with UK Police and get to know those entrusted with overseeing campus safety.
UK Police is committed to strengthening the department's relationships with all members of the UK family. That's why earlier this year, UK Police Chief Joe Monroe created a liaison position dedicated to fostering relationships within the LGBTQ* community. Officer Andy Eilertson and Officer Holly Williams are the first LGBTQ* Liaisons at UK's Police Department and are openly gay. Officer Eilertson was a former UK student athlete and began her law enforcement career in 2004. Officer Williams is one of the few female motor officers in law enforcement and actively raises money for Special Olympics. Together, they work closely with the Office of Institutional Diversity's LGBTQ* Resources Director Lance Poston to help build mutual trust, respect and understanding between LGBTQ* members and UK Police. Historically in places across the country, members of the LGBTQ* community have had negative experiences with law enforcement. As a result, although a significant percentage of the LGBTQ* population have experienced harassment and discrimination, there often is reluctance to turn to police. Having two police officers who identify with diverse sexual orientations is one important effort to change that mindset.
The UK Police Department also continues to offer an opportunity for citizens to gain insight into the daily functions and responsibilities of our law enforcement personnel, through the Citizens Police Academy. The academy's mission is to utilize this educational opportunity to foster a more cohesive relationship between law enforcement officers and the campus community. Graduates are able to share knowledge gained with others in the community, thereby helping others become more familiar with police practices.
Earlier this year, UK Police Chief Joe Monroe shared a number of campus security updates with our Board of Trustees.
These are just a few examples of UK Police partnering with the community, underscoring the important notion that campus safety is everyone's responsibility.
After all, nothing is more important than keeping members of the UK family safe. Thank you for the role you play in that mission.
Eric N. Monday
@UKYMonday
#seeblue