Cheering on the Wildcats, Connecting with UK Community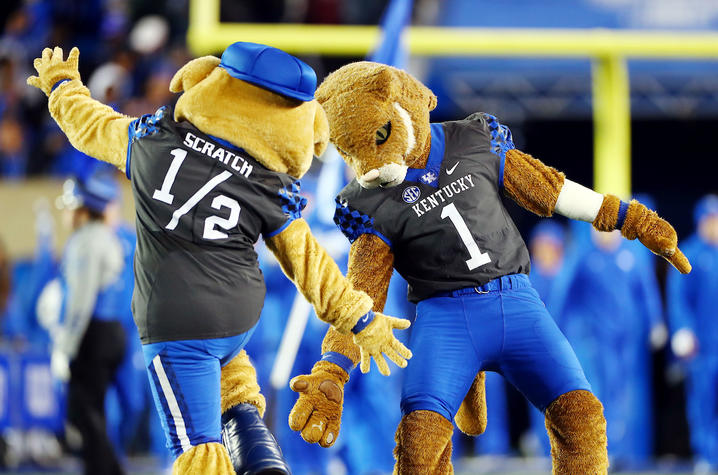 On New Years Eve, I had the opportunity to connect with several UK alumni in Charlotte, North Carolina, before cheering on the Wildcats against Virginia Tech at the Belk Bowl. Getting to meet them, hearing their stories, and sharing their love for UK football – and their alma mater -- reminded me that the UK family extends far beyond the walls of our campus, no matter where we are.
I also had the opportunity to say a few words. Below is some of what I shared with them – all of it a testament to your hard work, your passion, and your commitment to achieving more on behalf of our students, our university, and the Commonwealth we serve:
Playing in the Belk Bowl should remind us of the incredible work and commitment to excellence demonstrated by Director of Athletics Mitch Barnhart, Coach Mark Stoops, and our staff in UK Athletics.
It reminds us that it's a great time to be a Wildcat. Think about our achievements both on and off the field. Our teams are winning championships; they also are succeeding in the classroom and performing service in the community.
Across our campus, we have the highest graduation rates in the history of our institution, a hospital ranked first in the state four years in a row.
We've earned record levels of research devoted to solving our state's biggest challenges, including the largest grant in our history – nearly $90 million over four years – to reduce deaths from opioids across our state.
You also can see that through the transformation of our campus.
Under President Eli Capilouto, and with the leadership of our Board of Trustees, we've invested $2.6 billion in revitalizing and building living, learning, and research spaces, including:
14 residence halls
The 90 – a 1,000 seat dining facility that also houses learning spaces and classrooms
Gatton Student Center
Jacobs Science Building
J. David Rosenberg College of Law Building
Healthy Kentucky Research Building
Modernizations to the Gatton College Building, the Chemistry-Physics Building, and the Grehan Building
But it doesn't stop there. In fall 2020, we also plan to open an innovation corridor in the heart of our campus that will support the university's future in technology, entrepreneurship, creativity, and research.
The Winslow property – on the site of what used to be Kennedy's bookstore – will serve as a home to a planned esports theater.
This open-format space will utilize technology to maximize student success, research, and community engagement.
Our Board of Trustees also approved the demolition of the Kirwan Blanding complex. Kirwan Blanding will be the site for a new residence hall and an expansive GREEN in fall 2022.
We're excited about these facilities and what they will mean for our future.
But more important than all the numbers are what they represent – the idea that we are preparing students to succeed. And that they will make a better future for Kentucky.
These are just a few examples of our commitment at the University of Kentucky to do more—and be more—for those we serve.
We are grateful to our alumni for the crucial role they play in that work.
And I remain grateful to all of you – faculty and staff across this campus and this Commonwealth – for your commitment to our mission of education, research, service, and care. You make possible our progress. You are making possible even bigger goals and dreams for the future.