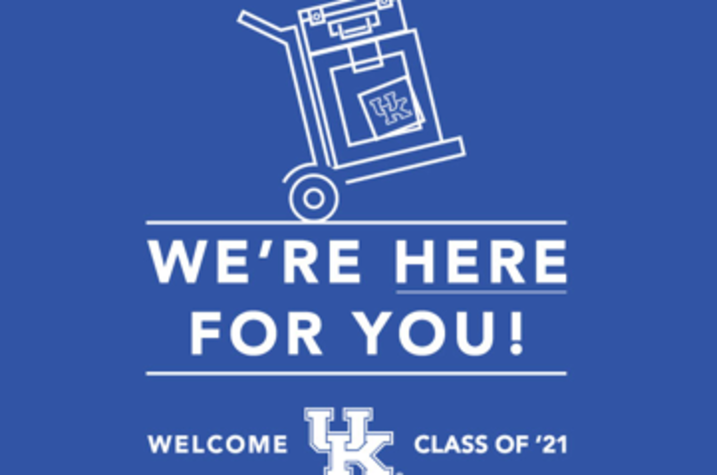 In a few weeks, the University of Kentucky will have an opportunity to make a lasting first impression on thousands of new Wildcats.
For many new students and their families, Big Blue Move-In 2017 represents a turning point in their lives—a moment when students, ready for the rigors of college, begin new responsibilities and independence. For the University of Kentucky, it is an opportunity to welcome them into their new campus family.
As part of this special time, we are asking faculty and staff to volunteer and lend a hand with Big Blue Move-in.  Volunteers can help new and returning students unload and move their belongings into their residence halls for the upcoming academic year.
If you or members of your department are interested in volunteering, fill out the online form to work one of the following move-in windows during the second and third week of August:
Saturday, August 12, 9:00 am-4:00 pm: Marching band, sorority recruitment, BCTC, Fast Track, STEMCats, and International Student Orientation
Thursday, August 17, 9:00 am-4:00 pm: Living Learning Programs
Friday, August 18, 9:00 am-4:00 pm: Freshmen and returners
As a volunteer, you will receive one of our Big Blue Move-In t-shirts.
For these nearly 7,200 students moving on campus, collectively we can give a positive first impression that UK is here to support them on their path to a degree. It's our opportunity to share our commitment to their success.  Please consider joining me in providing a Big Blue welcome.  Click here to volunteer.
Eric N. Monday
@UKYMonday
#seeblue