Join Us In Welcoming Students and Families at Big Blue Move-In 2018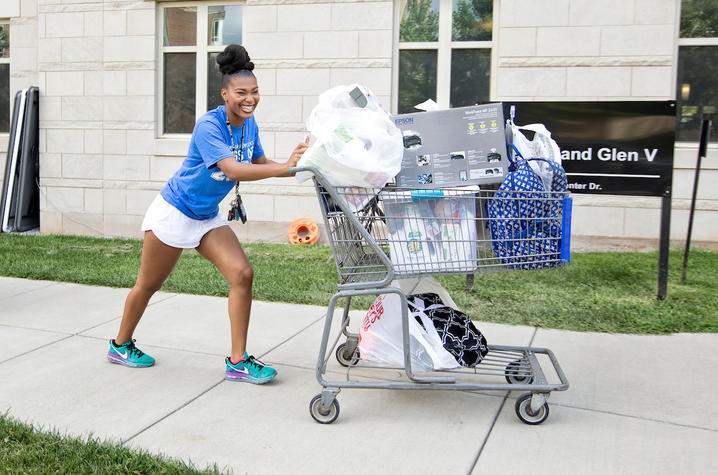 Big Blue Move-In is a special time for the campus community.  It's a time when our students remind us, in ways only they can, of why we are here. It's also our first chance to ease the transition from home to college of students moving into the residence halls.
Members of the UK family will have the opportunity to make a lasting first impression on thousands of new Wildcats and to demonstrate the environment of support and belonging that we strive to uphold. It's a time to connect with students and their families and learn about their diverse experiences and perspectives.
As part of Big Blue Move-In 2018, we are asking faculty and staff to volunteer and lend a hand with this important undertaking.  
Among the more than 7,000 students transitioning to campus, we are expecting approximately 2,000 students to move in on each of the three major Move-In days. Volunteers can serve in the following capacities:
Unloaders - unload student belongings from vehicles onto tables;
Traffic Coordinators - greet students and families and explain move-in procedure; or
Cart Station Coordinators- assist with cart check out/in and physical handling of carts
If you or members of your department are interested in volunteering, please complete the Move-in volunteer form to work one of the following Move-in windows.
Wednesday, August 15th (LLP Move-In):  9:00am - 5:00pm
Thursday, August 16th (LLP/General Population Move-In):  9:00am - 5:00pm
Friday, August 17th (Freshmen/Returning Move-In):  9:00am - 5:00pm
Whether you are able to volunteer your time or not, please remember that safety is always important at the University of Kentucky—not just for our students, but for all those who work here and call this special community home.  Over the next few weeks, thousands of new students will be transitioning to campus at a time when traffic will be heavy and streets will be re-routed to accommodate Big Blue Move-In.
UK Police will be out in full force to assist with Move-In. We urge everyone to be patient with the inevitable delays and to travel safely. We also encourage those commuting to campus to use the WAZE app to view traffic updates. 
For more information about no-parking zones, designations for one-way streets, and other issues related to Move-In, visit the Fall 2018 Big Blue Move-In webpage. 
Please share this information with colleagues, delivery drivers, or any other visitors to campus you expect during the opening of term. 
Move-In collaboration is a testament to an idea that makes this place so special: we all play a role in student success.   That's what makes us the University of and for Kentucky.
Have a great week.
Eric N. Monday
@UKYMonday
#seeblue