Kirwan-Blanding Complex, Commonwealth Village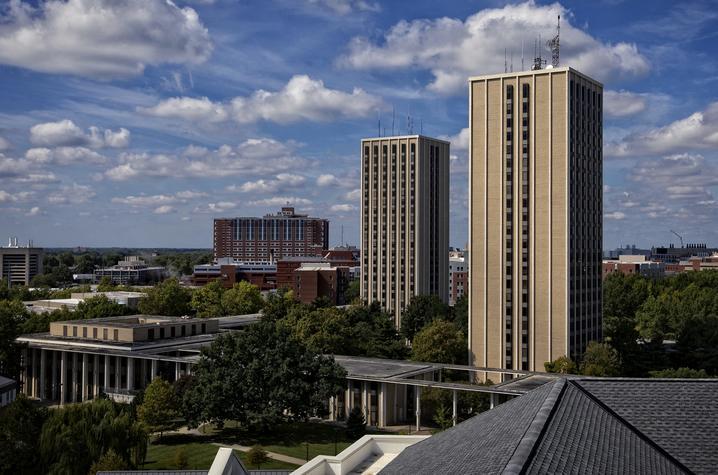 Monday, Feb. 5, 2018
Our campus transformation— $2.23 billion over the last six years—has been fueled by our commitment to create the best possible environment for those we serve.
To that end, we started by listening.  We asked students what kinds of residential spaces would best support their success? What elements in their social and recreational spaces would best facilitate community-building?  Their invaluable feedback guided us through each step. They told us that they want to reside in high-tech living and learning spaces, with classrooms in their residential facilities, which encourage interaction with other students and faculty. 
Students—and other members of our community— also conveyed that more green space is a critical element in creating a welcoming environment, conducive to the important work we do each day.
Against that backdrop, the UK Board of Trustees made a decision at its December 2017 meeting to approve declaring the Kirwan-Blanding residential complex and the Dining Commons surplus.
The Kirwan-Blanding complex is more than 50 years old with a facility condition index rating among the poorest on the campus. The demolition cost of the complex is estimated at $15 million.  Prior to any demolition, we must re-route the utility infrastructure beneath the Kirwan/Blanding complex and complete the asbestos abatement. The utility infrastructure routing and asbestos abatement are the first steps prior to demolition.  This preparation work will take place over a number of years, starting with the utility work in 2018.
The current canopy of trees framing the nearly 13 acres of land at the Kirwan Blanding complex project will be preserved and used to create more green space for our students. 
Additionally, the Board also approved a proposal to declare the Commonwealth Village Graduate Housing Complex as surplus. Commonwealth Village Graduate Housing Complex was built in 1963 and has been vacant since September, when Roselle Hall was converted into graduate housing. The University is moving forward in selling this property and plans to use the revenue from the sale as part of a graduate housing replacement fund.
Our students are at the forefront of our decision making at the University of Kentucky. And we are committed to working with them to create an environment that bolsters their success.
Have a great week.
Eric N. Monday
@UKYMonday
#seeblue