Kirwan-Blanding, the UK Green, and the Future of South Campus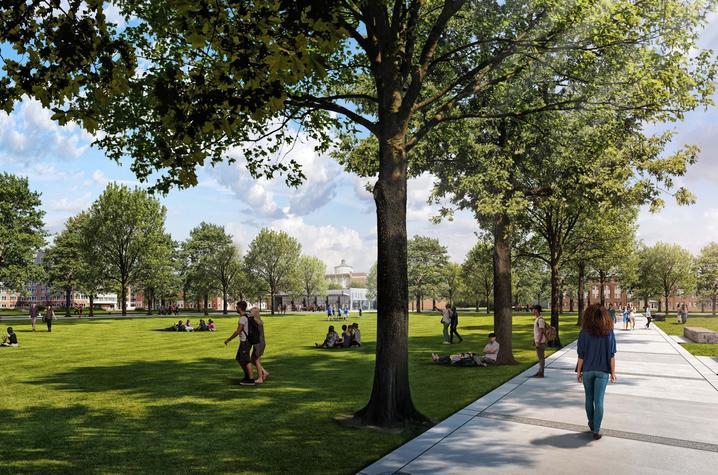 This week, President Capilouto will ask our Board to approve a funding proposal for another crucial component of our campus transformation.
Our plan, if approved, is to demolish the Kirwan-Blanding Residence Hall Complex and Dining Commons within the next 12-15 months.  Afterward, we would make plans to construct new student living space and add new green space to create a UK Green. 
We also would preserve the allée of trees that makes that area of campus so distinct.
When we think about what this will mean for our students, it's an exciting step forward in multiple ways. The site sits on about 14 acres on central and south portions of our campus, so we have tremendous capacity to enhance the natural environment on this side of campus. 
And, of course, the living and learning space we plan to create, surrounded by substantial green space, will support students' academic, emotional, and physical health — and give them a sense of belonging. It's another example of how we put student success at the center of everything we do. 
You can see that commitment in the numbers. 
More first-year and returning students than ever before are choosing to live on campus. They know — and their families know — that students who live on campus do better academically and socially.
Nearly 90% of this year's freshman class—the largest we've ever had—are living on campus this academic year. And more than 2,000 returning students have opted to live on campus.
Even as we have built 6,850 new residence hall beds since 2013, we are still in need of additional housing capacity to serve students and a growing campus.
We believe housing and residence life are essential parts of the formula for student success. Our outcome data bear that out; this year we also saw record retention and graduation rates.
The bottom line: As we continue to grow, we need more housing capacity to serve the needs and interests of our students.
And these plans have been in the works for several years. 
In December 2017, the Board gave us authorization to plan for demolition of the complex. The proposed recommendation takes the next step to approve funding for the project.
The source of funding would, if approved, be a $10 million internal loan to Auxiliary Services and $5 million from private funds. An additional $5 million internal loan will go toward the civil site infrastructure improvements that would create the UK Green.
Pending Board approval, we will issue a request for proposals for demolition of the complex shortly after the Board meeting, with a goal to start work early next year. We are asking for proposals that do not include implosion.
We also have begun negotiations with our housing partner to construct the new residence hall that would contain more than 500 beds and house a combination of first-year and returning students. The goal is to have the new residence hall open in fall 2022.
This is an exciting next step in our campus transformation. It underscores our commitment to creating the best possible living and learning environment for our students.
It reflects our role as the University for Kentucky. 
Have a great week. 
Eric N. Monday 
@UKYMonday 
#UK4KY