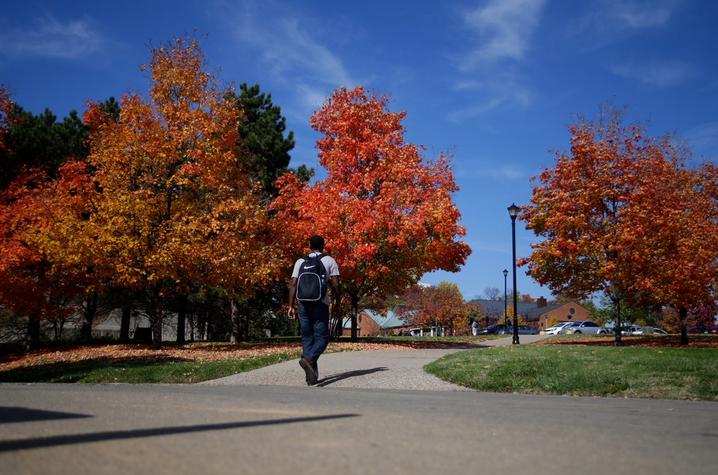 Monday, October 23, 2017
Last week, Vice President for Facilities Management Mary Vosevich gave an update to our Board of Trustees on our continuing efforts to modernize our campus.
In August, phase III of our housing transformation was completed.  Over the past five years, 6,850 beds in 14 new state-of-the-art residence halls were built to provide one of the best residential, public research campuses in the country. Our campus housing provides extraordinary student support services and offers students a higher quality of life on campus, along with greater connections to the University community.
Our commitment to providing modern residence halls mirrors our obligation to provide innovative classroom, research, and support space. That's why when we think about which of the University facilities that we would upgrade, we focus on those that would benefit students the most by promoting academic and scholarly excellence.
During the last budget cycle, the state legislature authorized a $60 million campus modernization project that the University will fund through issuance of agency bonds.
UK's modernization initiative will rehabilitate, renovate, and modernize buildings to accomplish a few key objectives:
Utilize our spaces efficiently, by allowing for greater flexibility for ever-changing class needs.
Modernize the core of campus to encourage a unified sense of place and to provide renovations across academic disciplines.
Create spaces to increase synergies among departments and faculty members. These partnerships allow our students to receive an even more fruitful educational experience.
Provide modern educational technology to address student needs.
Manage escalating costs by upgrading existing infrastructure to provide improved, energy-efficient systems that reduce operating costs and lower maintenance expenses. In cases where we already have the infrastructure, it is more financially sound to upgrade those facilities, rather than start from the ground up.
So, how are we determining the buildings to renovate?
Each building within the University of Kentucky's campus academic core was reviewed in general terms, and assigned a value on a Facility Condition Index (FCI). To calculate an FCI, the cost of maintenance, repair and replacement deficiencies is divided by the current replacement value of the facility.  The FCI score of each building was used to determine the most beneficial facilities to modernize. Those receiving an FCI score greater than 20 are at the top of our priority list.
Beyond that, we also considered other factors:
Student success: which buildings, when renovated, will have the strongest positive impact on student success?
Physical location: those located within the core of campus drew our attention, as they will get the most use by students.
Consolidation: which buildings have the potential for consolidation of department space to ensure the most efficient use possible?
Historical and architectural significance of a building.
What does this facility modernization entail?
A variety of buildings were identified that could benefit from modernization. However, with the approved $60 million budget, we will focus on two buildings that best met the guidelines listed above, with an FCI of 55% or more, and that would fit within our budget: The Enoch Grehan Journalism Building and the Chemistry-Physics Building.
The Enoch Grehan Journalism Building was constructed in 1951. It covers 35,090 gross square feet of space and impacts 817 students.  We will be constructing a connector building from Enoch Grehan Journalism Building to McVey Hall to provide accessibility and synergy for the two buildings. This allows for consolidation of programs and functions from multiple buildings. We will also create modern spaces that are flexible and easily adaptable for future needs; this will provide state-of-the-art, centrally-scheduled classrooms that support all students.
The Chemistry-Physics Building was constructed in 1963. As it spans 253,347 gross square feet and impacts 11,110 students, renovating it will greatly benefit the University of Kentucky. We will also upgrade heating, ventilation, and air conditioning (HVAC), in order to improve overall building safety and reduce operating costs.
Modern buildings are important to everything that we do here at the University of Kentucky. We are grateful for the opportunity to upgrade and modernize our facilities to best serve our community and allow our students, staff, and faculty to thrive.
Eric N. Monday
@UKYMonday
@seeblue