Our Students, DanceBlue Illustrate Our Shared Purpose to Serve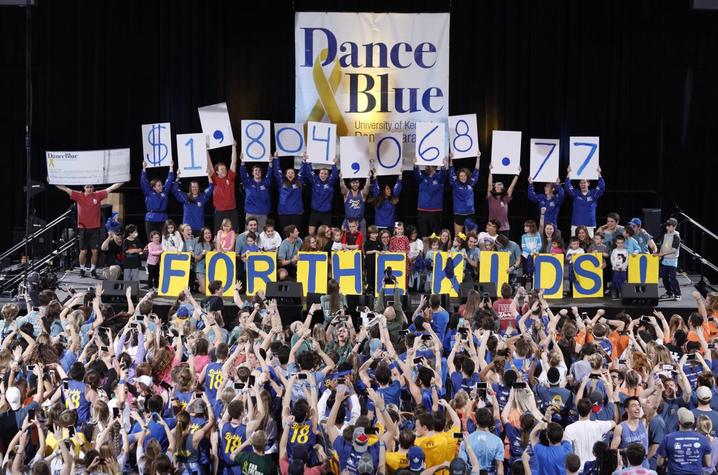 Monday, Feb. 19, 2018
A little more than a year ago DanceBlue student-volunteers, Kentucky Children's Hospital staff, and UK patients and their families, celebrated the grand opening of DanceBlue Kentucky Children's Hospital (KCH) Pediatric Hematology/Oncology Clinic. 
It was a celebration made possible through the passion, dedication, and partnership of our students—a sight on bright display last night as they revealed the grand fundraising total for the 13th DanceBlue: $1,804,068.77.  All of the money raised at this annual 24-hour no-sitting, no-sleeping dance marathon benefits children with cancer and their families and cancer research.
Nearly 1,000 dancers completed DanceBlue.
Each year our community comes together to raise more resources to support this noble cause. It all began in 2006 by raising $123,323.16 and has increased every year. With this year's total, DanceBlue has contributed more than $13.4 million dollars.
The distinctive education we provide at UK positions our students to ask the bold questions of tomorrow, like what if we could create a world without pediatric cancer? Our campus community—one that embraces innovative partnerships and collaborations—has joined them in the cause.  The clinic provides diagnosis of and treatment for childhood hematologic and immunologic disorders and malignancies.
The KCH team offers complete and compassionate care to kids with blood disorders and diseases, right here in Kentucky.
Our UK family recognizes the power of partnership and collaboration: the idea that we can accomplish so much more when joined arm-in-arm, than we can separately.
Last week, faculty and staff from across our campus gathered at the Boone Center for the third annual Staff and Faculty DanceBlue Dance Party, which raised more than $8,000 to support the cause. It was an inspiring example of our community—led by our students—coming together to champion a critical health issue. I'd like to thank each of the faculty and staff members who joined in and contributed to this important event.
And, of course, I would like to thank our students who, through this event and through their many other connections with the community, remind us of our purpose.
We are here to serve.
The DanceBlue Kentucky Children's Hospital (KCH) Pediatric Hematology/Oncology Clinic is a physical manifestation of this service. It boasts more than 6,000 square feet, doubling the space of the former outpatient clinic located at the UK HealthCare Kentucky Clinic.
Please join me in thanking each community member who contributed.
We'll keep fighting, for the kids, "'til the battle is won."
Eric N. Monday
@UKYMonday #seeblue