The "Why" Behind our Housing Revitalization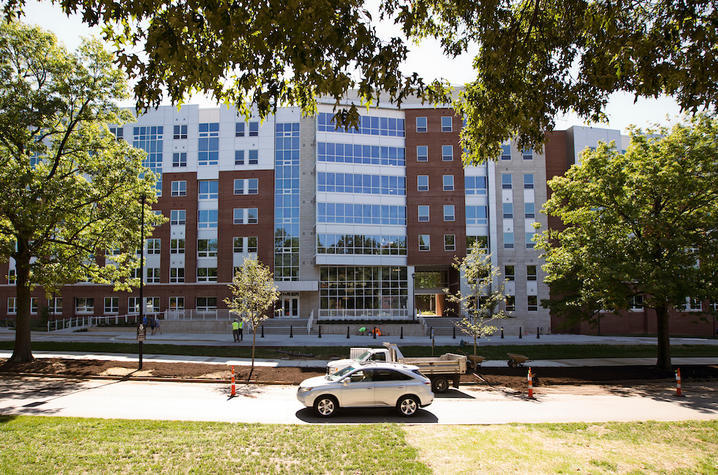 Monday, August 14, 2017
Last Thursday, our community gathered at University Flats to celebrate the next phase of our nearly $450 million housing revitalization.
It was another example of promises made; promises kept.
President Capilouto's vision, and that of our Board of Trustees, is to create one of the best residential, public research campuses in the country. This housing transformation — completed in four years, and encompassing 6,850 beds in 14 new state-of-the-art residence halls — is a cornerstone of that effort.
It's an effort focused entirely on student support. That's why we often say that our transformation is about more—so much more—than nicer buildings. It's about how we create an environment for our students to thrive and to build community.
It's the programming and integration of our academic mission and community into our residence halls that define the "why" behind the construction.
Our Institutional Research and Advanced Analytics team constantly monitors a host of student success indicators. From data we collect, we know that students who live on campus, and – in particular – participate in a living-learning program (LLP), succeed at a higher rate on their path to a high-quality degree.
Students who live on campus feel more connected to the university community. They play a more active role in making our campus an environment in which everyone, regardless of background, ethnicity, ideology or experience, feels an unshakable sense of belonging and engagement.
These new, innovative facilities also provide additional student support spaces.
Take Lewis Hall, for example, another new residence hall opening this fall. With nearly 20,000 square feet of dedicated academic support space for the Lewis Honors College, it includes four classrooms and more than 30 offices. 
Outside the dedicated interior space in these buildings, additional student support resources are also located within a short walking distance.
For example, the University Flats complex—housing for graduate and professional students in one wing, and upper-division undergraduate students in another—is located in the heart of the University of Kentucky campus, steps away from UK Healthcare, William T. Young Library, the 90 and other dining options, and graduate and professional programs including Medicine, Dentistry, Pharmacy, Law, and many others.
Living on campus puts students in close proximity to resources across all four pillars of student success—the Student Financial Wellness Center, the Counseling Center, the Johnson Center, among many others.
At the core of every decision we make lies a simple, but fundamental question: how do we further help our students succeed? This housing transformation answers that charge in multifaceted and intersecting ways.
It's all about them. It's about our students' ability to graduate prepared to lead lives of meaning and purpose.
So, as our housing completes another phase, we will continue to explore how to use these facilities in innovative ways to support our mission.
Our mission is our students.
Eric N. Monday
@UKYMonday
#seeblue