Growing The Next Generation of UK Fans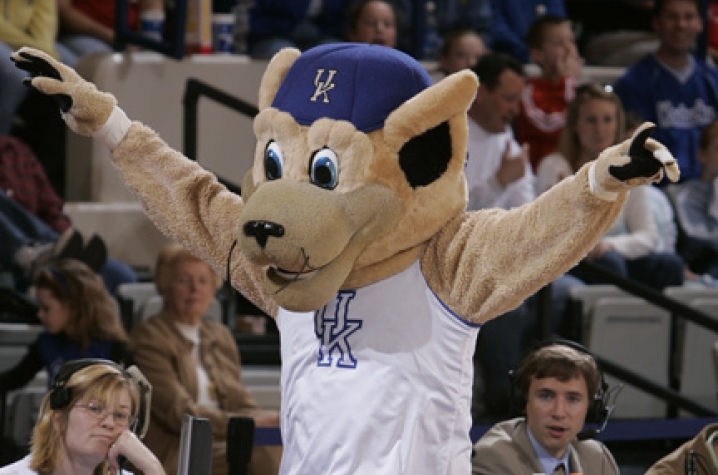 LEXINGTON, Ky. (Sept. 4, 2009) -- While some people may assume that most everyone born in the Commonwealth will grow up to be a fan of the Kentucky Wildcats, UK Athletics certainly does not take the next generation of its great fan base for granted. That's one of the reasons the Chick-fil-A Junior Wildcat Club was initiated in the mid-1990s.
"The club is designed to give kids an exciting way to be part of UK Athletics," said Erin Menard, a marketing graduate assistant who recently took over the reins of the club.  "It's a great chance for young Wildcat fans to become involved with the student athletes, see the value of obtaining a college education, and to experience their favorite sports at a higher level of competition."
All boys and girls in eighth grade (14 years old) and under are eligible to join the Chick-fil-A Junior Wildcat Club. There is no age minimum.
JWC members receive a club membership and T-shirt as well as free general admission to all UK Olympic sporting events all year long. These include men's and women's soccer, volleyball, women's basketball, gymnastics, men's and women's swimming, baseball, and softball.
In addition, members and one guest receive free admission to one select football game and the men's baskeball Blue-White scrimmage.
"For each Olympic sport there is a designated JWC game where Scratch, the official mascot of the club, will attend," said Menard. "And, members between the ages of 10 and 14 are eligible to be selected as men's and women's basketball ball kids. There is a drawing each year before the season starts."
Several special dates are coming up: Sept. 8 will be JWC Day at the volleyball game, Sept. 18 is JWC Day at women's soccer, and Oct. 7 is JWC Day at men's soccer. The date for JWC Day at a football game will be announced in the near future.
The easiest way to find out more information about the Chick-fil-A Junior Wildcat Club, or to join, is for parents to go to www.ukathletics.com and click on the "Traditions" tab, then "Junior Wildcat Club." You can print out the application form, then just fax it to (859) 323-4310, or mail it to:  Junior Wildcat Club, c/o Athletics Marketing, Joe Craft Center, 338 Lexington Ave., Lexington, KY 40506. 
Sign up is available at any time of the year, although membership runs from August through May, mirroring most school calendars. If you have any questions, you can call UK Athletics Marketing at (859) 257-8022.
Oh, and in case you were wondering, UK Athletics officials tell us that Scratch and the Wildcat mascot are very good friends and get along very well.
"They love to go to UK games together," according to Menard. "Sometimes Wildcat tries to get Scratch to let him take over as official mascot of the Junior Wildcat Club, but Scratch loves to hang out with the kids too much to ever let that happen."
Chick-fil-A is the official sponsor of the Junior Wildcat Club.