Leadership Straight from the Horse's Mouth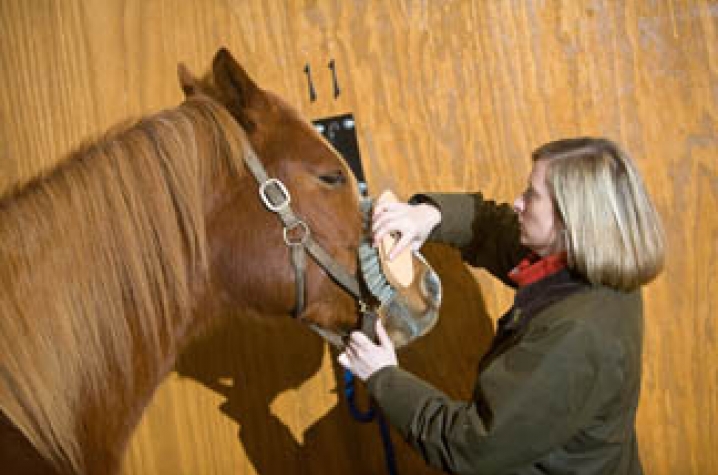 LEXINGTON, Ky. (March 14, 2012) – Local leaders in various aspects of the equine industry will examine how the horse influenced their personal leadership development and career paths during a public panel discussion Tuesday, April 17, in the University of Kentucky Veterinary Diagnostic Laboratory auditorium.
Hosted by The Center for Leadership Development in the UK College of Agriculture, the evening's activities will start at 6:30 p.m. EDT with a reception with the panelists. The discussion will begin at 7 p.m., featuring Avo Kiviranna, chair of Midway College's Equine Studies Division and a horse training professional; Harold Rainwater, founder and director of the equine program at Asbury College and the mayor of Wilmore; Ed Squires, director of UK's Maxwell H. Gluck Equine Research Center and UK Ag Equine Programs; Sara Tracy, community liaison for Locust Trace AgriScience Farm; and Patricia Cooksey, director of public relations for the Kentucky Horse Racing Commission and the first female jockey to win a stakes race at Churchill Downs.
The Center for Leadership Development, under the direction of Professor Tricia Dyk, currently facilitates Equine Guided Leadership Education workshops for both students and the public, during which they explore ways horses teach people leadership competencies.
"We hope these leaders' stories will inspire students who are interested in careers in the horse industry," said Lissa Pohl, program and outreach associate for The Center for Leadership Development.
The event is sponsored by the W. Norris Duvall Leadership Education Fund, whose mission is to support the leadership development of young college and college-bound students by exposing them to community leaders who exemplify character and values.
There is no fee to attend, and parking is available at the event. UK Veterinary Diagnostic Laboratory is located at 1490 Bull Lea Road, off Newtown Pike in Lexington. For more information, contact Pohl through e-mail, lissa.pohl@uky.edu.