Medical Student Makes Most of Mentor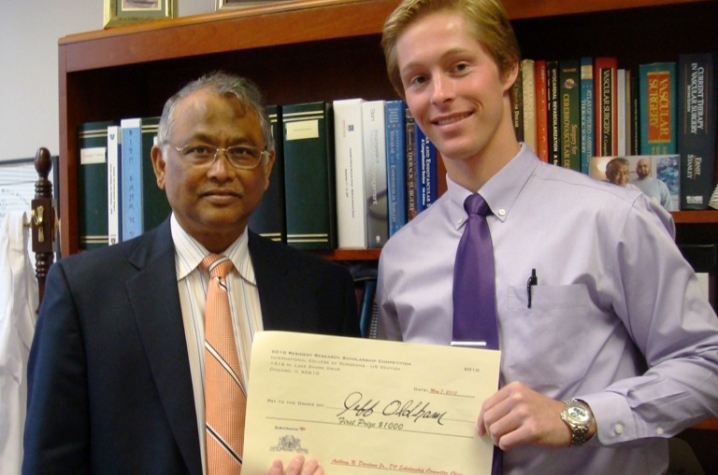 LEXINGTON, Ky. (June 25, 2010) — Jeff Oldham, a third-year medical student at the University of Kentucky College of Medicine, was reluctant to submit his abstract and paper to the research competition committee of the International College of Surgeons. 
He was even more apprehensive to compete last month as a finalist against residents and fellows from all over the world at the 72nd Annual Congress of the International College of Surgeons in Denver, especially as the first medical student to ever participate in this competition. 
However, this apprehension did not stop Oldham from bringing home the first prize. His paper, entitled "Carotid Endarterectomy: Outcome of Original Technique" is based on research that began last year with Dr. Sibu Saha, professor of surgery in the Division of Cardiothoracic Surgery and chair of the Gill Heart Institute Director's Council.
"Jeff has discipline, courage and passion for excellence," Saha said. "He's a very special student and I am proud of him."
Oldham began his research project by reviewing medical charts of Saha's patients who underwent carotid endarterectomy, surgery used to prevent stroke, over the past seven years.
"Although the surgery has been performed since the 1950s, there are lots of different surgical techniques, none of which have ever been proven better than the others," Oldham said. "Dr. Saha uses a unique approach, by inducing hypertension to increase blood flow to the brain instead of inserting an intraoperative shunt. He also chooses primary closure of the artery instead of using a patch."
Oldham's study reviewed 30-day postoperative events as well as long-term follow-up. The information obtained from both the short- and long-term periods were supportive of carotid endarterectomy with induced hypertension and primary closure in appropriate patients.

"My experience with Dr. Saha taught me a lot about myself," Oldham said. "Most importantly, I learned the importance of having a strong mentor. Dr. Saha motivated and encouraged me, and gave me a respect for research and a desire to continue learning throughout my entire career. I will take the wisdom he has shown with me as I enter residency and later as I build my practice. I will never allow my work to become routine but instead will challenge myself to think of ways to advance my skills and sharpen my mind. There is no greater mentor on this campus than Dr. Saha."