National Drug Czar Visits UK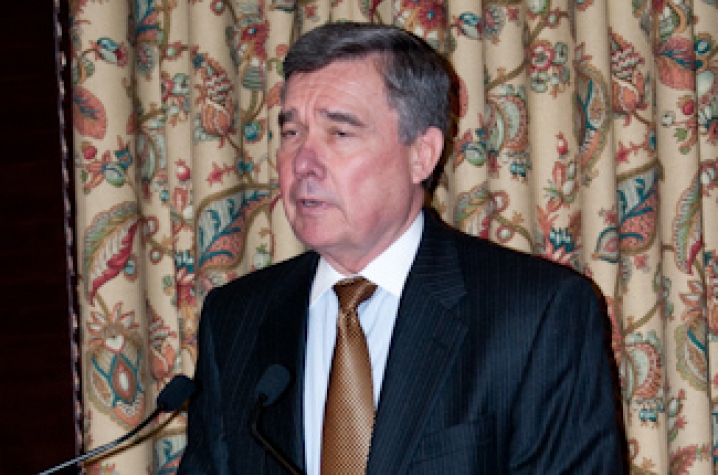 LEXINGTON, Ky., (Feb. 23, 2011) – A collaborative effort led by the University of Kentucky colleges of Agriculture, Pharmacy and Public Health has attracted the eye of the White House director of National Drug Control Policy.
Director Gil Kerlikowske, U.S. Rep. Ben Chandler, key congressional staffers, Lexington Mayor Jim Gray and UK experts met at UK's Hilary J. Boone Center today for a roundtable discussion on a community-based approach to prevention and control of prescription drug abuse. They were particularly interested in the Different Faces of Substance Abuse, a conference led by the UK College of Agriculture's Health Education through Extension Leadership program, which targets prescription drug abuse at a grassroots level.
"Our nation is facing a prescription drug abuse epidemic, and the Obama administration is taking steps to reduce prescription drug abuse and its consequences by supporting education, monitoring, proper disposal and law enforcement efforts," Kerlikowske said. "Our collaborative approach to reducing this public health threat requires all of us to work together, and we recognize the University of Kentucky for tackling this problem and supporting vital efforts in Kentucky to prevent drug abuse and heal abusers."
Senator Mitch McConnell, who encouraged Kerlikowske to visit Kentucky and secured funding for UK's Health Education through Extension Leadership program (HEEL), said he appreciates the director's focus on this program.
"For many years, I have been proud to support the work that the University of Kentucky and the Cooperative Extension Service do to implement programs designed to improve the health of Kentucky communities through outreach and education," he said. "I am pleased that Director Kerlikowskie had the opportunity to see the good that has come from this program."
Additionally during the roundtable, representatives from law enforcement and local and state agencies discussed their efforts. In addition, eight congressional staff members, including representatives of McConnell, were in attendance to learn about the various efforts across Kentucky.
Cooperative Extension programs in health, including the Different Faces of Substance Abuse, were boosted by the creation of HEEL in 2002. McConnell and UK College of Agriculture Dean Scott Smith conceived and initiated the project, and McConnell championed federal funding through a U.S. Department of Agriculture grant.
"We are pleased that Director Kerlikowske recognizes our work in addressing the issue of prescription drug abuse," said Ann Vail, director of the UK School of Human Environmental Sciences and assistant director of family and consumer sciences extension.
"I am glad Director Kerlikowske came to Kentucky and sparked this conversation," Chandler said. "Today's discussion was one the Commonwealth desperately needed to have. We have a real problem with drugs in Central Kentucky, and this isn't a problem that local sheriffs, Chrysalis House, UK, KASPER or even the federal government can fight on their own. We all have to work together on all levels from local to state to federal to make meaningful progress. Today was a big first step."
In a 2006 study published by the U.S. Substance Abuse and Mental Health Services Administration, Kentucky led the nation in the percentage of residents who reported using psychotherapeutic drugs, prescription pain relievers and prescription tranquilizers for nonmedical reasons within the previous year.
"Prescription drug abuse is a pervasive problem that afflicts people of every income level, most notably in Eastern Kentucky," said Lt. Col. Joe Williams, director of operations with the Kentucky State Police. "The problem has become more difficult because a substantial number of Kentucky citizens are traveling to other states to purchase pills for purposes of abuse and trafficking. Law enforcement has shifted its focus in order to stem the flow of pills and to combat the high level of overdose deaths that we are experiencing in the Commonwealth."
The UK Substance Abuse Commonwealth Collaborative, through the efforts of its lead agency, UK's HEEL program, brings together individuals and agencies from across Kentucky to combat substance abuse. UK President Lee T. Todd Jr. created the Commonwealth Collaboratives so UK's research resources could be used to target the state's longstanding problems that hinder Kentucky's economic and cultural progress.
"We built on the Commonwealth Collaborative started by President Todd and brought our unique focus of families and communities as the context in which it needed to be addressed," Vail said.
"The Cooperative Extension Service is charting new territory in addressing the issue of prescription drug abuse and its effects on individuals, families and communities," said Jeanne Davis, UK extension administrator. "Our role is one of education, and we have a network of dedicated county extension agents who can tap into the available resources at the university and collaborate with other agency partners to address grassroots issues such as prescription drug abuse."
For years, HEEL has recognized and capitalized on the important leadership role extension agents have in their communities. Through the agents, the program has provided research-based information to Kentucky residents about how they can improve the health and well-being of their families, communities and themselves.
"HEEL serves as a bridge for local communities to the University of Kentucky's expertise and resources," said Deborah Murray, associate director of HEEL. "Building collaborations with communities and the university is the most important role we have in combating substance abuse issues."
Since its inception, HEEL has established grassroots movements to combat the state's substance abuse problems starting with Walk Your Land, a program that helps landowners recognize the signs of methamphetamine labs. Another program called Drug Endangered Children was a statewide collaboration that addressed the emerging needs of children found in homes with methamphetamine labs. It established a protocol for emergency room staff, law enforcement and social workers to deal with these children.
Roundtable participants said they enjoyed the opportunity to discuss such an important issue.
"This roundtable discussion was an invaluable law enforcement and educational tool," said Ronnie Bastin, Lexington's Chief of Police. "It provided the Division of Police with an opportunity to discuss the topic of prescription medication abuse with our community partners, elected officials and the esteemed Director of National Drug Control Policy, Gil Kerlikowske. I believe this open and frank discussion will assist us in our continuing efforts to make Lexington an even safer place to live".