Office dA's Ponce de Leon to Lecture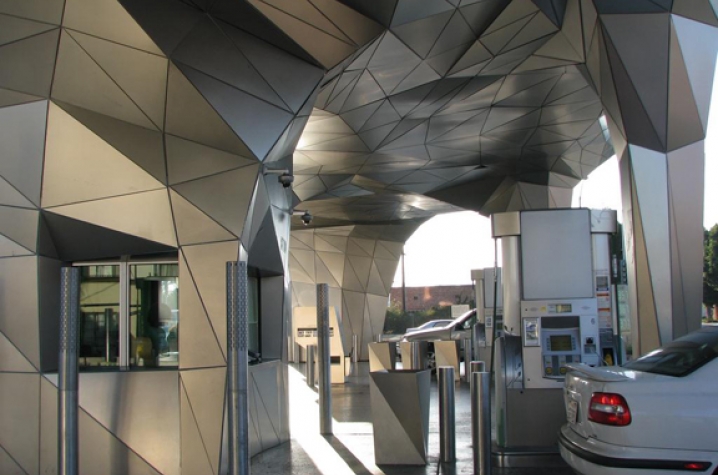 LEXINGTON, Ky. (Nov. 6, 2009) - Monica Ponce de Leon, a founder of Office dA and dean of University of Michigan's A. Alfred Taubman College of Architecture and Urban Planning, will present the next lecture in the University of Kentucky College of Design Lecture Series (pdf). Ponce de Leon's lecture is scheduled for 6 p.m. Wednesday, Nov. 11, in 209 Pence Hall. The lecture is free and open to the public.
 
Monica Ponce de Leon joined the University of Michigan as the dean of the A. Alfred Taubman College of Architecture and Urban Planning in September 2008. She also serves as the Eliel Saarinen Professor of Architecture and Urban and Regional Planning at the institution.
Ponce de Leon received her bachelor's degree in architecture from the University of Miami and her master's degree in urban design from the Harvard Graduate School of Design. Upon completion of her master's degree in 1991, she and Nader Tehrani launched Office dA, an internationally known design practice of which she is a principal.
As an educator, Ponce de Leon joined the Harvard Graduate School of Design faculty in 1996, following appointments on the faculties of University of Miami, Northeastern University, and Georgia Institute of Technology. She also has held visiting professorships at the Southern California Institute of Architecture and the Rhode Island School of Design.
Ponce de Leon received from the Architectural League of New York an Emerging Voices honor in 2003, and the Young Architects Award inn1997. She also is a 2002 recipient of the American Academy of Arts and Letters Award in Architecture. Her practice has received more than 30 design awards, among which are the 2007 Cooper-Hewitt National Design Award, the 2007 AIA (American Institute of Architects)/LA Design Award for Helios House, the 2007 I.D. Magazine Award: Environment, the 2007 AIA/ALA (American Library Association) Library Building Award for the Fleet Library at the Rhode Island School of Design, and 10 Progressive Architecture Awards. Most recently, Office dA was awarded the American Institute of Architects Committee on the Environment's (COTE) Top Ten Green Projects for 2008 for the Macallen Building in Boston.
Among Ponce de Leon's authored works are numerous articles in U.S. and international publications on topics ranging from Latin American architecture to eco-tourism to public infrastructure for the tropics. She has given more than 60 invited lectures and symposia and conference presentations. Between 1991 and 2007, her work has been referenced in more than 200 publications world-wide about design. Ponce de Leon has also curated exhibitions, the most recent in 2005 on "The City of Aleppo: The Veronica Ridge Green Prize in Urban Design," and she has had numerous solo exhibitions in New York, Providence, Atlanta, Princeton, Cambridge and elsewhere.
Ponce de Leon has received grants for research on design, including implications of digital fabrication in relationship to conventional construction practices in the U.S. and invention of new construction systems for unique conditions of the Galapagos Islands, and for archival research in Latin American architecture and landscape architecture.
The portfolio of Monica Ponce de Leon's firm, Office dA, includes institutional, residential, commercial, housing, governmental, industrial design and urban design projects all over the world. Among the more recent are the Fleet Library at Rhode Island School of Design, the Tongxian Arts Center in Beijing, Helios House gas station in Los Angeles, an Intergenerational Housing Center for the City of Chicago, dynamic low-cost housing for the Elemental program in Chile, the first LEED certified large residential project in Boston, and a border station between the U.S. and Canada.
For more information on the Monica Ponce de Leon lecture, call the UK College of Design at (859) 257-7617.