Phi Kappa Phi Recognizes Full Class of Inductees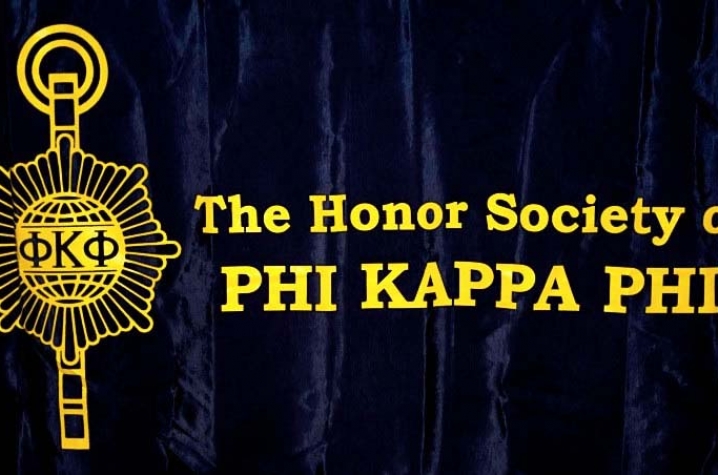 LEXINGTON, Ky. (Jan. 22, 2010) – The University of Kentucky's chapter of Phi Kappa Phi is only nine months old, yet is quickly building positive momentum as it honors academic scholarship and achievement, along with service on the campus.  In addition to faculty and staff, more than 100 students have been inducted since the UK Chapter was chartered in ceremonies held April 27, 2009.
Founded in 1897 at the University of Maine, Phi Kappa Phi is the nation's oldest, largest, and most selective all-discipline honor society. Each year, approximately 30,000 students, faculty, professional staff, and alumni are initiated into the organization. Its chapters are on more than 300 campuses in the United States, Puerto Rico, and the Philippines.
Membership is by invitation only to the top 10 percent of seniors and graduate students and 7.5 percent of juniors.  Faculty, professional staff and alumni who have achieved scholarly distinction also qualify.
During the fall semester of 2009, the UK Chapter welcomed seven distinguished inductees: Emmett "Buzz" Burnam, student affairs coordinator, Office of Admissions and Registrar; Martha Layne Collins, former Governor of Kentucky; Philipp J. Kraemer, Chellgren Endowed Chair and professor of psychology; Robert Shay, dean of the College of Fine Arts; Kumble R. Subbaswamy, UK Provost; D. Sudharshan, dean of the Gatton College of Business and Economics; and, Doris Wilkinson, professor of sociology; as well as more than 100 undergraduate, graduate, and professional students. 
Since the founding of Phi Kappa Phi 113 years ago, more than 1 million members have been initiated. Some of the organization's more notable members include former President Jimmy Carter, NASA astronaut Wendy Lawrence, Baylor University head women's basketball coach Kim Mulkey-Robertson, writer John Grisham and Netscape founder James Barksdale.
The society has awarded nearly $12 million since the inception of its awards program in 1932. Today, more than $700,000 is awarded annually to qualifying members and non-members through graduate fellowships, undergraduate study abroad scholarships, member and chapter awards and grants for local and national literacy initiatives. The Phi Kappa Phi's mission is "to recognize and promote academic excellence in all fields of higher education and to engage the community of scholars in service to others."
For more information on the UK Chapter of Phi Kappa Phi, call Lynn Hiler at  (859) 257-6894, or e-mail: clhile01@email.uky.edu.  To contact the national organization, call (800) 804-9880 or visit www.PhiKappaPhi.org.