UK Teams Compete in Intercollegiate Mining Games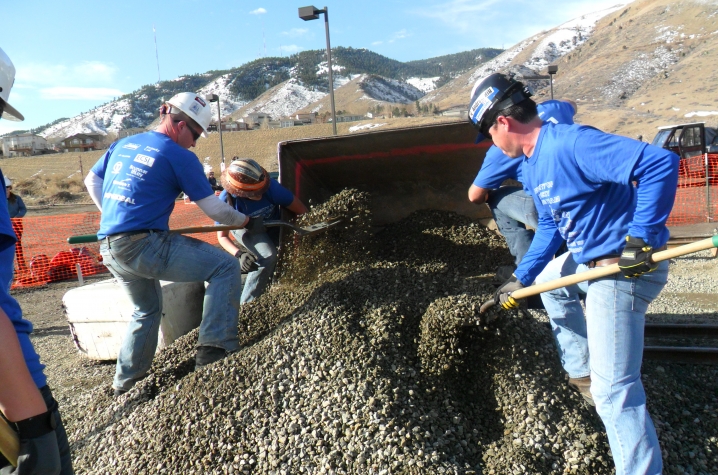 LEXINGTON, Ky. (March 25, 2013) — The University of Kentucky Department of Mining Engineering fielded a men's team and a co-ed team in the 35th International Intercollegiate Mining Games held at the Colorado School of Mines in Golden, Colo. 
The two teams competed against 41 teams from the United States, Canada, Australia, England, Germany and Holland representing 16 different mining schools.
The International Intercollegiate Mining Games was founded in 1978 to honor the 91 miners who died in the 1972 Sunshine Mine disaster, as well as to promote interaction among mining schools and keep traditional mining practices alive. This event has been held every year since its inception, often in the United States, Australia or Great Britain.
This year marked the first time in several years that UK sent two teams to the games and the first time UK has ever sent a men's team. The teams placed well in several events, including a fourth in the co-ed hand muck and fourth in the co-ed survey. Overall, the co-ed team placed 11th out of 15 and the men's team placed 17th out of 18.
The seven events included the following: hand muck, which involves filling and pushing a two-ton ore cart down a track; track stand, where teams lay rail for ore carts; swede saw, where team members cut through a 6"x6" piece of timber; jackleg, where two team members drill with a pneumatic drill into a concrete block for three minutes; surveying according to traditional methods; gold panning, which involves searching for flattened BBs in dirt and, finally, hand steel (or single jack), in which five team members drill using hammers and steels into a concrete block for two minutes each.
Last year the Camborne School of Mines hosted the event in Falmouth, Great Britain. The Missouri University of Science and Technology will host the event in 2014.