UK CAER's Growing Organic Materials Research Group Receives Funding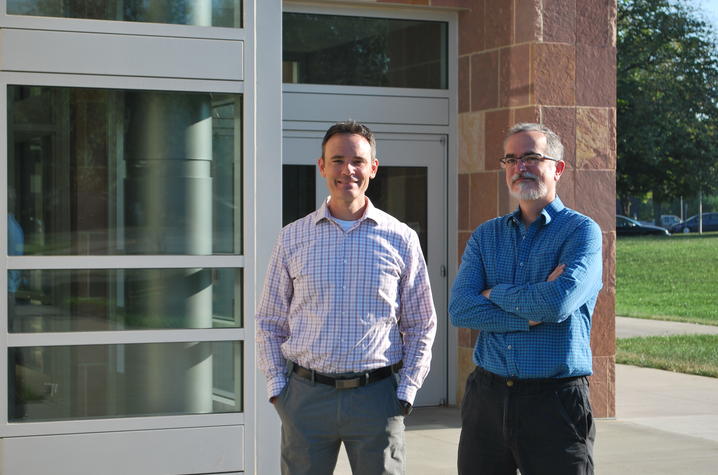 LEXINGTON, Ky. (Sept. 20, 2016) — Since the University of Kentucky Center for Applied Energy Research's (CAER) earliest of days, the center's investigators have focused on natural products. It is a new class of organic materials, however, that has resulted in a recent round of research funding that will accelerate the plastic electronics revolution.
CAER researchers John Anthony and Chad Risko, both faculty members in the UK College of Arts and Sciences' Department of Chemistry, have received four new federal grants totaling nearly $1.4 million to further their exploration of organic materials that show great promise for a wide array of commercial electronics applications.
Anthony and Risko received nearly $540,000 from the National Science Foundation's (NSF) Designing Materials to Revolutionize and Engineer our Future (DMREF) program for a joint project titled "Organic Semiconductors by Computationally-Accelerated Refinement (OSCAR)." This collaborative project will accelerate the development of new electronic and energy materials by developing computational models to predict solid-state order for a widely studied class of high-performance semiconductors. 
Risko received more than $200,000 from the NSF's Division of Civil, Mechanical and Manufacturing Innovation to support his project titled "Solution Processing of Organic Semiconductors: A Coupled Atomistic-Continuum Framework." This research will develop computational models that bridge molecular design and device processing to enable more efficient manufacturing. 
Risko received a two-year, $220,000 grant from the Office of Naval Research to fund a project titled "Directing the Thin-Film Morphologies of Organic Semiconductors by Design." This research will harness the power of modern theoretical materials chemistry to generate a first principles understanding of the impact of molecular and polymer chemical composition and architecture on the phase transformations that are critical to the formation of the hierarchal morphologies of organic semiconductors.  
Anthony received a $421,237 award from NSF's Division of Chemistry to support his project titled "Revisiting the Dehydroannulenes." The grant will support the synthesis of functionalized derivatives of a unique class of compounds to screen them for use in photovoltaic and electronic applications. The dehydroannulenes were first studied extensively in the 1970s, but they were never tested for use in real-world applications, and modern synthetic techniques that the Anthony Lab has developed will make the synthesis of useful versions of the materials much more straightforward.
Many of the world's current electronic devices utilize inorganic materials as the active materials in their design. However, these yield devices that are heavy, rigid and expensive to manufacture. Organic materials are being hailed as a promising alternative due to their inherent flexibility, potential for device construction using printing techniques, and their substantially decreased weight. From light-emitting materials for displays, semiconducting compounds for transistors, and light-absorbing materials for solar cells, these organic materials are believed to hold the key to new generation of solar panels, home electronics and health care devices.
These grants received by Anthony and Risko signify UK's commitment to remain at the leading edge of next generation materials research.
"Thanks to an outstanding partnership with the College of Arts and Sciences, UK CAER is increasing its capabilities in organic electronics," said Rodney Andrews, director of CAER. "Along with the Anthony Group's experimental strengths, the addition of Dr. Risko and his computational chemistry expertise is helping build a unique program in this key technical area. These organic materials hold great promise for reducing energy use and increasing efficiency of energy harvesting technologies. The work of Drs. Anthony and Risko place UK CAER, UK and the Commonwealth in an ideal position to be leaders in these emerging markets."
UK is the University for Kentucky. At UK, we are educating more students, treating more patients with complex illnesses and conducting more research and service than at any time in our 150-year history. To read more about the UK story and how you can support continued investment in your university and the Commonwealth, visit uky.edu/uk4ky. #uk4ky #seeblue
MEDIA CONTACT: Jenny Wells, 859-257-5343; jenny.wells@uky.edu