Documents Librarian Wins National Award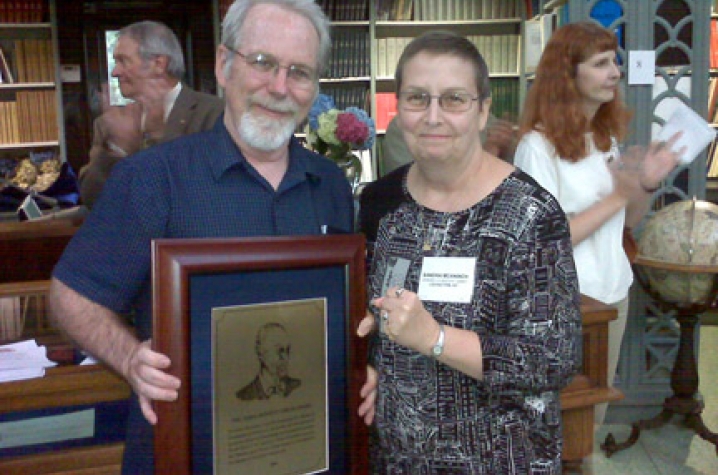 LEXINGTON, Ky. (July 16, 2010) − Regional Depository Librarian Sandee McAninch, of the Federal Depository Unit at University of Kentucky Libraries, was named the 2010 recipient of the James Bennett Childs Award, which recognizes an individual who has made a lifetime and significant contribution to the field of documents librarianship. McAninch was recognized with the award at the American Library Association (ALA) 2010 Annual Conference held June 24-29, in Washington, D.C.
This year's Childs Award, administered by GODORT (Government Documents Round Table), was presented to McAninch for her significant and long-term contributions to government documents librarianship. A member of GODORT and former chair, she has also served as a member of the U.S. Public Printer's Depository Library Council and is a former chair of the Kentucky Library Association/GODORT. McAninch has also published a bibliography of government publications on solar power.
Additionally, McAninch was recognized for her service to the field in D.C., where she has made several appearances before Congress testifying on behalf of GODORT and ALA on important government information issues.
At UK, McAninch has influenced many graduate students who attend the School of Library and Information Science through her course on government information.
"Her knowledge of, and breadth, depth and range of involvement in government information and related issues have led her to mentor many new government document librarians," noted the ALA awards committee.
McAninch is also credited with great vision regarding the importance of incorporating electronic government information into the federal depository library program.
In accepting the award, McAninch noted how honored she was to receive this award from her peers. She also pointed out that the colleagues she has worked with over the years, especially those in Kentucky, have given her the support that made her accomplishments possible.
The UK Libraries federal depository collection is comprised of almost 3 million items including books, microforms, maps, posters, CDs and videotapes, as well as access to many online databases, e-books, e-journals and websites. Located at William T. Young Library, the collection and its corresponding website provide access to federal government information for UK library users and citizens of the Commonwealth.