Heimlich Maneuver Saves Co-Worker's Life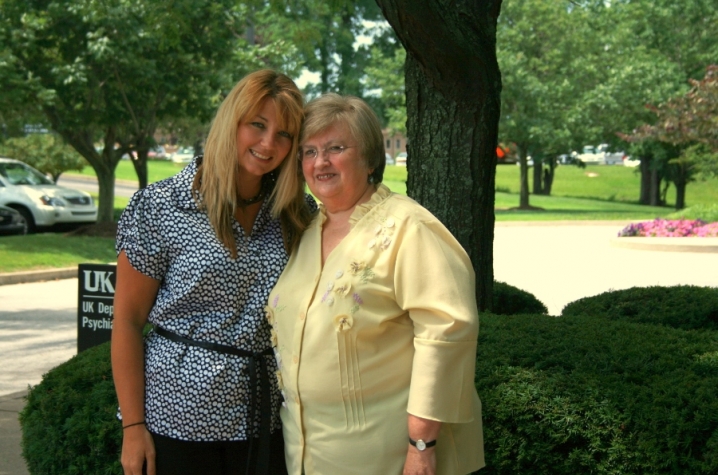 LEXINGTON, Ky. (Aug. 31, 2009) -- While out to lunch with her co-workers celebrating a birthday at Miyako Japanese Restaurant on July 16, Shannon Luster used skills she never thought she would ever need.  Her quick thinking and action saved the life of JoAnn Ritchey, a fellow staff support associate for UK's Department of Psychiatry.
[IMAGE1] "I saw JoAnn holding her throat and I wasn't sure if she was choking or not. I looked at her and could see she was distressed. She wasn't responding to my questions and she didn't look good because her coloring was off and her lips were blue," Luster said. "It happens so quickly and is in slow motion at the same time; it is really hard to describe."
Luster performed the Heimlich maneuver to Ritchey while she was sitting in her chair at the restaurant and was able to remove the food lodged in her throat.
"When you're taking a CPR class you wonder if you could do what are being taught or if you'll ever need to use the skills, but I guess my instincts and the adrenaline kicked in," she said. "I was preparing myself for CPR and trying to figure out where I was going to lay her down because I didn't think the Heimlich was working."
Reflecting on the experience, Ritchey said she is appreciating life more. The night of the incident, Ritchey went home and called her children to tell them she loved them. Now she says she will make sure to chew her food really well.
Luster is hesitant to take credit for saving Ritchey's life and says she is no hero. Instead, she says she just did what she is trained to do; she just happened to be the one sitting next to Ritchey at the time.
Luster was honored at a department reception on July 30, where she received the first Spirit Award given by the department. Ritchey's son, who called Luster after the incident to thank her for saving his mother's life, presented the award.
[IMAGE2]
"This is an award we hope to continue to give. It is great to keep up the morale and recognize the good deeds that are done in our department," said Betty Downing, administrative support associate for Psychiatry.
Downing created the award to point out the good being done in the department and to bring co-workers even closer together.
Dr. Lon Hays, chair of the Department of Psychiatry, underscored this motivation in his remarks at the reception.
"This is not just about Shannon, and not just about JoAnn, but its about the kind of folks we have here and the way we care about each other," Hays said. "We are celebrating a good outcome and how we overcome adversity."