UK's Faculty Athletics Rep Thrives in Role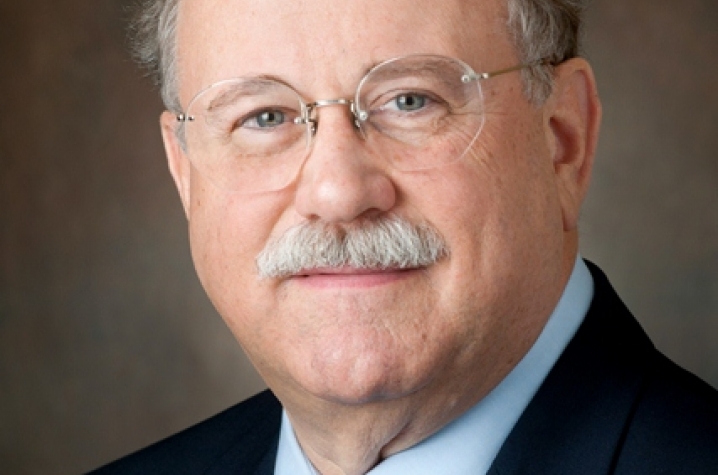 LEXINGTON, Ky. (July 11, 2012) — Often times we forget why the word 'student' comes first in the title student-athlete.  But University of Kentucky College of Pharmacy Professor Joseph Fink never does.
Three years after being appointed UK's faculty athletics representative by then-president, Lee T. Todd Jr., Fink has been reappointed for another three-year term by current president, Eli Capilouto.
According to the university's administrative regulations, the faculty athletics representative (FAR) "shall represent faculty concerns for the institution's conduct of its intercollegiate athletic program. The FAR shall demonstrate the faculty's belief that the intellectual and emotional development of students is the primary mission of the institution and that the value of athletics shall be measured by their contribution to that goal. The FAR will work closely with athletic administration and staff to ensure that these goals are realized."
As FAR, Fink represents the university's faculty in not only the Southeastern Conference (SEC), but also in the National Collegiate Athletic Association (NCAA).
And no one better fits the job than Fink.  The man is like Forrest Gump around UK's campus; he's done almost everything and met almost everyone that UK has to offer.  He is currently a professor of pharmacy law and policy in the UK College of Pharmacy, as well as a professor in the College of Public Health.  He is also a professor in the Martin School of Public Policy and Administration, where he once served as acting director.
In addition, Fink holds a faculty appointment as professor of clinical leadership and management at the UK College of Health Sciences, and was named a faculty associate with the UK Center on Drug and Alcohol Research. He has led the UK Appalachian Center, chaired UK's Intellectual Property Committee for 25 years, was a vice president for economic development as well as for corporate relations, and even served as a special assistant to the president for academic affairs.  And still we have yet to breach the surface of Fink's career accomplishments.
Now, Fink can add a second term as faculty athletics representative to that list.
Todd offered Fink the position in May 2009 due to his previous work in the academic affairs and admissions offices (director of undergraduate admissions from 1988-96) at UK. Fink had interacted with previous FARs throughout his more than 30 years at the university, and Todd felt he was the perfect man for the job. 
But this particular assignment did not come easy to Fink, at least not at first.
After accepting the position, Fink was offered "release time" from teaching to help balance the work that comes with being an FAR, but turned the offer down stating that he really enjoys "the interaction with students that's part of the educational enterprise." A fine showing of character from one of the university's most established faculty members no doubt, but also a challenging time crunch that few would be willing to take on.
At first, Fink faced some difficulties getting down the day-to-day duties of the position.
"The most important responsibility right out of the starting blocks was beginning to learn all the rules and the lingo or jargon involved," Fink said. "I don't think there's anyone anywhere who knows all the relevant rules except for the staff members in the UK Compliance Office and the SEC and NCAA Compliance offices. I met one-on-one with each of the head coaches to get their perspectives and to identify any issues on their minds at the interface of academics and athletics. That was time very well spent."
As Fink began to learn the lingo and establish relationships with the various compliance offices, the job came easier to him.
"I have succeeded in learning a great deal of jargon so I can discuss these issues with relevant individuals," Fink said. "After two years in the role I realized I was now sitting in meetings with a much better grasp of what was being discussed compared to the time when I assumed the role. So there's some measure of success in that."
Having earned a second term as UK's FAR, Fink will look to build on what he has already learned to make academics and athletics a more perfect union at the university. He said he hopes to further articulate to the faculty the enormous time commitment that comes with being a student-athlete and spark more cooperation between the two worlds. Understanding UK rules on excused absences is just one avenue Fink hopes to clarify over the next three years.
"I can continue to work to educate faculty across the institution that when a student-athlete is absent from class to represent the institution at a competition that is an excused absence under University Senate Rules and is to be accommodated with no disadvantage to the student," Fink said. "It's the identical rule that applies to the Debate Team or any other students representing the university."
With three more years in front of him, Fink knows well that challenges lie ahead, but they don't intimidate him. 
"Where can I improve?" remarked Fink.  "Few people know it all in this area, so there's still much to learn."
MEDIA CONTACT:  Ethan Levine, (859) 257-5370; Carl Nathe, (859) 257-3200