Effective Equine Collaboration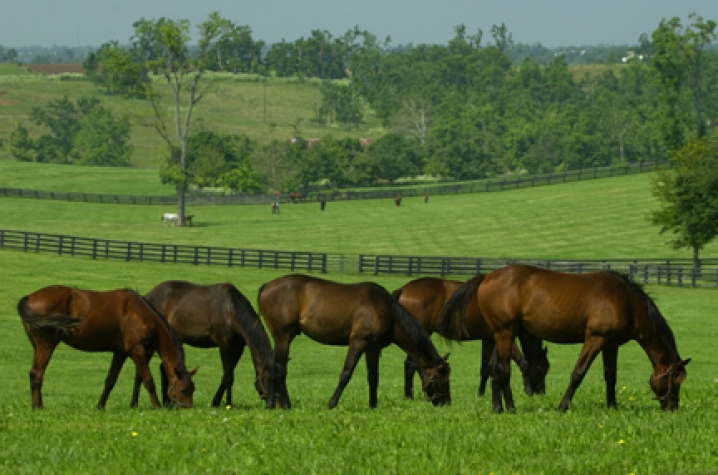 LEXINGTON, Ky. (Sept. 1, 2009) – Words like multidisciplinary, cooperation, and collaboration come to mind when describing the current research efforts going on in the labs of the University of Kentucky's Maxwell H. Gluck Equine Research Center, UK's Computer Science Department, UK's Department of Statistics, and in other areas across the campus.
James MacLeod, the John S. and Elizabeth A. Knight chair and professor of veterinary science at the Gluck Center and director of UK's Equine Initiative, part of the College of Agriculture, and Jinze Liu, assistant professor in the department of computer science, part of the College of Engineering at UK, recently were awarded a grant totaling more than $1 million over three years.
The award to MacLeod and Liu from the National Science Foundation is in support of their work in developing computer-based analytical methods to study gene expression in horses. This is viewed as an important next step forward following the research which determined the primary DNA base sequence of the horse genome.
"Changes in gene expression underlie many disease processes and treatment mechanisms," MacLeod said. "The computational algorithms that we are working to develop will greatly facilitate the analysis of gene expression based on direct RNA sequencing approaches."
Liu, who serves as principal investigator on the grant, is specifically focusing on what is known as the mRNA transcriptome.
"The next generation sequencing technologies capture snapshots of any transcriptome with unprecedented resolution and depth," Liu said. "To recapitulate a complete picture of the transcriptome, however, the massive amount of data generated from these technologies present new computational challenges."
Other collaborators on this grant are Arne Bathke, associate professor of statistics at UK, Arny Stromberg, professor and chair of the department of statistics at UK, and Jans Prins, department chair of computer science at the University of North Carolina at Chapel Hill.
A second research award that MacLeod is involved in is a fellowship grant totaling $100,000 to be paid over two years by the Morris Animal Foundation. The fellowship was awarded to UK graduate student Jennifer Janes, in support of her project on equine cervical stenosis, commonly known as wobbler syndrome. This syndrome describes a structural narrowing of the spinal canal in the neck that produces severe neurological deficits through spinal cord compression.
Collaborators are veterinarians Steve Reed and Katie Garrett at Rood & Riddle Equine Hospital in Lexington and Neil Williams, associate director of UK's Livestock Disease Diagnostic Center.
"I think it is a good example of collaboration between Gluck, LDDC and veterinary practitioners," MacLeod said.  "Also, the training of the next generation of veterinary scientists is a critical issue for everyone concerned about advances in equine health going forward."
MacLeod's grants follow on the heels of two other large competitive research grants secured by scientists in the Gluck Center. Chuck Issel, Wright-Markey Chair in Equine Infectious Diseases at the Gluck Center, was awarded $347,500 per year for a multi-year project funded by the National Institutes of Health for a project called "Equine Infectious Anemia Virus Envelope Variation and Vaccine Efficacy." Ernie Bailey was awarded more than $28,000 from the Morris Animal Foundation for "Continuation of SNP Gene Mapping Projects."
In addition, Kristine Urschel, faculty member and researcher in UK's Department of Animal and Food Sciences was awarded a First Award Grant for Young Investigators from the Morris Animal Foundation. The two-year grant totaling $100,000 will examine maintaining muscle mass in older horses and will be overseen by David Horohov, William Robert Mills Chair in Equine Immunology at the Gluck Center.
"The accomplishments of these talented faculty attest to the confidence the College of Agriculture has placed in its array of programs that make up the Equine Initiative. These projects are relevant to Kentucky's signature industry, but they also confirm that our faculty are competitive in national and international arenas," said Nancy Cox, associate dean of research in UK's College of Agriculture and Agricultural Experiment Station director.
"I congratulate faculty at the Gluck Equine Research Center and across the College of Agriculture for their success in attracting significant research support from federal and industry-based research agents. Their success is a testimony of the quality and the importance of their work to the scientific community and equine industry. We are fortunate to have some of the best faculty, staff and graduate students in the world here," said Mats Troedsson, chair of UK's Department of Veterinary Science and director of the Gluck Center.