New UK CAER Undergraduate Research Award Named for Lee Todd, Will Train Energy Entrepreneurs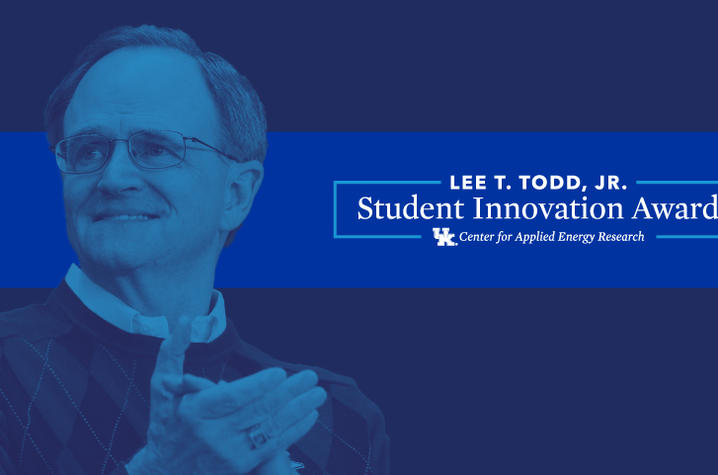 LEXINGTON, Ky. (Nov. 9, 2017) — The University of Kentucky Center for Applied Energy Research (UK CAER) has created a new program to help train the next generation of Kentucky's energy entrepreneurs. Named in honor of former UK President Lee T. Todd Jr., the program will support undergraduate research and student entrepreneurship at the university.
The Lee T. Todd, Jr. Student Innovation Award will provide undergraduate student entrepreneurs with an opportunity to develop their ideas alongside UK CAER scientists and engineers in a collaborative environment.
"This program will allow us to provide a unique research and development experience," said Rodney Andrews, director of UK CAER. "Students who have a big idea — an idea they hope to commercialize — will have a chance to develop, test and prove their concepts alongside energy research and development experts."  
Awardees will have full access to UK CAER laboratories and equipment and will receive a stipend for their work. Students also will have an entrepreneurial mentor to assist them in the commercialization aspect of their project. Todd said what attracted him most to the UK CAER program was the intentional focus on entrepreneurial mentorship.
"I was flattered that UK CAER named this program in my honor," said Todd, a native of Earlington, Kentucky. "I have long admired UK CAER, their researchers and commitment to strengthening the Commonwealth's energy economy."
Todd created two global technology companies, Projectron and DataBeam, in Lexington. Both companies were based on university-generated intellectual property, with 56 of the 70 DataBeam engineers being UK graduates.
"When you think about university-driven innovation and commercialization here in Kentucky, the first person most of us think of is Lee Todd," Andrews said. "He inspired a generation of Kentuckians to think differently — to realize that they too could compete in the global, high-tech economy."
The Lee T. Todd, Jr. Student Innovation Award will be funded through private donations. UK CAER has received a lead gift for the project and are actively raising funds to endow the program. Those interested in supporting the program can do so online: https://goo.gl/hxp5MB.
"The UK Center for Applied Energy Research is to be commended for naming and establishing its student innovation award in honor of the University of Kentucky's 11th president, Dr. Lee Todd," said Mike Richey, UK vice president for philanthropy. "Not only is Dr. Todd fondly remembered as a dynamic university president, but continues to be highly regarded as a leading visionary, entrepreneur, strategic thinker, inventor and innovator.
"The Lee T. Todd, Jr. Student Innovation Award is a most appropriate way to recognize this leader's legacy: To help train and educate the next generation of energy entrepreneurs."