SMRI researcher works with ASICS to help close global gender exercise gap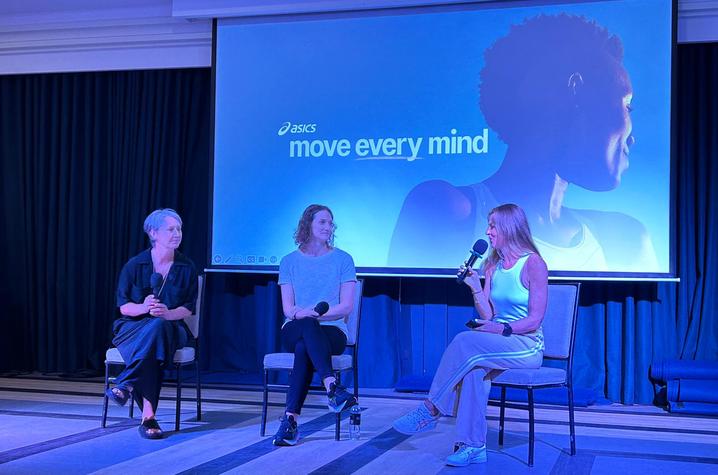 LEXINGTON, Ky. (Nov. 6, 2023) — Dee Dlugonski had always been an athlete. She grew up swimming and the sport stuck with her as she became a Division I college athlete at Penn State and then started her coaching career in the years after. Although she loved being a coach for a sport she was passionate about, she wanted to do more. 
"What I learned and observed from coaching were some differences in how men and women interacted within athletics," said Dlugonski, assistant professor at the University of Kentucky Sports Medicine Research Institute. "They're all elite athletes. I was working with men and women, but the women were the ones in my office saying they didn't know if they could do it. They weren't as sure and not feeling confident in themselves."
Dlugonski's observations during her time as a coach at Penn State led her to question different correlations of self-esteem in men versus women within athletics. She decided to dive into her observations and questions, leading her to graduate school to begin research.
"I realized that athletics are great, but a competitive sport is just one avenue in which we have to be active," said Dlugonski. "For me, it's much more important to think big picture about how we get all people to feel confident and comfortable moving."
After receiving her doctorate in kinesiology from the University of Illinois, Dlugonski worked as an assistant professor in the Department of Kinesiology at East Carolina University for five years. In 2019, she joined the Sports Medicine Research Institute (SMRI) at the University of Kentucky, housed within the UK College of Health Sciences. 
At UK's SMRI, Dlugonski primarily works with the Active Girls Healthy Women Initiative. She's spent most of her career here focusing on how to help girls and women across the lifespan be active and overcome whatever barriers they're experiencing. The mission of the initiative is to advance girls' and women's physical activity and health through research and outreach. 
In the spring of 2023, ASICS Corporation, the sporting goods company, was looking for someone to lead Move Every Mind, a global research study. When they learned of Dlugonski's work on Active Girls Healthy Women, they knew she'd be a perfect fit for the project. 
"So, from there, I worked with the ASICS team to design the study," said Dlugonski. "The goal is to understand the gender exercise gap and then help design solutions for how ASICS can be part of closing the gender exercise gap."
Through research Dlugonski and her team were able to help define what the gender exercise gap is.
"Across the lifespan, starting as early as preschool age, some data suggests that on average girls are less active than boys," said Dlugonski. "Generally, when you look at the global world population, so we're not just talking about the U.S., but we're talking about the global world population, girls and women are less likely to be active when compared to their male counterparts."
Now that there is an acknowledgment that there is a gender exercise gap, the next thing question is what's causing it and what can be done to fix it.
Dlugonski notes that the experiences of girls and women are widely varied. There isn't just one single factor that explains the gender gap, although one does stand out: lack of time.
"Some of the common things that are well established in the research is that people don't have enough time," said Dlugonski. "Often, that means that other priorities in their life get in the way, and in many cases for women, those are traditional caregiving roles for other people or places like our homes. I think there's a whole host of factors other than time that go from individual beliefs all the way through cultural expectations and beliefs and policies that shape women's and girls' physical activity behavior."
The ASICS Move Every Mind study consists of two components, a large online survey that went out globally and focus groups across the globe. The opportunity to lead some of the focus groups led Dlugonski to take a trip across seas to Thailand for a four-day retreat hosted by ASICS. 
Dlugonski traveled nearly 24 hours from Kentucky to Khao Yai, Thailand, to participate in the retreat and lead the groups. ASICS brought together ambassadors and individuals from the fitness and health wellness community from all across Southeast Asia to one location in Thailand. 
The four-day event included activities including sunrise runs, book readings, meditation and the Move Every Mind focus groups.  
"In all of all the focus groups I've run, I see the value of bringing together women and men to help solve the problem," said Dlugonski. "It was a really special experience to come together in Thailand around this idea of closing the gender exercise gap and building community in the process. So, one of my biggest takeaways was the power that comes when you bring people together to solve a problem."
She also reflected on how small the world really is and the surprising commonality among people in various regions.
"In many cases, while we think we're so different from people in other places, there are many of the same barriers," said Dlugonski. "One of the things I'm interested in, we're not ready to share the results yet, but I think it'll be looking at what are those things — those threads that exist globally — that maybe we can address to help to solve this problem."
Now that Dlugonski has returned to Kentucky, she is in the thick of data analysis. She is sifting through the data collected not only from her focus groups in Thailand but also from the online survey. As she returns to her work at UK SMRI, she relates some of her key takeaways to what she sees in her work in Kentucky.
"I think you see the same gender exercise gap here that exists across the globe," she said. "By the time girls are in high school, only about 16% of them are getting to our national standards for physical activity, which is 60 minutes a day at that high school level, and that compares to about 35% of boys."
Dlugonski notes that although the boys aren't meeting the standard either, they are doubling the rate of girls in their activity level. The same trend exists here in Kentucky that presented itself across the globe.
But the good work being done to help the problem inspires and keeps her motivated to continue her research. 
"Our initiative is partnering with schools and community exercise leaders across the Commonwealth to provide movement-based programming for youth," said Dlugonski. "So, I do see areas of promise. I do see a lot of bright spots where I hope we can lean into, fund, and support those efforts so that we can work together to close the gap."
UK HealthCare is the hospitals and clinics of the University of Kentucky. But it is so much more. It is more than 10,000 dedicated health care professionals committed to providing advanced subspecialty care for the most critically injured and ill patients from the Commonwealth and beyond. It also is the home of the state's only National Cancer Institute (NCI)-designated cancer center, a Level IV Neonatal Intensive Care Unit that cares for the tiniest and sickest newborns, the region's only Level 1 trauma center and Kentucky's top hospital ranked by U.S. News & World Report.  
As an academic research institution, we are continuously pursuing the next generation of cures, treatments, protocols and policies. Our discoveries have the potential to change what's medically possible within our lifetimes. Our educators and thought leaders are transforming the health care landscape as our six health professions colleges teach the next generation of doctors, nurses, pharmacists and other health care professionals, spreading the highest standards of care. UK HealthCare is the power of advanced medicine committed to creating a healthier Kentucky, now and for generations to come.