UK's Research Scholars Program setting standards, facilitating faculty research success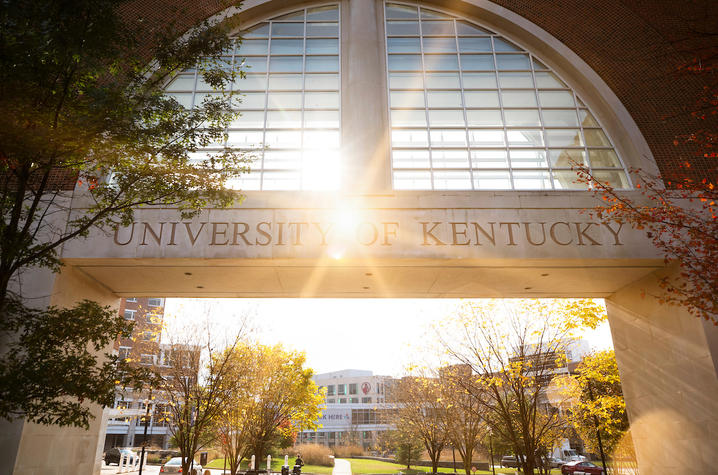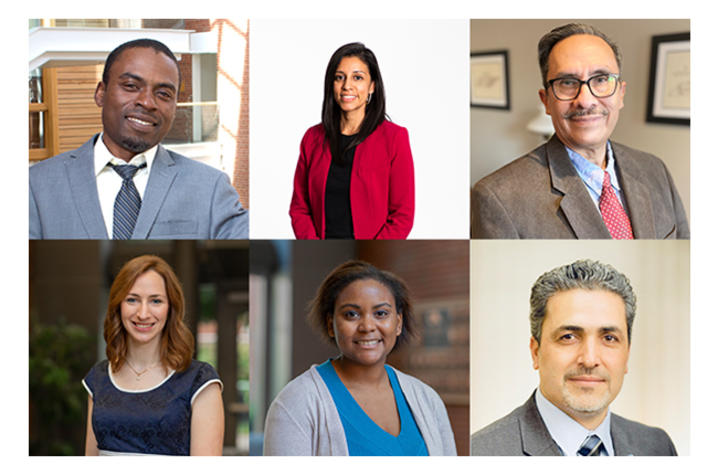 LEXINGTON, Ky. (Dec. 1, 2022) — Few words have as rich a tradition as "Kentucky" and "basketball." The pairing is synonymous with excellence and continuing the legacy built at the University of Kentucky. What began decades ago continues now with John Calipari, who in his first address to fans declared that UK is "the gold standard not just for college basketball, but for all of college athletics."
Others at the university share a similar drive for excellence, but you won't always see their efforts on national television.
Research is a highly competitive field, and UK's research success has been escalating and having an even stronger impact on the Commonwealth of Kentucky and beyond. To grow that success, two years ago, faculty leaders at UK developed the Research Scholars Program (RSP) to coach scholars and form a community and network of researchers. RSP is particularly focused on elevating the success of groups typically underrepresented in the research workforce.
"With inspiration from two evidence-based programs and extensive local input, we developed the Research Scholars Program to support diverse, promising members. Now in its second year, the RSP continues to create campuswide connections among these talented scholars and amplifies a diverse group of voices here at UK," said Nancy Schoenberg, Ph.D., RSP co-director and co-developer. "This intensive program is investing in these scholars by promoting and celebrating their success."
The program was created in 2020 by the Office of the Vice President for Research and the Center for Health Equity Transformation, with a wide range of contributions from the Office for Faculty Advancement, the UK Center for Clinical and Translational Science, along with the College of Medicine's Office of Diversity, Equity, and Inclusion, and Faculty Affairs and Development, plus a Faculty Advisory Council of 16 faculty members from across UK's campus.
RSP is designed to promote the academic success, retention, progression and promotion of scholars underrepresented in their fields.
"It intentionally creates opportunities for mentors to learn about faculty interests and make future connections for research collaboration and career support," said Stephanie White, M.D., RSP co-developer.
Those guiding principles contribute to the overall accomplishments of the university and increase innovative research and discovery.
"If we have successful junior faculty, then we have a successful research portfolio, then we have folks that are set up for the future to then become our leaders of the university," said Kevin Pearson, Ph.D., RSP co-director.
Six junior faculty members make up the second cohort and represent the College of Medicine, College of Public Health, College of Engineering and College of Agriculture, Food and Environment. Applications for Cohort 3 will be accepted in December with programming beginning in April 2023.
The Research Scholars Program includes three main components: professional development, multilevel mentorship and networking. Co-directors Schoenberg and Pearson estimate that scholars devote 10% of their time to the program.
Professional development
"I think the overarching goal of the RSP is to train us to be more successful in our research areas, and there are multiple tools to do that, including the Faculty Success Program. It helps us in time management, work-life balance and setting goals," said Fanny Chapelin, Ph.D., whose work in the College of Engineering includes researching noninvasive MRI methods to track immune cell migration to inflammation sites in transplant rejection, autoimmune diseases and cancer.
The Faculty Success Program is a 12-week online program offered to UK scholars through the National Center for Faculty Development and Diversity. Scholars are on weekly calls with a certified coach and a handful of peers to share goals and accomplishments. They also log into the platform each day to track their progress on research, writing and personal objectives.
"Two or three of the weeks in the program really resonated with me; whereas, for another one of the scholars, I know other weeks resonated with them," explained Chapelin. "I think it's providing comprehensive training to sort of fill in the gaps we have in productivity."
The RSP also trains scholars on a crucial skill in successful research – writing research grant applications.
"Success in securing grants is a big thing that will help secure your tenure track," said Yasir Alsiraj, Ph.D., an assistant professor in pharmacology and nutritional sciences, who researches the role of sex chromosomes on the incidence and outcomes of aortic aneurysms and atherosclerosis in the College of Medicine.
Part of the rigorous programming includes two grant-writing workshops. Scholars in Cohort 2 are first going through an individualized and intensive grant writing boot camp led by Hannah Knudsen, Ph.D., in the Department of Behavioral Science, before engaging in a 13-week workshop in January with Donna Wilcock, Ph.D., the Robert P. and Mildred A. Moores Endowed Chair in Alzheimer's Disease in the College of Medicine.
"So far, I've learned tips from experienced scholars who've seen that type of success in grants. They share information you wouldn't be able to get anywhere else, like which pieces of the grants to really focus on," said Alsiraj. "I believe that I will get a lot of knowledge from the Grant-Writing Workshop."
"I have written grants on my own but definitely haven't been successful on the really large grants. So, I want to use this opportunity to improve the ones that I have already worked on and write a brand new R01-type grant for the National Institutes of Health," said Chapelin.
Multilevel mentorship
The Research Scholars also take part in five levels of mentorship, which include cohort, near-peer, and scientific mentoring, sponsorship, and coaching.
Program directors select a group of engaging near-peer mentors — faculty members who generally are a few years ahead of the RSP participants — for each cohort. There is also built-in flexibility to change that group in each iteration of the RSP.
"Soon some of our near-peer mentors are going to be so successful that they're no longer 'near-peer.' So we have the ability to adjust who we bring into that role to mold to the needs of the cohort," explained Pearson. "And in a way, that flexibility is helping create rewarding experiences for all of the mentors participating in the program."
Scholars choose their own scientific mentors to gain valuable advice in their field of study.
"Basically, each scholar identifies a mentor, and then these two agree to work together and meet on a regular basis," said Alsiraj. "I meet with my mentor every month and talk about my progress and what obstacles I have that I need to take care of."
"I have learned how to form a good mentoring team and how to communicate with my mentoring team," said Reuben Adatorwovor, Ph.D., an assistant professor in the Department of Biostatistics in the College of Public Health, whose research covers dependence models for competing risks data with applications in population-based epidemiological studies.
Scientific and social networking
Multiple members of Cohort 2 praise the emphasis on scientific and social networking to build a community and support system across campus. These efforts address the limited scientific network and isolation shown by faculty surveys as undermining research and career success for scholars underrepresented in their field. 
"The program leadership and advisory team are diverse in disciplines and well-connected across the university. This is valuable because they can make meaningful connections for collaborations. It is through these opportunities to connect with scientists across the university that I have learned about funding opportunities and potential collaborators," said Julie Plasencia, Ph.D., who studies diet-related health disparities in Type 2 diabetes and Hispanic populations, and the influence of ethnic, cultural food beliefs and practices in the College of Agriculture, Food and Environment.
"We're finding if you have these existing personal relationships, then if you have anything come up, you're willing to reach out because you now know this person," said Pearson.
For Plasencia, she's seen the tangible benefits of a well-connected network.
"When working with the Latinx community, it is important that the research teams engage this community in authentic ways. Through the program, I've been connected with scientists that have successfully done this in Kentucky, where this community is rather small, and they have successfully created authentic partnerships, which is key to addressing health disparities in this community," said Plasencia.
Breaking down barriers
As Kentucky's flagship institution, UK plays a critical leadership role in promoting diversity, equity and inclusion through recruiting and retaining a diverse population of faculty, administrators, staff and students. The RSP plays a part in that mission by enabling and encouraging scholarly enrichment.
"As we think about the endless potential of the scholars who complete this program, the more connected they are with each other and the UK community the more it will help us retain the best and brightest and advance inclusive excellence," said White.
To continue to break down barriers, the RSP intentionally provides space and time to share both research-related and personal issues and find ways to handle such challenges.
"I believe it's very important not only at the professional level but also at the social level because you are meeting people at your career level, and they have similar life responsibilities. We share together how we manage these responsibilities, how we can become successful in our life outside work and at work," said Alsiraj.
Building the program
In future years and with expanded support from extramural and other sources, the RSP aims to provide more expansive research professional development opportunities. Its framework could be duplicated in other areas of campus or at other institutions to promote the success of all researchers.
RSP is a strong recruitment tool that provides a structured approach for new faculty members to become embedded into UK's rich research environment. As leaders become more aware of the positive outcomes from the RSP, the opportunities are limitless. 
"I do hope the RSP can help more junior faculty like me," said Chapelin. "I'm in a small department overall, and with colleagues who don't specifically have research interest overlap. The program having a lot of junior faculty sort of figuring things out together with you has been super helpful. It's also built a very neat community through this pandemic.
"It's something I do wish for future junior faculty joining UK."
The University of Kentucky is home to many nationally ranked programs in academics, research, health care, economic development, and, yes, athletics. Those achievements on the court are reflected in the banners hanging from the rafters in Rupp Arena and off the court in the $452.9 million awarded to UK researchers in grants and contracts last fiscal year.
Research Scholars Program
The Research Scholars Program (RSP) was created in 2020 by the Office of the Vice President for Research and the Center for Health Equity Transformation, with contributions from the Office for Faculty Advancement, the UK Center for Clinical and Translational Science, the College of Medicine's Office of Diversity, Equity, and Inclusion and Faculty Affairs and Development, and a Faculty Advisory Council of 16 faculty members from across UK's campus. It also has support from the colleges of Nursing, Public Health, Health Sciences, Medicine, Education, Engineering, Arts and Sciences, and Agriculture, Food and Environment.
RSP is aligned with national priorities for research diversity, including the National Institutes of Health (NIH) Faculty Institutional Recruitment for Sustainable Transformation (FIRST) program goal of creating cultures of inclusive excellence at NIH-funded institutions by implementing well-integrated, evidence-based strategies and evaluating their impact on metrics of institutional culture, inclusive excellence and diversity.​
The program will continue with Cohort 3 and run from April 2023–March 2024. Applications for Cohort 3 will be accepted from Dec. 1, 2022–Jan. 13, 2023. You can learn more about RSP at www.research.uky.edu/rsp.
As the state's flagship, land-grant institution, the University of Kentucky exists to advance the Commonwealth. We do that by preparing the next generation of leaders — placing students at the heart of everything we do — and transforming the lives of Kentuckians through education, research and creative work, service and health care. We pride ourselves on being a catalyst for breakthroughs and a force for healing, a place where ingenuity unfolds. It's all made possible by our people — visionaries, disruptors and pioneers — who make up 200 academic programs, a $476.5 million research and development enterprise and a world-class medical center, all on one campus.   
In 2022, UK was ranked by Forbes as one of the "Best Employers for New Grads" and named a "Diversity Champion" by INSIGHT into Diversity, a testament to our commitment to advance Kentucky and create a community of belonging for everyone. While our mission looks different in many ways than it did in 1865, the vision of service to our Commonwealth and the world remains the same. We are the University for Kentucky.