10 Key Things Wildcats Should Know About Getting COVID-19 Vaccine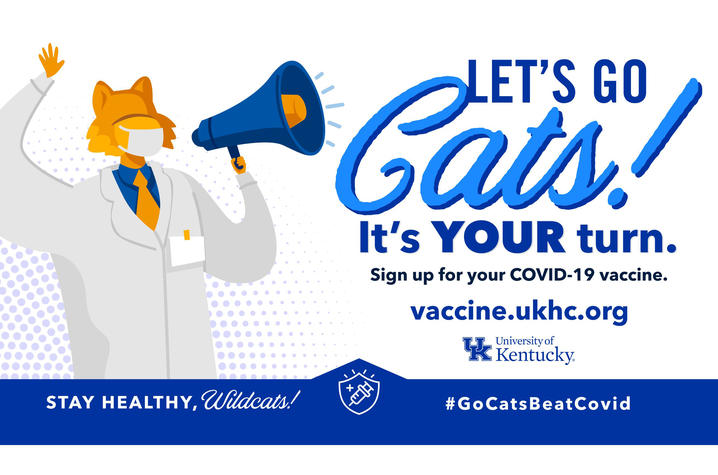 LEXINGTON, Ky. (March 29, 2021) — Now's the time for University of Kentucky students to register for the COVID-19 vaccine and start the process of overcoming this pandemic. 
Since Gov. Andy Beshear's announcement that beginning April 12 Kentuckians age 16 and over can be vaccinated, students should get registered now to be in the queue for vaccination appointments in April.
If you are a UK student, here are 10 important things you need to know about getting vaccinated.  
If you've already been vaccinated through UK or UK HealthCare, no further action is needed on your part. 
If you've already been vaccinated through a provider outside of UK or UK HealthCare, upload documentation here. 
If you wish to receive a vaccine, requesting one is quick and easy. Request your vaccine here and make sure to use your UK email. You will receive an invitation when it's your turn to schedule. 
Two doses — delivered by shots in the arm — are required to complete your vaccination. Therefore, you should receive your booster shot roughly three weeks after your first dose.
You should request your booster here any time after you receive your first dose. You must do this step in order to receive the invitation mentioned in #6.
Once you have completed #5, you should receive an invitation to schedule a few days before your booster is due. You will get a CDC COVID-19 Vaccination Record Card when you get your first dose — take it with you for your second dose.
Students are required to bring their student ID to both vaccine appointments.
Regardless of your permanent residence, all UK students are eligible to request a vaccine.  
Common side effects include pain, redness, and swelling in the arm where you received the shot, as well as nausea, tiredness, headache, muscle pain, chills and fever throughout the rest of the body. 
What if you have had COVID-19? Check this CDC website: https://www.cdc.gov/vaccines/covid-19/hcp/faq.html. If you have tested positive for COVID-19 and recovered, the CDC says you should be vaccinated. If you have an active COVID-19 infection you should wait until you have been released from isolation to be vaccinated. If you were treated for COVID-19 with monoclonal antibodies or convalescent plasma, you should wait 90 days before getting a COVID-19 vaccine. Talk to your doctor if you are unsure what treatments you received or if you have more questions about getting a COVID-19 vaccine.