Student Shares Story of Adversity, Honors Others for Conquering Hurdles during Inaugural Banquet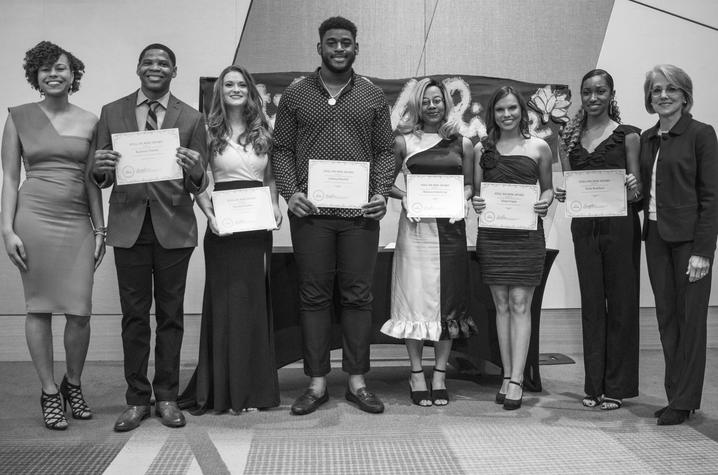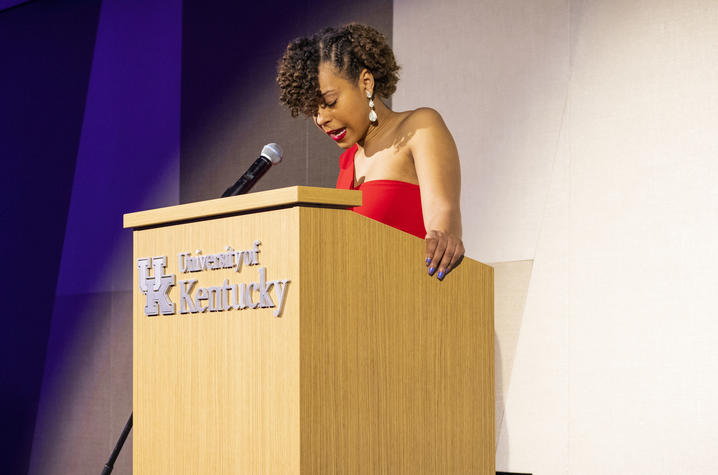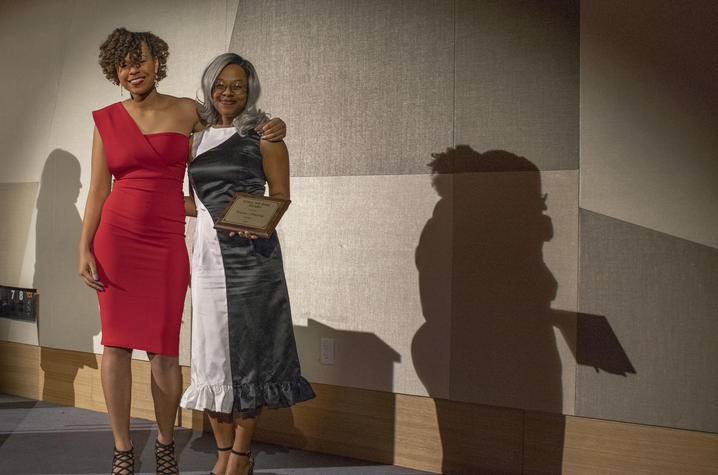 LEXINGTON, Ky. (March 5, 2019) — On Feb. 21, conversation filled the room as communications sciences and disorders senior Kennedy Guess made her way from table to table thanking her guests for coming to the inaugural Still We Rise Banquet — an event borne out of her own resilience and journey to honor University of Kentucky students facing adversity.
The winners of the Still We Rise award, Natalie Hopkins and Rasheen Turner, are both undergraduates from the UK College of Health Sciences. Four other students spanning different UK colleges were also named as finalists for the award.
Much like Guess' inspiring personal story of overcoming adversity, all the students who were recognized have conquered significant hurdles during their college journey.
Guess' story could have turned out differently, but thanks to the unwavering support of her friends and family she is now a bold advocate for mental health awareness on campus. Nearly three years ago, during the second semester of her freshman year, Guess said the depression she'd been suffering from since the age of 15 came to a crux.
"I tried to commit suicide a few times," Guess said. "I couldn't function. I just couldn't adapt to being in college."
Guess left UK on medical leave that same semester and returned home where she received the services needed for her recovery.
"I returned to school in the fall of 2015. As I learned more about my peers, I found so many people shared versions of my story, but the difference was they didn't have a support system like I did to help them heal," she said. "Instead, these students were walking through their struggles alone."
In that moment, Guess knew she wanted to bring a spotlight to mental health and spark conversations about the tough issues.
"It may be taboo, but people on campus are suffering," she said. "And sometimes you are able to excel in the face of suffering. I wanted to highlight this and show other students their story deserves to be heard and valued."
Resilience and courage in the face of pain, grief and uncertainty was a recurring theme throughout the night. As Guess recognized junior social work major Alana Copas, junior art studio major Brianna Armstrong, senior psychology major Taris Brashers and sophomore family sciences major Joshua Paschal as finalists for the Still We Rise award, she explained the difficulties they've dealt with and overcome. All four finalists received a $350 scholarship.
Copas lost all of her hair after being diagnosed with non-scarring alopecia, but now tells children the truth about her diagnosis: living with her condition is hard, some people will be unkind, but your hair or lack thereof doesn't make you any less wonderful or beautiful. Armstrong's world was shaken by sexual assault, but through her art and determination, she made it back to solid ground. Brashers cared for her cancer-stricken mother while juggling a 20-hour workweek and full-time education. Kentucky linebacker Josh Paschal's life turned upside down after he found a malignant melanoma (skin cancer) on the bottom of his foot. He battled it and soon returned to the football field only a few months later.
The winners of the Still We Rise Award, Natalie Hopkins and Rasheen Turner, are both from the College of Health Sciences. In addition to the honor, they will each receive a $1,000 scholarship.
Hopkins, a communications sciences and disorders major, fought to continue her college career after both of her parents suffered life-altering incidents. Hopkins' father is living with a traumatic brain injury sustained during a near-fatal accident, and later her mother was diagnosed with advanced oral cancer. Shaken by the idea of losing her family, Hopkins continued to apply for graduate programs and vigorously attempted to regain her own footing.
"I'm not someone who's satisfied with merely surviving," she declared during her acceptance speech. "So, I want to speak up for those who can't and give a voice back to the voiceless through my career. Hiding my adversity is not the example I want to set for my patients."
Rasheen Turner, a clinical leadership and management major, grew up in a rough, poverty-stricken neighborhood where he was stereotyped, silenced and surrounded by violence. His experiences left him to cope with post-traumatic stress disorder. Turner's courage to tell his story progressed into a passion to provide care to the populations that need it most.
"A young black man like myself is not supposed to be standing here today," he said. "My life and experiences will be a testimony to the future Rasheens, the future Obamas and the future Maya Angelous."
In her speech, Guess challenged the university to provide greater support to students like herself, Turner, Hopkins, and the other finalists as UK considers the future of student support services on campus.
"Place a mental health specialist in every dorm," she said. "Everybody struggles in college, and most struggle in silence. I want to diminish the stigmas associated with mental health disorders and sexual assault. I want to acknowledge the strength and courage of my classmates in overcoming the difficulties in their lives and succeeding. I want to start a conversation that makes people uncomfortable, because discomfort promotes change."
Still We Rise was funded by an Inclusive Excellence Program grant received by Guess and her fellow student Lauren Brown in partnership with the Human Development Institute, Student Support Services, Disability Resource Center and Martin Luther King Center. The Inclusive Excellence Program is an initiative of the UK Office for Institutional Diversity.
UK is the University for Kentucky. At UK, we are educating more students, treating more patients with complex illnesses and conducting more research and service than at any time in our 150-year history. To read more about the UK story and how you can support continued investment in your university and the Commonwealth, go to: uky.edu/uk4ky. #uk4ky #seeblue