Tackling Non-Emergency 911 Calls: College of Social Work Partners With Lexington Fire Department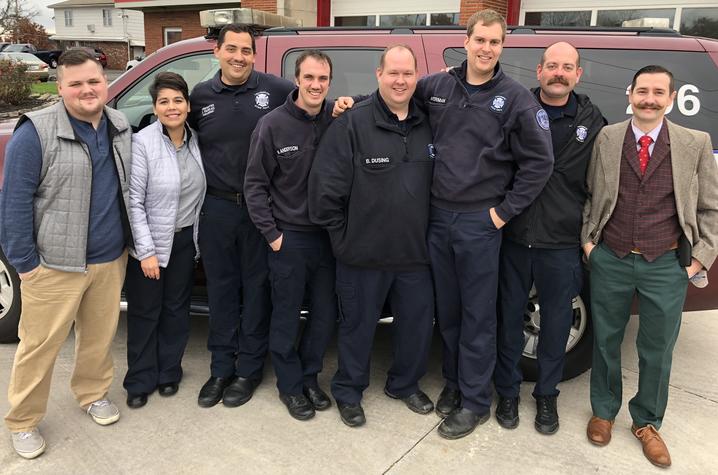 LEXINGTON, Ky. (Nov. 13, 2018) — While most patients dial 911 for emergencies, there are a quite a few who have a habit of making unnecessary calls — for something as simple as falling out of bed.
The numbers are staggering. In 2017, paramedics with the Lexington Fire Department responded to 48,238 medical calls. Only 266 people accounted for 8.9-percent of those calls.
The Lexington Fire Department and students from the University of Kentucky College of Social Work have partnered in a pilot program to tackle the issue of non-emergency calls bombarding the 911 emergency system.
In March, the city launched the Community Paramedicine Program. The goal? To save citizens, local government and private insurers thousands of dollars by reducing the numbers of runs for frequent callers or "super users." 
Capt. Seth Lockard, with the Lexington Fire Department, is in charge of the program. He said, the staff found themselves searching for agencies to help these patients get what they needed, everything from oxygen tanks to addiction recovery resources. In time, he turned to Allison Gibson, an assistant professor in the College of Social Work.
"She had worked on a very similar program when she was at Ohio State University," Lockard said. "We were picking her brain and in talking with her she said, 'You all should really have some of our students. I think it would be a wonderful practicum for them.'"
Currently, two graduate students are part of the community paramedicine team. Ryan Blanton and Maria Slone work out of the old Lexington Fire Station 2 on East New Circle Road. They spend hours responding to referrals — which requires them to visit patients.
"We have contacts to help patients into programs, substance abuse programs, anything that they need," Blanton, a Magoffin County native, said. He spends 10 hours a day, three days a week responding to calls. "We help patients get oxygen tanks, a lot of medical equipment. We do assessments to help them understand where they're at, what they might need."
Blanton said he's participated in clinicals before, but nothing this hands-on. "I've never seen this side of a clinical where you can see the patient that has gotten the help and has fallen through the cracks and needs help again," he continued. "We do home visits, talk to them and get to know them as a person — actually get to see their living conditions and learn what we can improve for them."
Slone drives 2½ hours on Monday to work at the Community Paramedicine Program — a commitment she has grown to love.
"When it was first advertised for us as a possible practicum, I didn't even think twice about it and I'm like yes, this is what I need to do, because it was different," she said. "I've worked in the mental health field for 19-years, so that's all I've known. To have this opportunity to just see a person out in the community and this way where you've got EMS, you've got medical providers. It's trying to unite a person holistically with all of the services and working and communicating together. It's awesome."
For Lockard, the addition of students from the College of Social Work just made sense. "It's been a wonderful asset. A lot of what we are doing is navigation to resources. And I think they bring a lot of experience and knowledge that we wouldn't have otherwise, because we aren't social workers in any way, shape or form," he said.
And the numbers show the program is working.
"As of right now we have decreased our runs by 1.7-percent," Lockard said. "Which doesn't sound like a lot, but we had been growing about 8-percent every year for the past 5-years. We actually grew 44-percent from 2013 to 2017. So, the fact that we're negative at this point in the game is a tremendous win."