Reminder: Commencement Speaker Application Deadline is Monday, April 3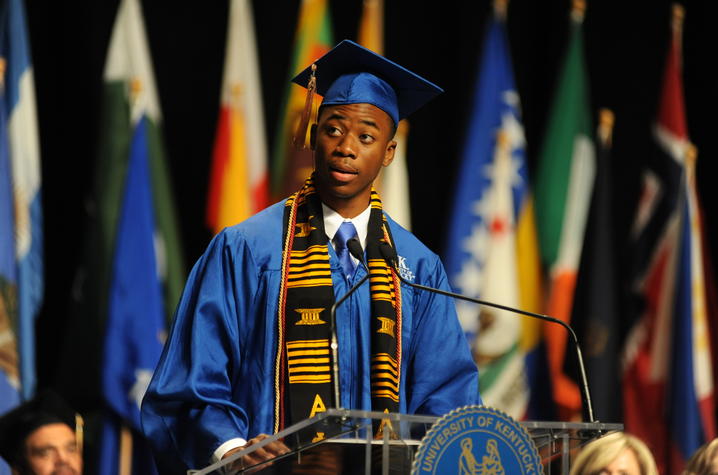 LEXINGTON, Ky. (March 30, 2017) — Reminder to graduating students: the application deadline to be a student speaker at one of the four May 2017 University of Kentucky Commencement ceremonies is this Monday, April 3. Graduates of all majors and degree types are invited to apply.
Students who wish to apply must submit a resume and a copy of their three-five minute proposed speech no longer than three-typed, double-spaced pages. In addition, applicants must have contributed to the university through campus, community activities or through their chosen field of study and show evidence of demonstrated public speaking ability. Incomplete applications will not be considered by the selection committee. The committee may contact any applicant for a 15-minute interview and speech demonstration.
Since doctoral, master's and baccalaureate degree recipients will now be recognized together based on their colleges, the selection committee will accept applications from students with all degree types, not just undergraduate students as in past years.
Applications are available online at www.uky.edu/Commencement/speakers.html.
To accommodate rising numbers and to provide a better experience for UK graduates and their families and friends, the university will hold four ceremonies over the course of two days. All four will be held at Rupp Arena.
Friday, May 5:
10 a.m. - College of Agriculture, Food and Environment; College of Communication and Information; College of Public Health; The Martin School of Public Policy and Administration; The Patterson School of Diplomacy and International Commerce
2 p.m. - College of Business and Economics, College of Health Sciences, College of Fine Arts, College of Nursing, College of Pharmacy
Sunday, May 7:
10 a.m. - College of Arts and Sciences; College of Social Work; College of Design 
2 p.m. - College of Education; College of Engineering; College of Medicine
Read more about the May 2017 Commencement schedule here.
All May graduates should register for Commencement at www.uky.edu/Commencement.