Remembering and Honoring Jane Gentry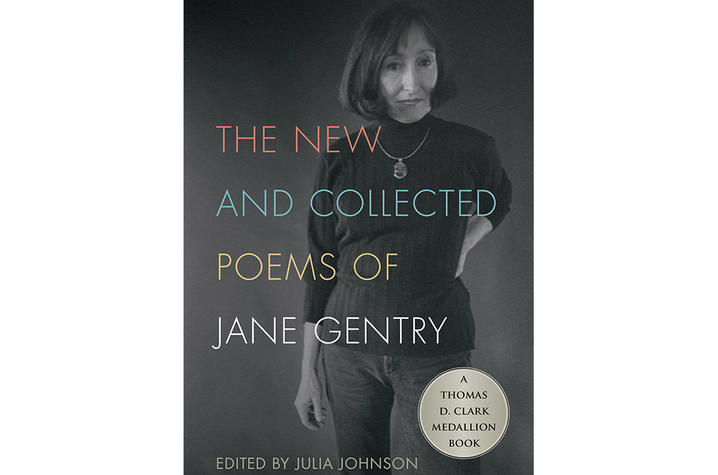 LEXINGTON, Ky. (Oct. 23, 2017) — Poet Jane Gentry was a beloved and influential University of Kentucky educator, mentor to generations of young writers, former poet laureate for the Commonwealth, and a unique Kentucky voice. A retrospective of the celebrated poet's work, "The New and Collected Poems of Jane Gentry," edited by UK Professor of English Julia Johnson and published by University Press of Kentucky (UPK), was named this year's Thomas D. Clark Medallion recipient and will be recognized at an award ceremony Oct. 26, at the Filson Historical Society in Louisville, Kentucky.
The Thomas D. Clark Medallion is presented by the Thomas D. Clark Foundation, which was established in 1994 in honor of Thomas D. Clark, Kentucky's historian laureate and founder of UPK. Since 2012, the foundation has chosen one book each year that highlights Kentucky history and culture to be honored with a Clark Medallion. Previous medallion recipients are "Kentucky Government, Politics and Public Policy," "The Hills Remember: The Complete Short Stories of James Still," "Violence Against Women in Kentucky: A History of U.S. and State Legislative Reform," The Kentucky African American Encyclopedia and "Kentucky and the Great War: World War I on the Home Front."
The Clark Medallion literary program and awards ceremony will feature Julia Johnson with three of Kentucky's most distinguished writers and poets laureate — Sena Jeter Naslund, Frederick Smock and Richard Taylor — who will celebrate Gentry's remarkable work. The event will begin 6 p.m. Thursday, Oct. 26, at the Filson Historical Society located at 1310 S. 3rd St. in Louisville. Individuals interested in attending the free public event should register online at: http://filson.simpletix.com/EventDetails/31609/Time/70480/#.WeTdL1uPJjc. 
A true practitioner of her craft, Jane Gentry had an uncanny ability to spin quietly expansive and wise verses from small details, objects and remembered moments, perfectly capturing the essence of lyricism. Her poetry is deeply rooted in place, exuding a strong connection to the life and land of her native Kentucky. When she passed away from cancer in 2014, shortly after her retirement from UK, Jeff Clymer, chairman of the Department of English, and Mark Kornbluh, dean of the College of Arts and Sciences, wrote in a joint letter to the university, "As a poet, Jane wrote with insight and grace of family, of the intricacies of our emotions, and of the ironies of everyday life. Her moving and elliptical poetry gave us new ways to think about life's complexities, often with a dash of ironic humor."
"The New and Collected Poems of Jane Gentry" offers a valuable retrospective of the celebrated poet's work. Upon learning of her diagnosis, Gentry and her daughters began collaborating with editor Julia Johnson to organize the definitive collection of her work. Alternately startling and heart-wrenching, the result is the entirety of Gentry's published work alongside new, previously unpublished poems.
This volume includes two previously published full-length collections of poetry in their entirety — "A Garden in Kentucky" and "Portrait of the Artist as a White Pig." The final section includes Gentry's unpublished work, from verses written for loved ones to a large group of recent poems intended for future collections.
Johnson uses Gentry's own methodology to organize the book, showcasing the range of the poet's work and the flexibility of her style — sometimes ironic and humorous; sometimes poignant; but always clear, intelligent and revelatory. Since many of the poems are undated, Johnson arranged the final section, "Late Poems," by thematic principles into four sections. Additionally, several early unpublished poems are included.
"Like Elizabeth Bishop, Jane Gentry is a poet of houses and family history; like Muriel Rukeyser, she is a poet of the body and the body politic. At once earthy and learned, wild and restrained, she is a poet of the whole self. Her work draws strength and subject from its Kentucky roots," said George Ella Lyon, Kentucky poet laureate (2015–2016) and author of "Many-Storied House: Poems."
"In poem after poem in this rich and important collection, Jane Gentry commemorates her personal history through the lens of poetry — family, friends, the seasons, the flora and fauna she moves through. This book is a love song to Kentucky," wrote Jeff Worley, editor of "What Comes Down to Us: 25 Contemporary Kentucky Poets."
This publication will delight readers of poetry, supporters of Kentucky literature, teachers and students engaged in ensuring the future of literature from our region, and anyone who honors the exploration of what it truly means to be fully alive and fully human.
Jane Gentry (1941–2014), also known as Jane Gentry Vance, worked as a professor of English at UK for 40 years. The author of large body of poetry as well as critical essays and book reviews, she served as Kentucky's poet laureate from 2007-2008.
Julia Johnson is professor of English and teaches in the MFA program in creative writing at UK. She is the author of three collections of poetry, "Subsidence," "The Falling Horse" and "Naming the Afternoon."
UPK is the scholarly publisher for the Commonwealth of Kentucky, representing a consortium that includes all of the state universities, five private colleges, and two historical societies. The press' editorial program focuses on the humanities and the social sciences. Offices for the administrative, editorial, production and marketing departments of the press are found at UK, which provides financial support toward the operating expenses of the publishing operation through the UK Libraries.
UK is the University for Kentucky. At UK, we are educating more students, treating more patients with complex illnesses and conducting more research and service than at any time in our 150-year history. To read more about the UK story and how you can support continued investment in your university and the Commonwealth, go to: uky.edu/uk4ky. #uk4ky #seeblue