KY-REC Honored as Government Leader in Technology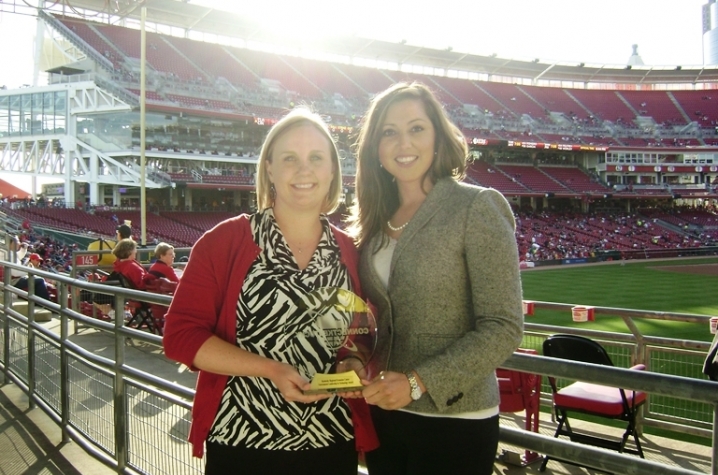 LEXINGTON, Ky. (May 24, 2011) — ConnectKentucky honored the Commonwealth's technology leaders for the fifth time at its 2011 Tech Day on April 29, including the Kentucky Regional Extension Center (KY-REC) in the area of Government Leadership in Technology.
"These annual awards offer us an opportunity to publically acknowledge the people, companies, and organizations working to improve the quality of life for Kentuckians through technology," said ConnectKentucky Executive Director René True.
The event, which was hosted at The Great American Ball Park before the Cincinnati Reds hosted the Florida Marlins, recognized small and large businesses, new and emerging businesses, secondary and post-secondary education students, school districts, postsecondary institutions, and government leadership.
"The KY-REC is pleased to be recognized by ConnectKentucky for Government Leadership in Technology," said KY-REC project director Dr. Carol Steltenkamp. "On a daily basis our implementation specialists travel throughout the Commonwealth to better health care for Kentuckians through successful use of information technology. We thank ConnectKentucky for their acknowledgment and support of our mission."
KY-REC was awarded the Government Leadership in Technology Award for their work in assisting more than 600 primary care providers implement or upgrade an Electronic Health Record (EHR) system, develop a positive workflow, determine usage gaps, and connect to the Kentucky Health Information Exchange.
In 2009, Congress passed legislation to create an infrastructure of Regional Extension Centers that would assist healthcare providers implement EHRs. In 2010, the University of Kentucky's College of Medicine was awarded a Federal grant for the establishment of the Kentucky Regional Extension Center, the first Kentucky-based Health Information Technology Regional Extension Center solely focused on serving Kentucky health care practitioners.
ConnectKentucky, is a subsidiary of the national nonprofit Connected Nation, and an independent technology-based economic development organization. 
MEDIA CONTACT: Julie Meador, (859) 247-1754 ext. 256 or Julie.Meador@uky.edu