Markey Research Day Recognizes Grad Students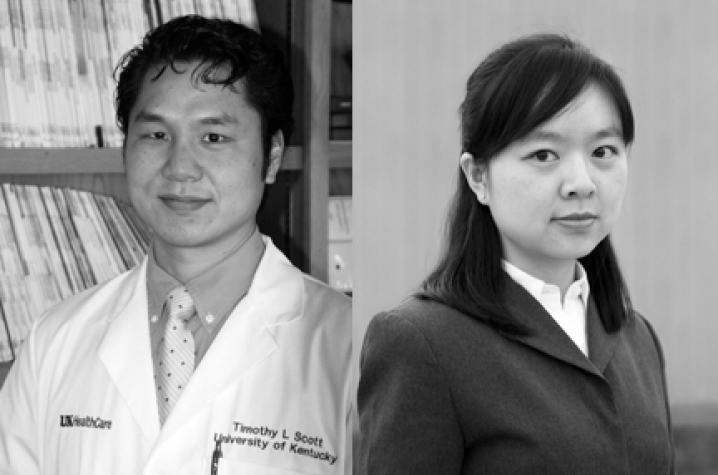 LEXINGTON, Ky. (March 17, 2011) — Two University of Kentucky graduate students, Tianxin Yu and Timothy Scott, have been selected from a pool of more than 50 applicants, including postdoctoral scholars, to give oral presentations at the Markey Cancer Center Research Day on Tuesday, March 22.
Yu, a Ph.D. student in Dr. Chunming Liu's lab at the Markey Cancer Center, is studying the role of the protein KLF4 in regulating intestinal homeostasis and colon cancer. Yu will present "KLF4 regulates intestinal epithelial cell morphology and polarity." Prior to joining the Ph.D. program, she obtained a bachelor of science degree in biology from Yunnan University in China in 2006.
Scott's work is focused on elucidating the mechanism of pharmacologic-induced epidermal thickening and the potential use in skin cancer prevention. Scott will present "Pharmacologic induced epidermal thickening: a potential UV protective mechanism." He received his bachelor of science degree from Hope College in Holland, Mich.
Faculty oral presenters will be Dr. John R. van Nagell Jr. and Dr. Peter Zhou.
Dr. van Nagell graduated from Harvard College, where he also earned a graduate degree, and he received his medical degree from the University of Pennsylvania School of Medicine. He is currently professor and director of the Division of Gynecologic Oncology and an American Cancer Society Professor of Clinical Oncology at the Markey Cancer Center. His major research interest is in the early detection of ovarian cancer and he is director of the UK Ovarian Cancer Screening Program. He will present "Early detection of ovarian cancer through screening."
Dr. Zhou received extensive training in breast cancer research at the University of Texas MD Anderson Cancer Center. He has served as a reviewer for many cancer research journals and funding agencies. His research on breast cancer metastasis is supported by NCI, Susan Komen Foundation and May Kay Ash Foundation. Dr Zhou will present "Epithelial-mesenchymal Transition in Breast Cancer Metastasis."
For more information about the Markey Cancer Center Research Day, visit the website at http://markey.uky.edu/CancerResearchDay or contact the event coordinator at Markey-CEL@lsv.uky.edu.