Markey outreach advancing health equity in communities of color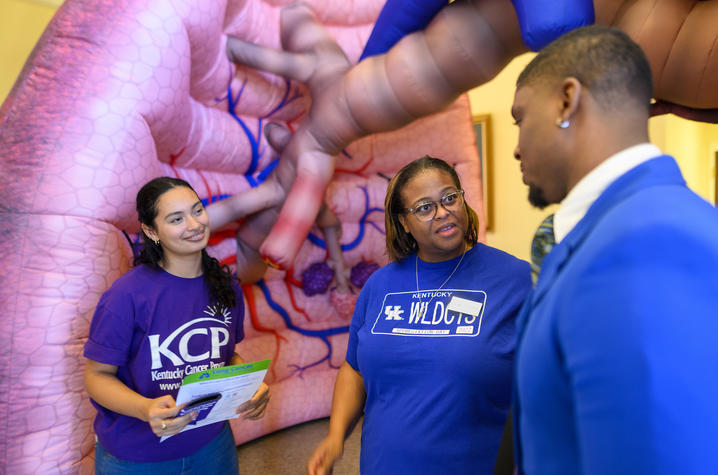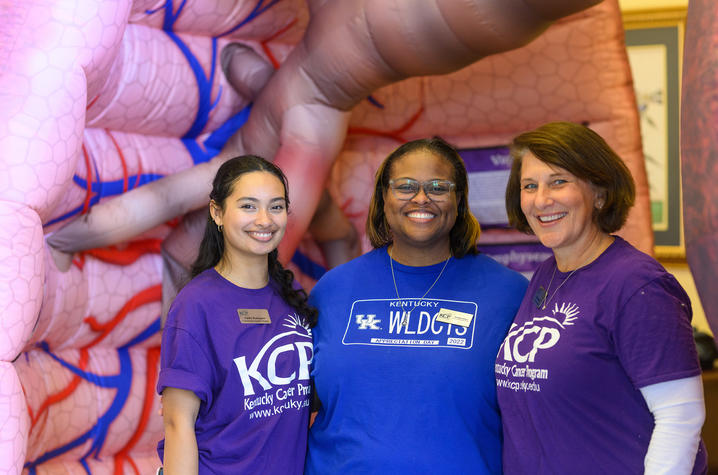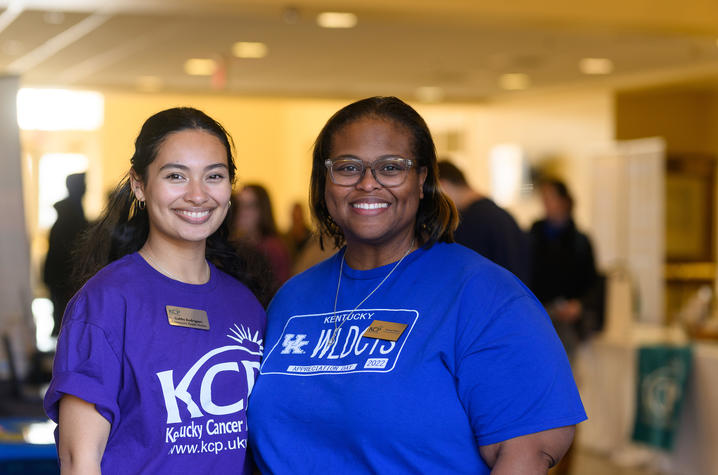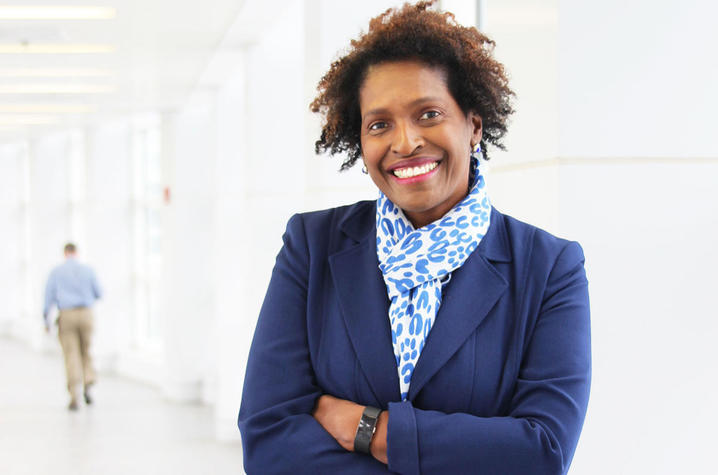 LEXINGTON, Ky. (Jan. 27, 2023) — In Kentucky, there are significant disparities in cancer rates and related risk factors among communities of color, including Black and Hispanic communities.
The University of Kentucky Markey Cancer Center is working to address cancer disparities in communities of color through inclusive outreach and engagement.
Two new community health workers — Khadijah Wallace and Gabby Rodriguez — are building relationships and making a positive difference by working with community partners to get the word out about cancer screenings and risk reductions.
The new community health worker positions form part of the UK Markey Cancer Center's community outreach and engagement team under the Kentucky Cancer Program (KCP), a statewide cancer control program led by Markey Cancer Center and the University of Louisville Brown Cancer Center.
Community health workers collaborate with regional cancer control specialists to provide strategic outreach to Black and Hispanic communities.
They build on the strengths and programs of community partners, such as churches and other organizations, said Lovoria Williams, Ph.D., Markey's associate director of equity, diversity and inclusion.
"We can work through these settings to meet people where they are to provide education about the resources available at Kentucky's only NCI-designated cancer center," said Williams, who also serves as an associate professor in the College of Nursing. "Markey strives to become a resource for all populations. We want people to think about Markey as a resource for education and screening, as well as excellent cancer care."
Shared experiences
Khadijah Wallace says her passion for helping others and making her community healthier led to her position as a KCP community health worker. The potential impact of her role became clear to Wallace on Dress in Blue Day, an annual event that brings awareness to and honors those affected by colon cancer.
Wallace spoke to congregations and pastors in the Lexington area to encourage participation in the event, where people learned more about screenings.
"Many had never heard of that event, and they really enjoyed the chance to be a part of a positive health initiative," said Wallace.
Many people still don't want to talk about cancer and view it as the "C" word, Wallace says.
The event sparked conversations about colon cancer. People felt comfortable enough to share their own experiences. At one church, a man talked about his colon cancer diagnosis and treatment with his fellow churchgoers for the first time.
"He'd never talked about it before, but he said that Markey took very good care of him," Wallace said. "He described everything, and he said Markey had a plan of action for him. I'm so glad that he was able to tell that positive story."
Building relationships
Gabby Rodriguez works with the Hispanic population. Part of her role includes creating Spanish translations of health information resources and interacting with community members in both Spanish and English at community events.
"As a Hispanic woman, I understand the struggles many Hispanic families face in regard to access to health care," said Rodriguez.
Rodriguez discovered during one of her first days on the job that building trust is key and it's an ongoing process. She was visiting a store in an area of Lexington with a large Hispanic population to deliver flyers promoting free mammograms and Pap smears.
"They told me about their experiences with individuals who come to them to help and never show up again," Rodriguez said. "That opened my eyes to how difficult it must be for these communities to open up and to trust individuals."
Rodriguez wants people to know she's there for them and willing to help.
"I'm just happy to have the chance to make an impact in the lives of these communities and let them know that resources are available for those who don't have the access to the health care that they deserve," she said.
UK HealthCare is the hospitals and clinics of the University of Kentucky. But it is so much more. It is more than 10,000 dedicated health care professionals committed to providing advanced subspecialty care for the most critically injured and ill patients from the Commonwealth and beyond. It also is the home of the state's only National Cancer Institute (NCI)-designated cancer center, a Level IV Neonatal Intensive Care Unit that cares for the tiniest and sickest newborns, the region's only Level 1 trauma center and Kentucky's top hospital ranked by U.S. News & World Report.  
As an academic research institution, we are continuously pursuing the next generation of cures, treatments, protocols and policies. Our discoveries have the potential to change what's medically possible within our lifetimes. Our educators and thought leaders are transforming the health care landscape as our six health professions colleges teach the next generation of doctors, nurses, pharmacists and other health care professionals, spreading the highest standards of care. UK HealthCare is the power of advanced medicine committed to creating a healthier Kentucky, now and for generations to come.