Plans announced for Chandler medical campus expansion to allow for more inpatient beds, access and services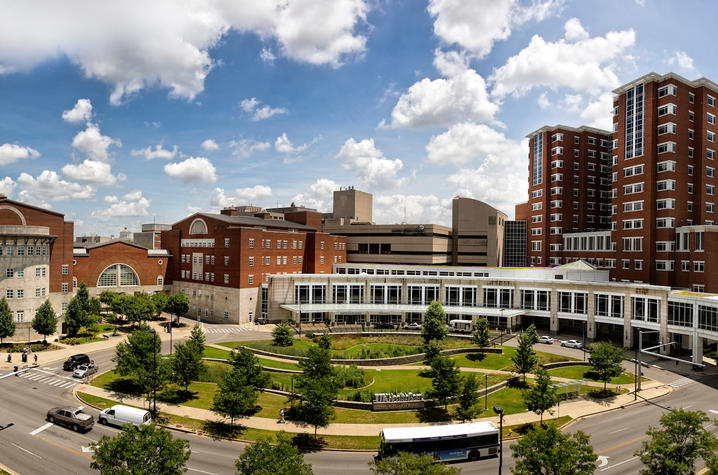 LEXINGTON, Ky. (April 27, 2023) — A plan to begin design work for a new patient care tower at the University of Kentucky Albert B. Chandler Hospital was endorsed Thursday by the UK Board of Trustees Health Care Committee.
The support for an additional patient care tower was one of several projects endorsed by the committee, which would expand or renovate key health care units and continue to expand the footprint of specialty and ambulatory care services on the UK Chandler campus.
The Health Care committee also endorsed renovation of the existing Mother Baby and Labor and Delivery units, an expansion of  operating rooms, relocation and renovation of advanced endoscopy services and establishment of a new observational unit. Final approval for all the projects is pending the UK Board of Trustees vote on Friday.
As part of the projects supported, UK will move forward with $180 million to initiate the design phase to expand patient care facilities to accommodate additional inpatient beds and clinical support services at UK Chandler Hospital, ranked Kentucky's no. 1 hospital seven years consecutively by U.S. News & World Report.
"Growth and increasing demand for advanced subspecialty care along with the need for facilities that provide maximum flexibility to create capacity and ensure patients are seen without delays has led to the planning for an expansion of the Chandler campus to ensure the needs of our current and future patients are met," said Eric N. Monday, UK's acting co-executive vice president for health affairs and executive vice president for finance administration.
In May 2011, the first three patient care floors of the 12-story UK Chandler Pavilion A with two bed towers were dedicated and opened to patients.
Since then, UK HealthCare has experienced strong, consistent inpatient admissions growth including 38,400 patient discharges in fiscal year 2022 and 15,700 patient transfers accepted.
The fit out of the last shelled patient floor in Pavilion A will be completed later this year and UK HealthCare expects these beds to be fully utilized as soon as the space is open, Monday said. "More and more patients need access to the advanced subspecialty care that only UK HealthCare provides. We don't want to turn patients away or make them wait to access our care. Additional beds on the Chandler campus are an important part of ensuring we have the capacity to meet the needs of our patients."
Along with steady increases in inpatient volumes, UK HealthCare also is facing challenges posed by aging facilities in the original sections of both UK Chandler Hospital built in 1962 and UK Good Samaritan Hospital which opened at its current South Limestone location in 1907.
"Unfortunately, the age of these facilities and their infrastructures creates multiple challenges in supporting current day health care technologies and patient care operations," said acting co-EVPHA Robert DiPaola. DiPaola also serves as UK's Provost.
The design phase for the project will include detailed programming services, schematic design through construction documentation phases and budget estimates for all phases with projected timelines. The new patient care tower will include adult and pediatric inpatient rooms, observation spaces, operating rooms, minor procedures rooms, diagnostic services, imaging services, pharmacy services, laboratory services and administration and support areas as well as meeting spaces.
Additional Board of Trustees approval will be required to initiate the construction phase. The project, authorized by the 2022 Kentucky General Assembly, is within the total legislative authorization of $200 million and will be funded with agency funds.
In addition to the new bed tower, the health care committee approved a $82 million renovation plan for several existing areas and services.
Renovation plans include:
Mother Baby and Labor Delivery units — Renovation of approximately 34,000-square-feet space on the third floor of Pavilion HA in the Mother Baby and Labor and Delivery Units. The project includes renovation of triage and post anesthesia care units; standardization of operating rooms; creation of family space within the labor and delivery unit; update of staff workspaces; and renovation of all inpatient rooms, labor and delivery rooms and public areas. The project also includes the relocation of the OB post-partum rooms to another patient floor within the Chandler facility.
Endoscopy — New space for advanced endoscopy services on the first floor of Pavilion A in the Interventional Services Suite. The project includes two fixed and two mobile C-arm rooms in existing procedure rooms, create two general endoscopy rooms, clinical support spaces and a potential scope reprocessing area adjacent to procedure rooms. Existing prep and recovery rooms equipped to support the added advanced endoscopy rooms.
Observational Unit — Creation of an observation unit in 5,500-square-feet of ground floor space adjacent to the existing Pavilion A Emergency Department (ED) that most recently used to temporarily support overflow ED patients.
ORs — Completion of an operating room expansion using 15,000-square-feet of shelled space adjacent to the existing operating rooms and pre-op/post-op rooms on the second floor of Pavilion A. This project will create up to eight additional operating rooms and associated support spaces.
UK HealthCare is the hospitals and clinics of the University of Kentucky. But it is so much more. It is more than 10,000 dedicated health care professionals committed to providing advanced subspecialty care for the most critically injured and ill patients from the Commonwealth and beyond. It also is the home of the state's only National Cancer Institute (NCI)-designated cancer center, a Level IV Neonatal Intensive Care Unit that cares for the tiniest and sickest newborns, the region's only Level 1 trauma center and Kentucky's top hospital ranked by U.S. News & World Report.  
As an academic research institution, we are continuously pursuing the next generation of cures, treatments, protocols and policies. Our discoveries have the potential to change what's medically possible within our lifetimes. Our educators and thought leaders are transforming the health care landscape as our six health professions colleges teach the next generation of doctors, nurses, pharmacists and other health care professionals, spreading the highest standards of care. UK HealthCare is the power of advanced medicine committed to creating a healthier Kentucky, now and for generations to come.