Smoke Campaign Reaches Kentucky Parents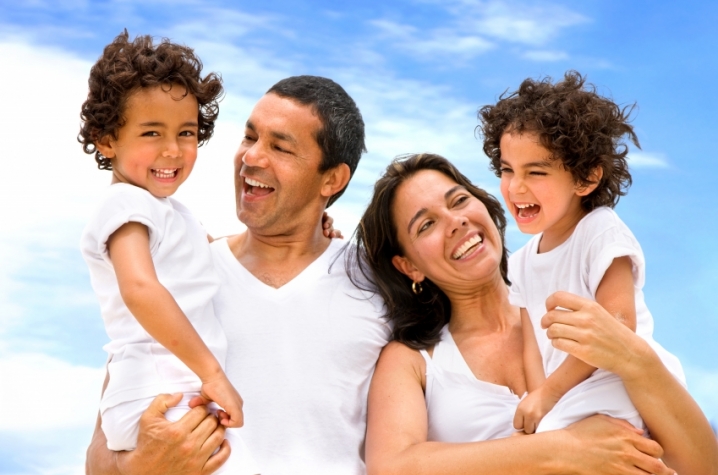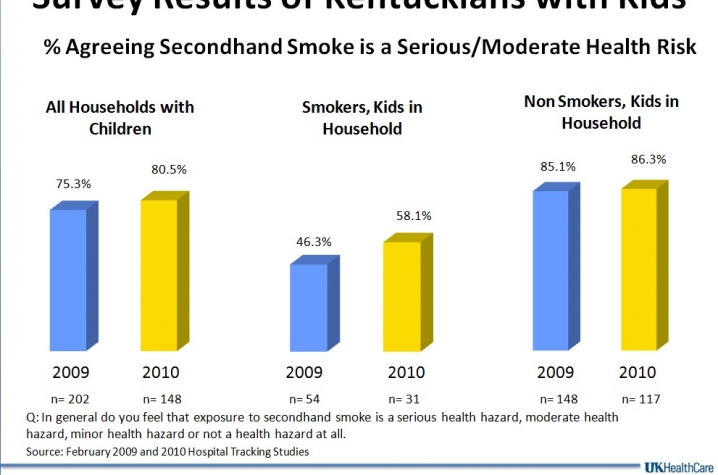 LEXINGTON, Ky. (Sept. 24, 2010) − A recent UK HealthCare survey found that over the past year, the percentage of Kentuckians living with children who believe secondhand smoke to be a serious health risk has increased.
These results are promising to UK HealthCare, who in Sept. 2009 launched a state-wide campaign to raise awareness of the dangers of secondhand smoke. The five-year campaign includes radio and television public service announcements featuring UK Men's Basketball Coach John Calipari, educational materials, an interactive website and a school-based education program. 
"We are pleased that our campaign has alerted a number of Kentucky parents," said Dr. Don Hayes, University of Kentucky College of Medicine assistant professor of pediatrics and internal medicine, and pediatric pulmonologist at Kentucky Children's Hospital.  "However, more than 360,000 Kentucky children are exposed to tobacco smoke every day, and so we must continue to raise the level of awareness to ensure a safer, healthier future for Kentucky's kids and other nonsmokers."
According to UK HealthCare, parents who smoke account for nearly 90 percent of their child's secondhand smoke exposure. "Children exposed to secondhand smoke are more likely to die from sudden infant death syndrome (SIDS), have respiratory problems such as pneumonia and bronchitis, develop asthma, and have ear infections," Hayes said. "They also need to be hospitalized more than children living in a smoke-free home."
Another recent UK HealthCare survey found that the in 2010, only 9.4 percent of smokers with kids said the fact a hospital was smoke free would affect their decision to use the hospital – down from 24.5 percent. For nonsmokers with kids, 23.3 percent said they were more likely to use a tobacco free hospital up from 20.3 percent.
Prior to launching the campaign, a state-wide UK HealthCare survey found that nearly 1.6 million Kentuckians underestimate the serious negative impact secondhand smoke.
"People are aware of secondhand smoke, but are not always aware of how truly harmful it is," said Audrey Darville, ARNP and certified tobacco treatment specialist at UK HealthCare. "Nonsmokers generally believe that by not smoking they are not at risk for certain lung and heart diseases associated with cigarettes. Unfortunately, if they are exposed to secondhand smoke, this is not the case."
According to the campaign website, secondhand smoke causes an estimated 46,000 heart disease deaths and 3,000 lung disease deaths in nonsmokers per year. "Smoker or nonsmoker, no one is immune to the toxic effects of cigarettes," Darville said. "When exposed to secondhand smoke, adults and children still breathe the same poisonous fumes that smokers do. This campaign is working to inform Kentuckians about how they can avoid harmful exposure for themselves and their children."
UK HealthCare partnered with several community partners to launch the campaign. The partners include: Appalachian Regional Healthcare, Inc., Cumulus, Georgetown Community Hospital, Harrison Memorial Hospital, Kentucky Children's Hospital, Kentucky Department for Public Health, LM Communications, Pattie A. Clay Regional Medical Center, Rockcastle Regional Hospital and Respiratory Care Center, St. Claire Regional Medical Center, UK Markey Cancer Center, and WKYT Television.
The campaign website allows visitors to share how they personally avoid secondhand smoke exposure. To learn more, visit the campaign website at www.ukhealthcareuky.edu/secondhandsmoke.