Stroke survivors share their stories to increase awareness of signs, symptoms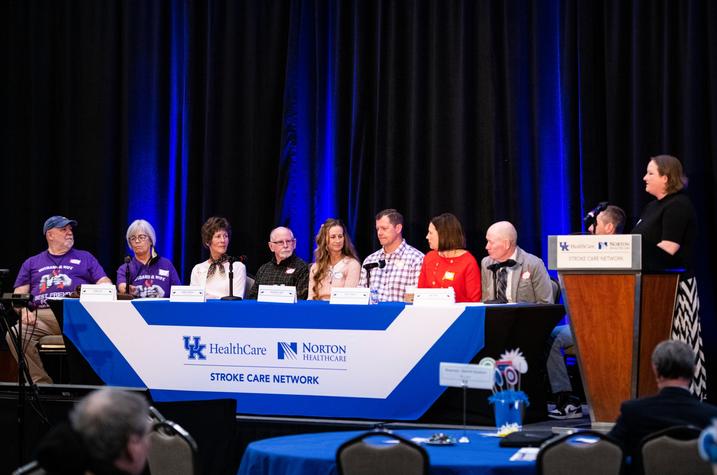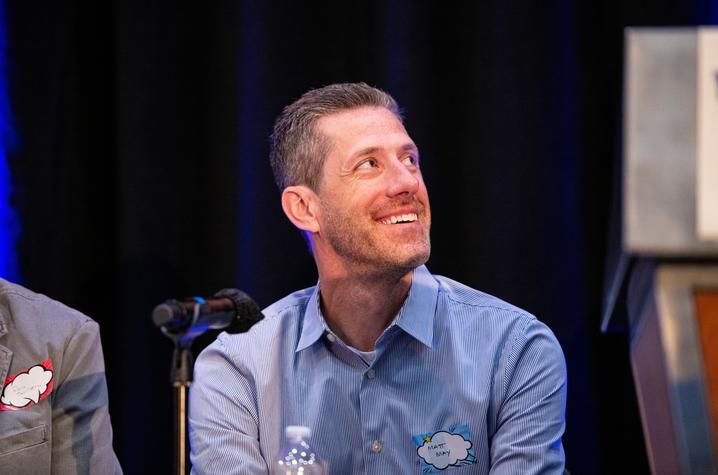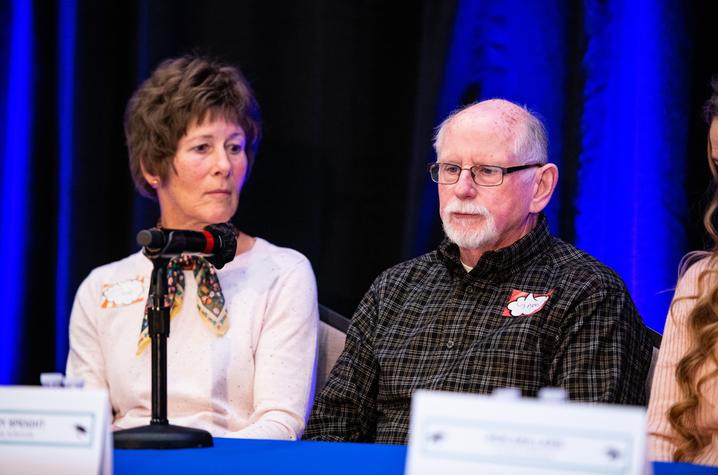 LEXINGTON, Ky. (May 17, 2023) — To many, the month of May represents to the start of spring and warmer weather. Here in the Bluegrass State, May is synonymous with the fastest two minutes in sports — the Kentucky Derby.
However, this month also brings an emphasis on stroke education and awareness. According to the Centers for Disease Control and Prevention, every year more than 795,000 people in the United States have a stroke. In 2021, one in six deaths from cardiovascular disease was due to stroke. Kentucky has among the highest rates of stroke-related deaths in the country, with more than 2,000 Kentuckians dying from stroke or stroke-related complications each year.
"Kentucky is in the country's Stroke Belt, a region of the United States with a much higher stroke death rate than the rest of the nation," said Larry Goldstein, M.D., interim director of the UK HealthCare/Norton Healthcare – Stroke Care Network (SCN), chair of the University of Kentucky Department of Neurology and co-director of the UK HealthCare Kentucky Neuroscience Institute. "Importantly, the vast majority of strokes are preventable, but when one occurs treatments to reverse the effects are available — but they need to be used as soon as possible after the symptoms start — time saved is brain saved."
The UK HealthCare/Norton Healthcare – Stroke Care Network (SCN) works each day to combat those statistics. The Stroke Care Network is comprised of 40 affiliates which cover a tri-state area. Stroke Care Network services are designed to help hospitals provide the highest quality clinical stroke-related care. This mission is supported through comprehensive educational programs for providers, staff and community members, as well as robust continuous quality improvement.
Other components of the Stroke Care Network are stroke prevention and providing support for survivors and caregivers. This was on display during the most recent Stroke Care Network Summit. A panel of stroke survivors and caregivers took to the stage to tell their personal stories. It was meaningful for all those in attendance, including the panel members themselves.
"It is therapeutic for me," said Matt May, associate director of athletics communications and public relations for UK Athletics. The husband and dad of two young boys never imagined he would experience a stroke, especially in his 40s. "I am a healthy, active man, and my case was far from a normal stroke patient. I want people to understand it is not just the elderly who can be affected. If someone had not participated in these types of learning opportunities in the past, the people who saved me would not have had the knowledge to do so. It is kind of like a 'pay it forward' deal for me."
May experienced a stroke in January of 2022. He was unaware at the time, but his symptoms actually started about 48 hours prior to him realizing something serious was going on. He woke up the day his symptoms started feeling a little shaky. Then while picking his older son up from kindergarten, he threw up at a red light and realized he had a bad headache. The alarm bells didn't start going off for May and his wife until the next day when he could not walk in a straight line.
The Mays know the typical signs of a stroke, and the BE FAST acronym (Balance, Eyes, Face drooping, Arm weakness, Speech difficulty, Time to call 911). His symptoms didn't necessarily look like a typical stroke at first, but they escalated quickly with facial drooping taking place as they waited in the emergency department and left side paralysis setting in by the time they were admitted.
The cause of his stroke is one that doctors say is rare, attributing it to a bout with shingles a few months earlier. The varicella-zoster virus — better known as shingles — damaged blood vessel walls in May's brain causing the stroke.
"The doctors, medical students, and nurses at UK did an incredible job filtering through what was significant and what wasn't. I just can't praise them enough. I can't imagine the toll the last few years have taken on them and as a society we routinely under-appreciate their importance and humanity," said May.
May worked for months re-learning how to walk and grip things. He continues to rebuild his strength. Through it all he has remained thankful: both for his health and for the opportunity to share his story to help himself cope with what he went through and to spread an important message for stroke awareness.
"This experience, while it stunk, has allowed me to experience the goodness in the world again," said May.
Other survivors on the panel agree with May's sentiments. "I just felt so blessed sitting there and listening to the others on the panel," said Garry Speight. "I am doing very well now and I just want to do anything I can to give back. This whole experience has been very eye opening."
Speight hopes that by sharing his story and his fellow survivors sharing their stories, there will become a greater understanding that not all strokes look the same and they might not all have the same symptoms  …  especially in the earliest stages.
Their stories provided valuable perspectives and information for those in attendance, many of whom work in stroke care and other health care areas.
"Stroke impacts several domains of life. It does not just cause physical disability, but also affects language, cognition, mood, motivation, occupation and social interaction. The lived experiences of our patients during difficult times, and their own innovative methods to overcome these challenges can be insightful," said Saurav Das, M.D., assistant professor of neurology at University of Kentucky and neurologist at the Kentucky Neuroscience Institute.
Das attended the summit and says hearing about the various experiences was helpful as he provides care and that it was also beneficial to hear about the range of symptoms different people can experience.
"This was insightful because research here at the University of Kentucky has shown that the previously used reminder of 'FAST' may miss 14% of stroke patients that can receive acute treatment and therefore the mnemonic 'BE-FAST' is being used, which additionally includes balance and eyes," he said.
Das said the stories of the panel also emphasized that the care of stroke patients should be holistic. He says in addition to medical and rehabilitative therapies, subtle attributes such as social connection, intellectual engagement, and discovering meaning/purpose in life, etc., can play a crucial role in stroke recovery.
"Conversations following a stroke typically center around disability — what a patient can no longer do. Stroke survivor platforms can shift this paradigm, enabling the survivors to share stories of resilience, how they have overcome challenges, and what they can still do," Das said. "This opportunity to inspire the community can be very meaningful for our survivors."
****
Use BE FAST to recognize when you or someone you know may be having a stroke:
B = Balance. Is walking unsteady or is there weakness in one or both legs?
E = Eyes. Is there partial or complete loss of vision in one or both eyes, or is there double vision?
F = Face Drooping. Does one side of the face droop or is it numb? Ask the person to smile. Is the person's smile uneven?
A = Arm Weakness. Is one arm weak or numb? Ask the person to raise both arms. Does one arm drift downward?
S = Speech Difficulty. Is speech slurred?
T = Time to call 911.
UK HealthCare is the hospitals and clinics of the University of Kentucky. But it is so much more. It is more than 10,000 dedicated health care professionals committed to providing advanced subspecialty care for the most critically injured and ill patients from the Commonwealth and beyond. It also is the home of the state's only National Cancer Institute (NCI)-designated cancer center, a Level IV Neonatal Intensive Care Unit that cares for the tiniest and sickest newborns, the region's only Level 1 trauma center and Kentucky's top hospital ranked by U.S. News & World Report.  
As an academic research institution, we are continuously pursuing the next generation of cures, treatments, protocols and policies. Our discoveries have the potential to change what's medically possible within our lifetimes. Our educators and thought leaders are transforming the health care landscape as our six health professions colleges teach the next generation of doctors, nurses, pharmacists and other health care professionals, spreading the highest standards of care. UK HealthCare is the power of advanced medicine committed to creating a healthier Kentucky, now and for generations to come.