UK HealthCare awarded top quality honor by national hospital association
Video produced by America's Essential Hospitals. To view captions for this video, push play and click on the CC icon in the bottom right-hand corner of the screen. If using a mobile device, click on the "thought bubble" in the same area.
LEXINGTON, Ky. (June 16, 2023) —​ America's Essential Hospitals, a national trade association, has recognized UK HealthCare for its work to improve the quality of patient care in partnership with Kentucky Medicaid.
America's Essential Hospitals, which represents more than 300 hospitals that care for low-income and vulnerable patients and families, awarded UK HealthCare a 2023 Gage Award for improving quality. The association presented the award June 15 at a luncheon at VITAL2023, its annual conference, in Chicago.
"Essential hospitals believe all people deserve exceptional and equitable care, so programs to improve quality and reduce socioeconomic barriers to care are deeply engrained in the fabric of our members," says Kalpana Ramiah, Dr.P.H., America's Essential Hospitals' vice president of innovation and director of Essential Hospitals Institute. "We commend UK HealthCare and our other awardees for their commitment to a role no one else fills: providing high-quality care for all."
Mark D. Birdwhistell, UK senior vice president and chief administrative officer, accepted the Gage Award on behalf of UK HealthCare. The winning project was titled "Enabling Transformation: UK HealthCare Whole System Quality."
As one of two state teaching hospitals in Kentucky, UK HealthCare worked with Kentucky Medicaid to design a value-based Medicaid directed payment program. The program's goal was to improve care for Kentucky's toughest health challenges, including cancer, heart disease, obesity, behavioral health and substance use disorders. UK HealthCare then leveraged this directed payment program to accelerate its whole system quality approach.
"This served as a catalyst to build momentum behind our quality programs," Birdwhistell said. "Being paid based on performance has increased the focus on proactively reaching out to patients to ensure they are getting all recommended screenings. It has also helped us open up additional access to care for the Medicaid population — which is what I've spent my life's work doing."
To improve health system performance, leaders were appointed across the enterprise to champion quality initiatives. Leaders also established standard protocols for nursing staff and workflows for providers to close gaps in care. The UK HealthCare population health team has reached out to patients between visits to ensure patients receive all recommended care. Performance dashboards monitor improvements at the enterprise, unit and provider levels.
Through this program, from July 2019 to June 2022, UK HealthCare: 
Increased depression screening by 64 percentage points.
Increased well child visits for children ages 3 to 6 by 45 percentage points.
Increased blood pressure control by 27 percentage points.
Decreased uncontrolled hA1c rates for patients with diabetes by 9 percentage points.
Reduced re-admissions rates by more than one percentage point.
Increased breast and colorectal cancer screening rates by four percentage points.
Significantly reduced high-dose opioid use. 
"Quality care for Medicaid members is of utmost importance to our cabinet, and we appreciate UK HealthCare's collaboration on this payment program piloted to improve the health and well-being of Kentuckians," said Cabinet for Health and Family Services Secretary Eric Friedlander. "We are pleased that UK HealthCare has been nationally recognized for helping ensure health equity and for effectively addressing a spectrum of issues, including behavioral health issues and chronic conditions that are the most prevalent in our state."
As part of the University for Kentucky, finding ways to address some of the state's biggest health problems is paramount to the mission of UK HealthCare, says Robert DiPaola, M.D., UK's provost and acting co-executive vice president for health affairs.
"Kentuckians face some of the highest rates of disease in the country, particularly in cancer, heart disease, obesity, behavioral health and substance use disorders. As part of our academic health system's promise to advance Kentucky, this partnership with Kentucky Medicaid has transformed the quality of patient care to improve the health of the Commonwealth," DiPaola said. "Mark's work on this program has been incredible, and I'm honored that his work — and that of our colleagues across the enterprise — is being recognized on a national level."
Moving forward, the next goal for this program is to focus on screening for social determinants of health, Birdwhistell says. This includes pinpointing any barriers to accessing health care — such as transportation — and finding ways to overcome those barriers.
"Within the Medicaid population, it's not all about the clinic appointment," Birdwhistell said. "If you can't get to your doctor's appointment, then it won't matter what happened in that encounter. This program pulls it all together. And that's why I say the Medicaid directed payment program has been transformative to patients in the Commonwealth of Kentucky."
The Gage Awards, named after association founder Larry Gage, honor and share successful and creative member hospital programs that improve patient care and meet community needs. The Gage Award for improving quality recognizes activities that improve the quality of care or that mitigate threats to patient safety. A new guide, Excellence and Innovation in Care: The 2023 Gage Awards, features summaries and results of these and other programs.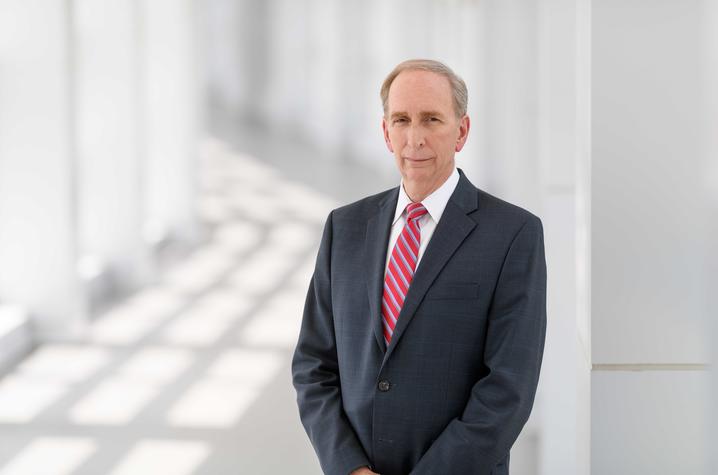 UK HealthCare is the hospitals and clinics of the University of Kentucky. But it is so much more. It is more than 10,000 dedicated health care professionals committed to providing advanced subspecialty care for the most critically injured and ill patients from the Commonwealth and beyond. It also is the home of the state's only National Cancer Institute (NCI)-designated cancer center, a Level IV Neonatal Intensive Care Unit that cares for the tiniest and sickest newborns, the region's only Level 1 trauma center and Kentucky's top hospital ranked by U.S. News & World Report.  
As an academic research institution, we are continuously pursuing the next generation of cures, treatments, protocols and policies. Our discoveries have the potential to change what's medically possible within our lifetimes. Our educators and thought leaders are transforming the health care landscape as our six health professions colleges teach the next generation of doctors, nurses, pharmacists and other health care professionals, spreading the highest standards of care. UK HealthCare is the power of advanced medicine committed to creating a healthier Kentucky, now and for generations to come.