Wallet-Sized Information that Could Save Lives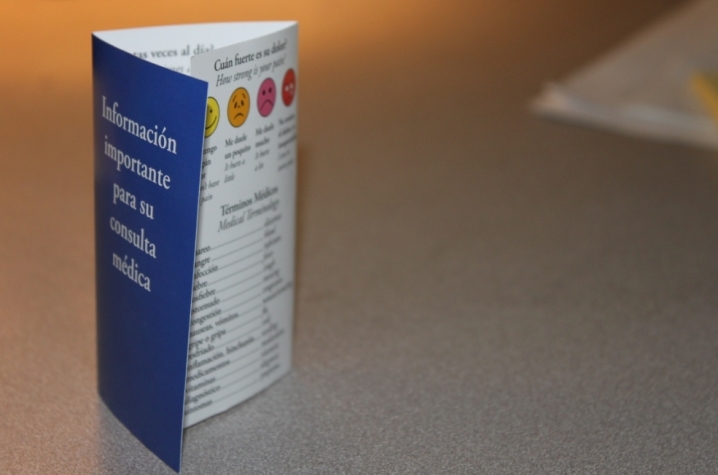 LEXINGTON, Ky. (Jan. 28, 2011) — While the Latino population is the fastest growing community in Lexington, less than 5 percent of health informational pamphlets at most clinics and doctor's offices in the Lexington area include Spanish translation.
Drawing from a 2004 study by University of Kentucky public health professor Dr. Baretta Casey, which detailed the health needs of Latinos in Lexington, UK sociology professor Brea Perry and UK developmental-behavioral pediatrician Dr. Neel Soares decided to take action with an idea the size of a business card.
"We know about the disparities in health care in Lexington and in Kentucky," explained Perry, who specializes in medical sociology. "Many of these people have had negative experiences with health care. We wanted to change that."
In search of project funding, Perry and Soares met with Fifth Third, who is well-known for working closely with the Latino community, according to Soares.
"When we approached the bank about funding, we noticed that they had cards that translated basic financial questions," he explained. "We thought, 'What a great idea. We could do that on the medical side.'"
"The financial cards that we've created are very helpful to our Spanish-speaking patrons," said Elisa Bruce, a vice president at Fifth Third in Lexington and a former director of the Latino Development Program at the bank. "We're happy to help on an equally important project and look forward to more work with UK and UK HealthCare in the future."
And so the tri-fold wallet cards were born. Perry and Soares obtained financial support from the Lexington branch of Cincinnati-based Fifth Third Bank to design and print an initial 10,000 for distribution in Lexington's Latino community.
The goal is to improve physician-patient communication and clinical encounters for those with limited English proficiency.
"These cards will facilitate interaction between the community and UK HealthCare as well," said Soares. "People will know that UK is meeting the needs of the community."
Soares has not seen anything like this done before, to his knowledge. "It's a great idea. These cards are easy to carry around in your wallet or pocket," he explained. "And they are the thickness of a business card."
The cards are for kids and adults and will be distributed throughout the Lexington area, to hospital translators and also to libraries with high Latino populations. The colloquial Spanish used on the card, along with all of the medical terms and medically-related questions, was selected through a trial and error process.
"These are handy for families and for discussions within communities as well," Soares said. "Latinos rarely question their doctors and seem to think that the doctor's order will eradicate any symptoms. But what if the symptoms remain? How do you prevent illness or injury in the future? These are questions that the cards deal with."
Perry and Soares plan to closely track the first 5,000 cards distributed, with surveys to doctors, hospital translators and patients. "We'll ask if families are opening up the cards during their visit and whether or not they're asking questions." said Soares.
Wallet cards are just the beginning for Perry and Soares, who have worked across disciplines and across campus on academic and community projects in the past. These two friends and colleagues would like to create more cards, possibly for different health topics and to spread their ideas to other Midwest areas with increasingly larger Spanish-speaking populations.
"We would like to begin dialogues, workshops and information sessions with the Latino community in Lexington, which was one of the original goals of the project," Perry said. "We'd also like these cards to be used as a model in other areas. Most of the Border States in the U.S. have great health care programming for Spanish-speakers, but the Midwest is really unaware of the issues. We'd like our work to catch on."
"This is a great example of a collaborative effort between the College of Arts and Sciences and the College of Medicine, but also collaboration with the private sector with Fifth Third Bank's support," said Soares.