Pharmacy Students Immunize University Leaders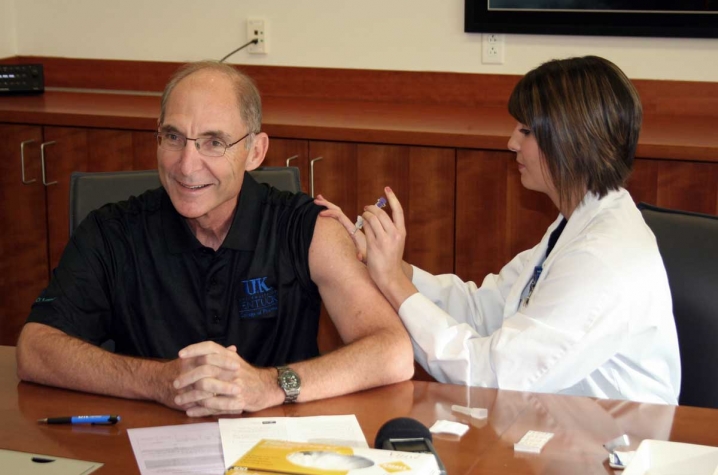 LEXINGTON, Ky. (Oct. 9, 2013) — In what has become a University of Kentucky tradition, pharmacy students on Tuesday gave flu shots to UK President Dr. Eli Capilouto, Dr. Mary Lynne Capilouto and UK College of Pharmacy Dean Tim Tracy.  
Providing the vaccinations were third-year doctor of pharmacy students Brette Hogan, of Frankfort, Abby Moorman, of Crescent Springs, Samantha Parisi, of Cleveland, and Courtney Schultz, of Alexandria.
"Each fall, I look forward to receiving my flu vaccine from students at the nation's fifth-ranked College of Pharmacy," President Capilouto said. "Not only is this a chance for our students to practice an important skill that is crucial to their health care careers, but it allows us to shine a spotlight on this important public health issue. For many Kentuckians, receiving a flu vaccine is of critical importance, and I hope citizens across the state consult with their local pharmacist to find out whether they should be immunized."
Members of the UK Chapter of the American Pharmacists Association - Academy of Student Pharmacists (APhA-ASP) are taking every opportunity to educate the public about what a pharmacist can do for them. In recent years, pharmacists have become heavily involved with the immunization process, with most pharmacies now offering influenza vaccinations to the public. UK's third-year pharmacy students were recently trained in administering the vaccine.
 
American Pharmacists Month is an initiative by the American Pharmacists Association (APhA), the largest professional association of pharmacists in the United States. The goal of the month-long observance is to educate the public about the pharmacist's role in improving medication use and advancing patient care. The campaign is designed to encourage pharmacy patients to "Know your pharmacist, know your medicine." 
Brooke Herndon, a third-year pharmacy student from Louisville and president of the UK APhA-ASP chapter, said the student organization stays active in promoting the pharmacy profession and in community outreach. Members divide up into committees geared toward their specific area of interest in pharmacy, such as diabetes, immunizations, HIV, heart disease, heartburn and others. 
"We hope this program helps raise awareness of how pharmacists across Kentucky and throughout the nation are creating healthier communities," Herndon said. "As student pharmacists, we feel it is incumbent on us to share that message with as many people as we can."